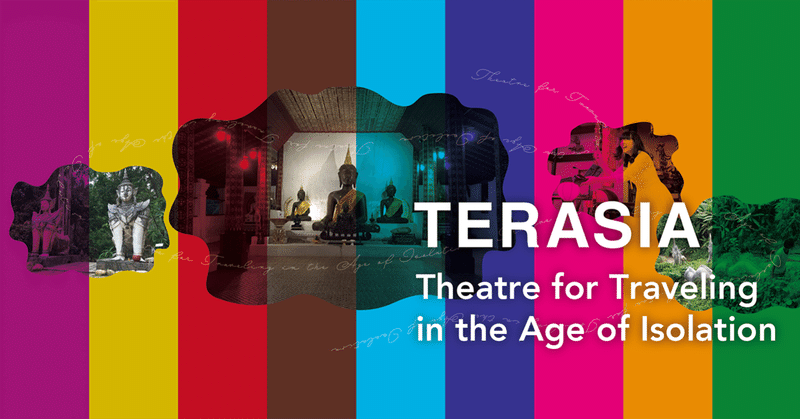 Introduction: About TERASIA

Text by Maho Watanabe (Dramaturge)
1. Concept
1-1. TERA's new form to travel in Asia: TERASIA
When we created Tera in 2018, we intended a performance that keeps transforming through encounters with new places and people. In this first version, the main character Mitsuko Kyogoku appeared and disappeared from the stage repeatedly, coming back to the audience in a new costume. This cycle of reincarnation also represents the basic design of Tera as a theater project.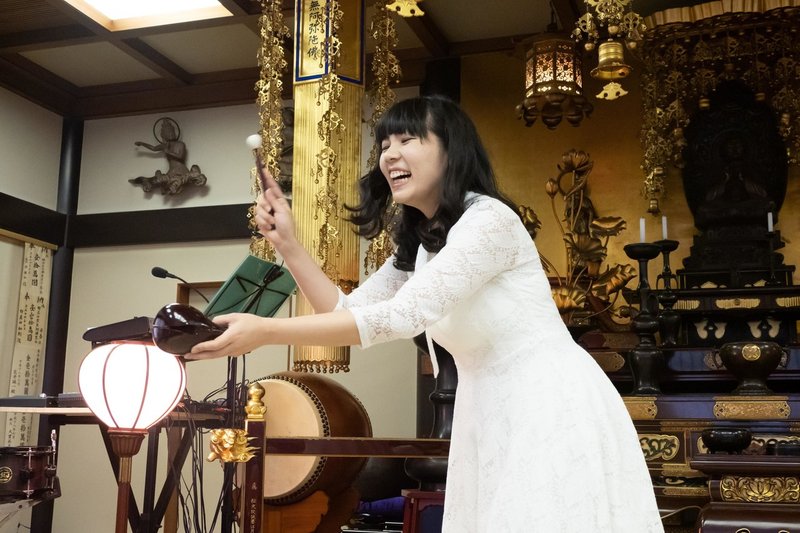 Miho Inatsugu as Mitsuko Kyogoku. (Photo: Kazuyuki Matsumoto)

Earlier in 2020, Tera's anticipated trips abroad were postponed indefinitely due to the outbreak of COVID-19. At this time, I was talking with Kop (Narumol Thammapruksa, performer/director/producer, etc.) about bringing Tera to Thailand.
Having shared a video of the premiere shows and our recent interest in performing in Buddhist temples outside Japan, she suggested creating a new version with Thai artists. This proposal struck me as a pleasant surprise. It will be them, not us, that destroy and recreate Tera. From their interpretation and interests in the local context, Kop's team will develop a new script and perform in Chiang Mai. We get to witness that process and outcome online.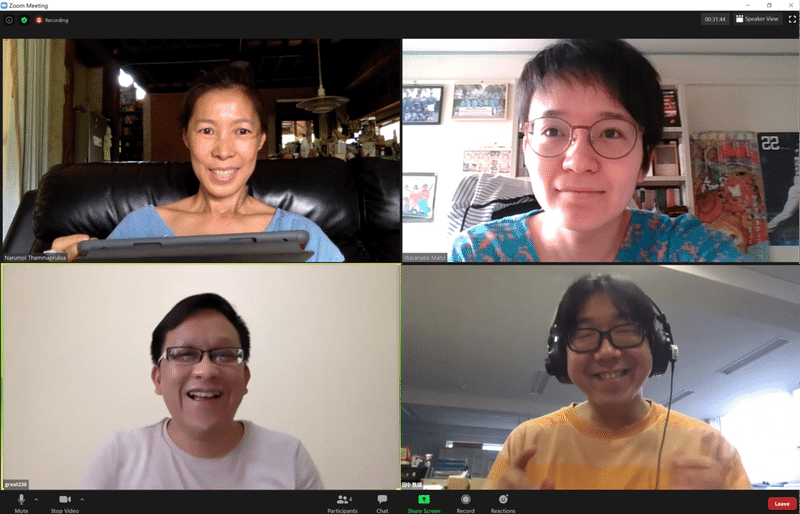 Hence, the idea of Tera traveling on its own, free from the creators' body, emerged. Tera acquired a new way to keep traveling and reincarnating, even in the age of isolation, by distanced collaboration based on mutual trust and understanding. Each taking different inspirations from Tera, artists from Thailand, Myanmar, and Indonesia joined in forming team "Terasia" - Tera's new form to travel in Asia.
Now Tera has multiple vehicles, multiple cycles going around simultaneously toward 2023. The team in Japan also continues to create and perform in temples in different areas of the country. Every version of Tera across Asia will be a unique performance, yet at the same time reflecting elements from previous versions and influencing those yet to be born.
Terasia aims to conceive new international collaboration methods, different from merely translating the script or co-producing a new play by joint rehearsals. It is an experiment to dismantle the relationship between the work, the artist, and the audience.
1-2. A Platform of Diversity and Universality
As mentioned above, Tera is destined to keep reincarnating into a new form. For "Tera Thailand," artists in Chiang Mai incorporate Theravada and Tibetan Buddhist perspectives as well as Lanna or Northern Thai beliefs. The performers take the audience on a trail around Wat Pha Lad, an old temple in the mountains, to experience a trip to "the other world."
At the same time, Tera's theme guarantees that its variants will always have a common underlying core. Stories of trust/belief towards invisible entities around humans have been told throughout history in every cultural setting, though the style may differ. By closing in on each society's specific realities, Tera will also become a gateway to approaching the universal values that encompass our perspectives on life and death, regardless of background.
What kind of mutations and transformations will Tera experience from direct and indirect contacts with people and places across Asia? What is at the core of human existence? We invite you to be part of this journey of exploration.
2. Method
Tera can be staged by a minimal troupe of 3 - a director, an actor, and a musician.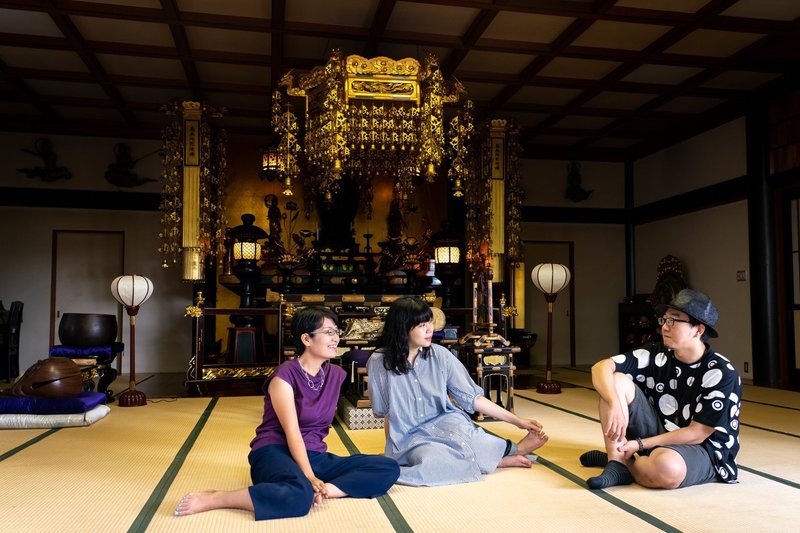 Photo: Hajime Kato
The original creators of Tera share the concept and structure of the performance with other member artists through online means. Based on their interpretation, artists will develop a script and create a new version of Tera unique to their community. Research and interviews for creation will be done domestically in the place of production. The performance may be offline and/or online, depending on the situation in the time and place of presentation.

Simultaneously, the Japanese team will continue updating Tera within Japan, to perform in temples of different Buddhist schools in different cities.
3. Timeline
Oct 2020
Tera Thailand, directed by Narumol Thammapruksa (Kop) @ Wat Pha Lat Temple, Chiang Mai.

Feb 2021
Tera Kyoto, directed by Yukari Sakata @ Kosho-Ji temple in Kyoto, Japan.

Dec 2021
Tera Myanmar, directed by Zun Ei Phyu. Performance site to be decided through research trips earlier in 2021.

2022
Tera in other Asian countries
*Potential areas include India, Malaysia, Vietnam, Singapore, Taiwan, etc.
2023
Tera Indonesia, directed by Dindon W.S. Performance site to be decided through research.
TERASIA Summit - A finale event that gathers creators of all versions of Tera produced from 2020-2023 to coincide with the ASEAN summit & G20 in Indonesia. The meeting may be offline or online, depending on the situation regarding travel restrictions.