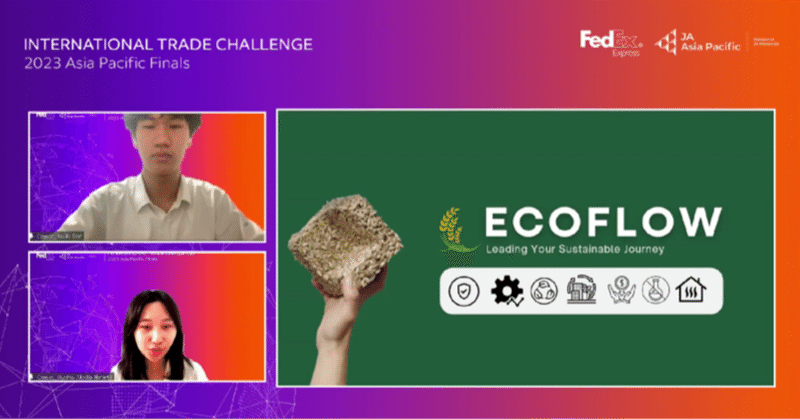 ITC2023体験記 ~From Strangers to Success~
International Trade Challenge 2023(以下、ITC)の国際大会に出場した高校生の皆さんに体験記を書いて頂きました。シリーズの第三号は、国際大会の決勝ラウンドに進出し、3位入賞の成績を納められたIさんによる投稿です!
Upon entering the Asia Pacific finals of the ITC, my biggest concern was that the competition required students to work with partners from different countries, and this presented a unique set of challenges.
Many alumni from previous years had warned about potential conflicts arising when deciding on business ideas, and some even recounted stories of partners disappearing midway through the competition.
It was clear that I needed to be prepared for anything. Therefore, I approached the ice-breaker session with utmost seriousness.
It was during this activity that I first met my partner, a junior student from Indonesia. We utilized the opportunity to engage in random conversations unrelated to the competition, delving into topics such as our hobbies, favorite books, and aspirations for the future. These seemingly meaningless discussions, however, played a pivotal role in establishing a solid foundation for our team relationship.
By discussing our personal interests and goals, we not only formed a bond but also gained valuable insights into each other's personalities as well as strengths. This foundation of trust and understanding proved to be invaluable as the actual competition kicked off.
As the competition commenced, our ability to communicate openly and honestly became a cornerstone of our success. We had created an atmosphere where it felt comfortable to express our ideas, concerns, and suggestions without fear of judgment.
This open dialogue played an especially crucial role in our decision-making process. From product idea brainstorm to task assignment, we were able to leverage our diverse perspectives and skill sets to develop innovative solutions and strategies.
That said, we still encountered a series of stumbling blocks throughout the competition and, at times, experienced heated disagreements over various issues. However, our unwavering commitment to preserving a robust partnership empowered us to confront these challenges head-on.
Rather than interpreting conflicts as impassable obstacles, we regarded them as stepping stones to growth and improvement. It was during these intense moments of discord that we learned to not only embrace our differences but also discover within them the chance of creativity and growth. I believe all these experiences contributed to our final result of third place in the grand final.
記載:高校3年 I.S
この記事が気に入ったら、サポートをしてみませんか?
気軽にクリエイターの支援と、記事のオススメができます!