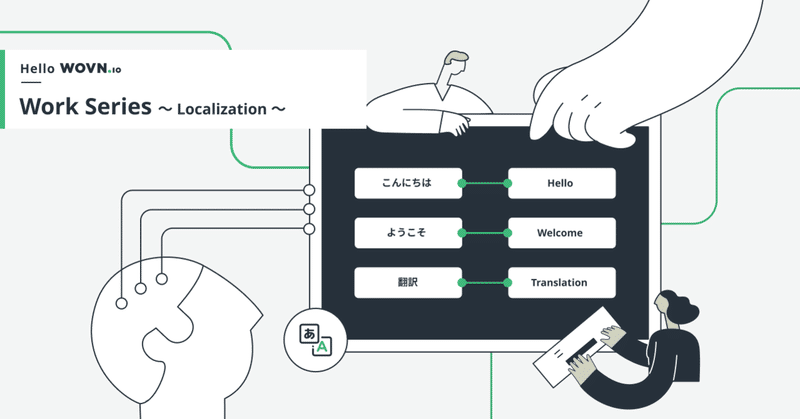 【Hello WOVN】Work Series (Localization)
We're excited to deliver our new series of Hello WOVN!
The new series will feature on WOVN Work!
Although we members at WOVN work together,
we don't know the details of our work if we're in a different team.
In the WOVN Work series, we'll take a closer look at the work of each team.
Our first issue will explore the Localization team.
Let's begin our interview with Manafi, the Project Manager (PM)
of the localization team!

- First of all, can you walk us through the translation process?
This is roughly how our translation process looks like. If there's a document that needs to be translated by a professional translator, you send a request to the PM. When a translation request comes in, I first try to understand the company that sent in the request. I make sure to find out the type of business the client is engaged in.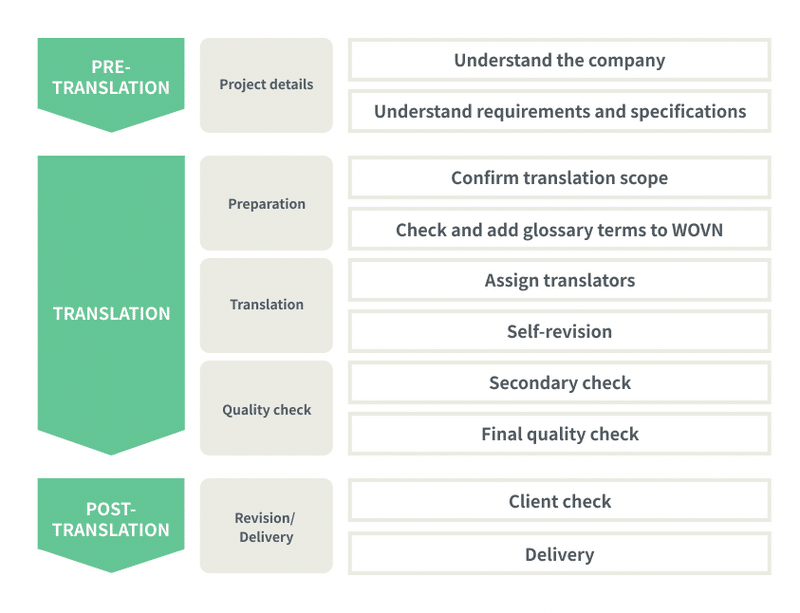 (A diagram of WOVN's translation process)

At the same time, I check that WOVN's localization team supports the scope of work and language. If the content is very technical, for example, a medical website with many technical terms, we may ask for help from a partner translation firm specializing in that area. Once I get an idea of the company and the translation work that needs to be done, I assign the translation to our in-house translators. Although the number of translation requests varies from day to day, we always have about 10 to 20 ongoing projects at the same time.
We manage our translation projects on a tool called Backlog, and every morning, we share information on all projects we are currently working on that tool. Once the translators complete their work, they change the status to completed, and we run a final quality check then deliver it to the client.
In our final quality checks, we make sure that the document:
- Follows the formatting rules
- Follows the client's translation style guide
- Has no unfamiliar characters
- Has numbers rendered correctly
- Has no omissions
- Has no machine translation values left
We focus more on aspects other than the translation, not the translation itself, when running the final checks.
If the translator has left any comments while translating, if necessary, we create a report so that our client can see them.

- What is the most challenging part of the translation process?
For example, for websites with a lot of dynamic content, it isn't easy to fix the final source version until the last minute. I assume the translators and coordinators of each language must be facing more difficulties with this issue than I.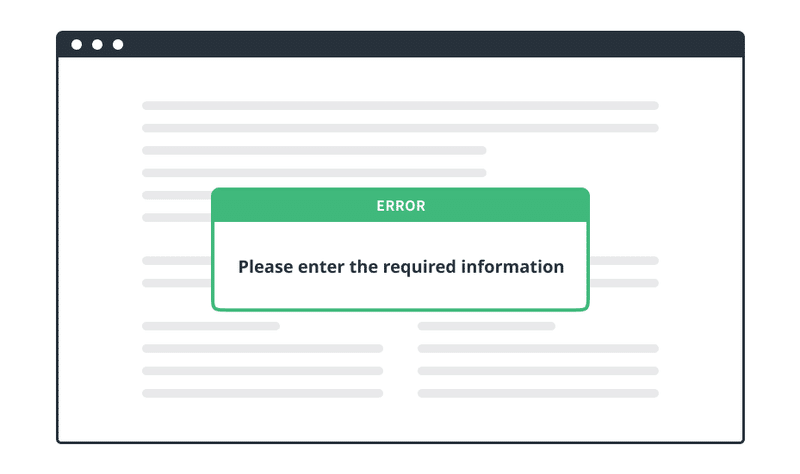 (An image of an error message screen)


- Do you find any challenges when coordinating with clients, the ES team, and the translators?
Since the translators are in the same team, I sometimes tend to manage from the translator's point of view (laughs). So, I ask the customer support team to give me an idea of what kind of people the clients are and their interest in the translation. I have been working directly with clients more and more these days.
Also, I don't always share all the translator's comments with the client. In some cases, our translators may suggest changing part of the source text if it uses expressions that are difficult to translate or are unique to the Japanese language. However, the clients may have purposely intended to use those unique expressions. So in such cases, I consider the overall situation of both the source and translated texts first and then decide whether or not to propose the translator's feedback to the client in a report.

- Is there any translation related work you find unique to WOVN?
In addition to managing the translating process, I am often the primary contact for translators in case of any work-related problems or WOVN's defects (laughs). I answer questions I can solve myself, and if it appears to be too difficult for me, I talk to our internal technical support team. I think this is something that translation service companies don't get to do very often and is unique to our company, as we translate on a platform developed by ourselves. So I find my work both challenging and exciting.
Because we translate on our own platform, we can directly request our internal dev team to fix certain things or ask for new features. They work hard to make it happen, and that's something I enjoy (laughs).

- Finally, please tell us what you focus on and value in your management role.
I try to communicate what I need the in-house translators to do precisely. The translators often have to stop their work if I don't explain what needs to be done clearly, or if the work is complicated.
I find this challenging at times even though I pay great attention, but I will keep trying to make my message easy to understand.

Thank you, Manafi, for sharing your stories!
In the interview, I was surprised to learn that so many detailed tasks were involved in the actual translation process.
It was an excellent opportunity for us to learn more about the work in different teams at WOVN. Please look forward to our next issue of WOVN's Work Series!


この記事が気に入ったら、サポートをしてみませんか?
気軽にクリエイターの支援と、記事のオススメができます!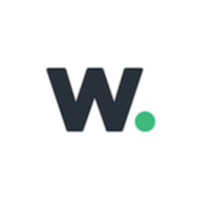 A magazine brimming with the very "WOVN-ness" that aspires to "Localize the Internet." Care for a taste of WOVN culture?