Japanese Journalist tweeted Hoax
■On August 2, Tadashi Tominaga (journalist and editor of Asahi Shimbun) suddenly sent hoax Tweets in English and French from his Twitter account. Until this point he just kept tweeting in Japanese. It seemed that he devised a way to increase the international outcry against Shinzo Abe.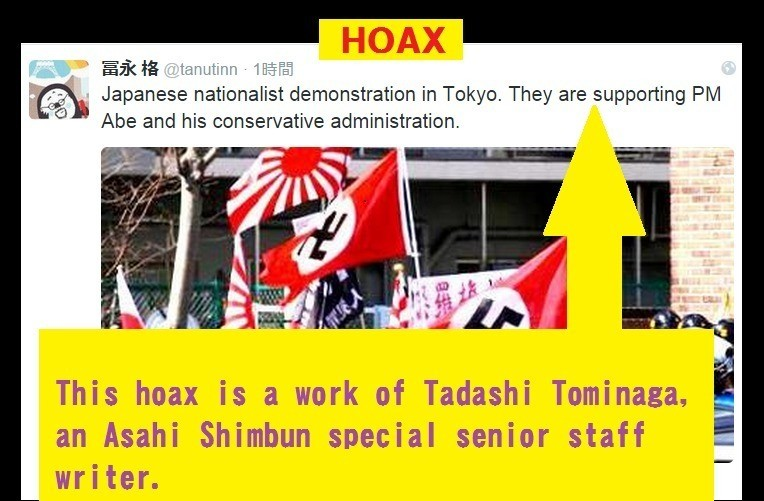 He tweeted a photograph of Japan ultranationalists demonstration with Nazi flags and described that the the participants are supporters of Prime Minister Shinzo Abe.

Many people pointed the problem of his Tweets and submitted comments critical. So Tominaga apologized and deleted his hoax Tweets.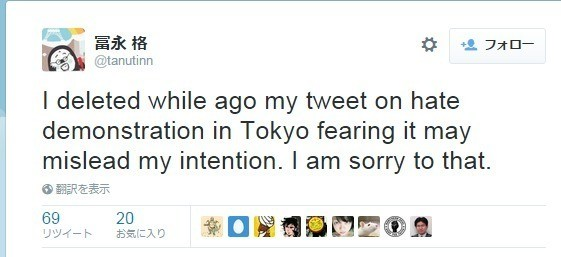 Asahi Shimbun issued a warning to Tominaga. Then He sent another Tweet apologizing.

(The Asahi shimbun: Apology for inappropriate tweet by columnist that raises doubt about reporting )

■The ultranationalists demonstration with Nazi flags in japan was proposed by Joe Aramaki. He asserted that they are not an organization for supporting Abe Shinzo. "On the contrary, many of us get mad at his political orientation about Immigration issue". Joe made a protest to Tadashi Tominaga.

https://twitter.com/joearamaki/status/628454632054919169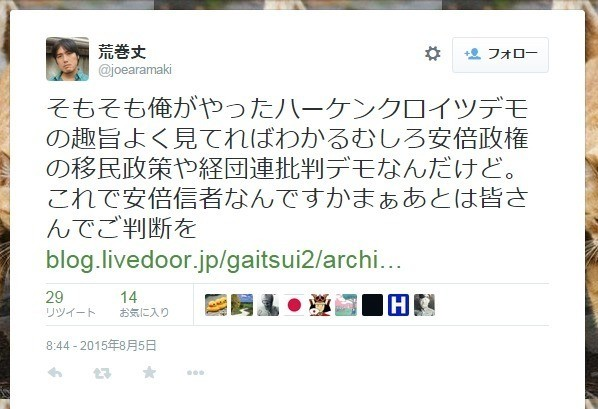 https://twitter.com/joearamaki/status/628713230290948096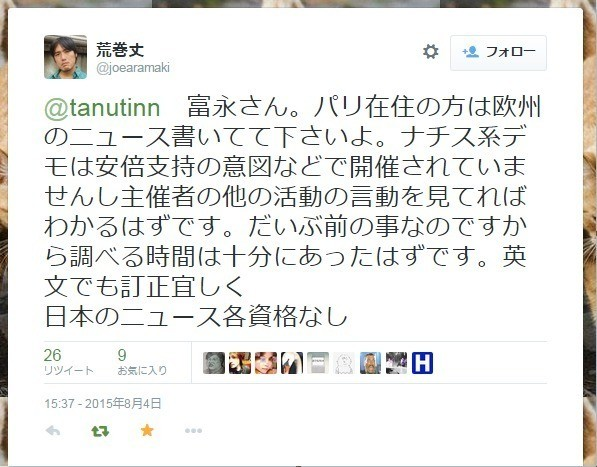 Daisuke Arikado, leader of the Nazi flags demonstrations, wrote on his blog, "When I held the Nazi flags demonstration at Nishikasai, I adopted a stance of unwavering criticism of Abe Shinzo's lax immigration policy"
http://blog.livedoor.jp/samuraiari/archives/51988114.html

■A while ago, on April 20,1989, Asahi Shinbun printed an article and picture on its news paper. It showed that the initials "K.Y" had been carved on the coral reef.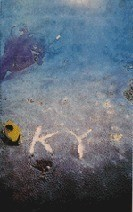 "Who is K.Y? Who damaged the coral reef?"

Asahi Shimbun asked his readers.
However, It turned out that the newspaper photographer had himself defaced the coral. This is one of the symbolic examples of Asahi Shimbun.
■And now 2015, Tadashi Tominaga added a new one.
----------------------
KEYWORDS: Japan,Japanese,left-leaning paper,TheAsahi,AsahiShimbun,AsahiShinbun,Newspaper publishing company,Tenseijingo,journalist,tanutinn,journalism,Twitter,hoaxes,misleading,,Nazi,Nazis,StagedPhoto,冨永格,朝日新聞,デマ,ツイッター,安倍晋三
この記事が気に入ったら、サポートをしてみませんか?
気軽にクリエイターの支援と、記事のオススメができます!