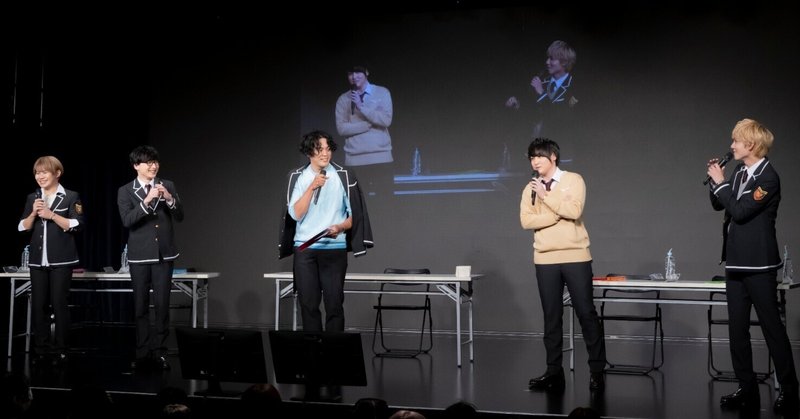 【Event Report】The cast of the anime "Cute High Earth Defense Club HAPPY KISS!" get back together and have a love proposal battle?!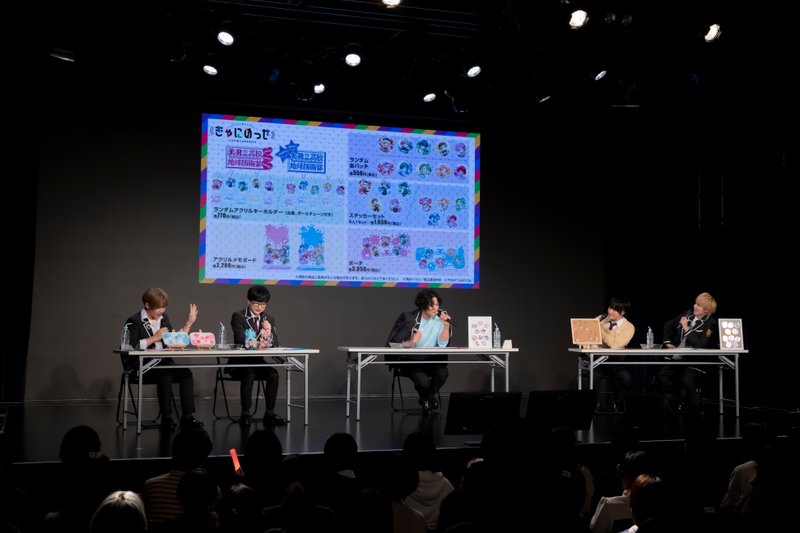 To celebrate the 11th anniversary of PONY CANYON's online shop "canime," the casts of various series got together to introduce canime products on the streaming program "canimesse." At the 2nd event that took place on 11/24/2022, the five cast members of "Cute High Earth Defense Club HAPPY KISS!": Naoyuki Shimoduru (who plays Kyotaro Shuzenji), Ryouga Komata (who plays Ryoma Kirishima), Takahide Ishii (who plays Nanao Wakura), Rikuya Yasuda (who plays Taishi Manza), and Shota Hayama (who plays Ichiro Dogo) got together. Not only did they show off some newly drawn SD character merch that can only be bought from canime (in Japan) and PONYCANYON SHOP (overseas), they shared some cute experiences working on "Cute High Earth Defense Club HAPPY KISS!", and held a kiss-blowing event for audience members who had preordered some merchandise. We can tell you all about the exciting and fun-filled event here that entertained YouTube livestream watchers and featured audience members that were picked to go to the event from canime Prime members.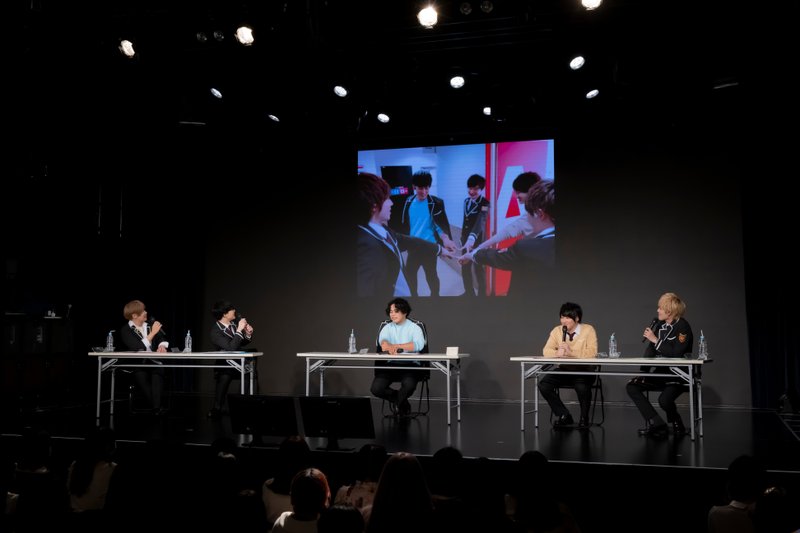 The five cast members appeared onstage full of smiles saying, "Hello, good evening!" and "It's been a while," as the audience welcomed them with applause. First, the cast members each greeted the audience with lines they each thought was the coolest along with matching poses. Next, Ishii served as MC for the segment, "Deliver the HAPPY! HAPPY Memories Battle Part 1," where Ishii, Yasuda, and Hayama talked about memories from "Cute High Earth Defense Club HAPPY KISS!" that brought the fans joy. They even showed footage of the five cast members forming a circle right before their event "Cute High Earth Defense Club HAPPY KISS! LIVE!" that was held on 11/11/2018 at Zepp Tokyo. Ishii reminisced, "Though the five of us are so different, I felt like we all came together and became a team." Yasuda revealed that around fall of 2021, he worked alongside his senpai from "Cute High Earth Defense Club LOVE! LOVE! LOVE!", Yuichiro Umehara and Yasuda told him, "I'm currently doing kiss-blowing events for HAPPY KISS!" and Umehara replied, "Crazy." Yasuda said it was a wonderful memory and thanked the audience. Hayama expressed his love for the members and audience as he looked back on their experience when they first started dubbing "HAPPY KISS!" "When we started dubbing, we didn't know each other and it was the first time we were all voicing main characters, so I was so nervous that I couldn't breathe. But then a bond was created between the HAPPY KISS members, so as long as we have everyone's support, the five of us can continue doing activities together. That just made me so HAPPY so thank you, everyone! ♡" All these memories are just so HAPPY!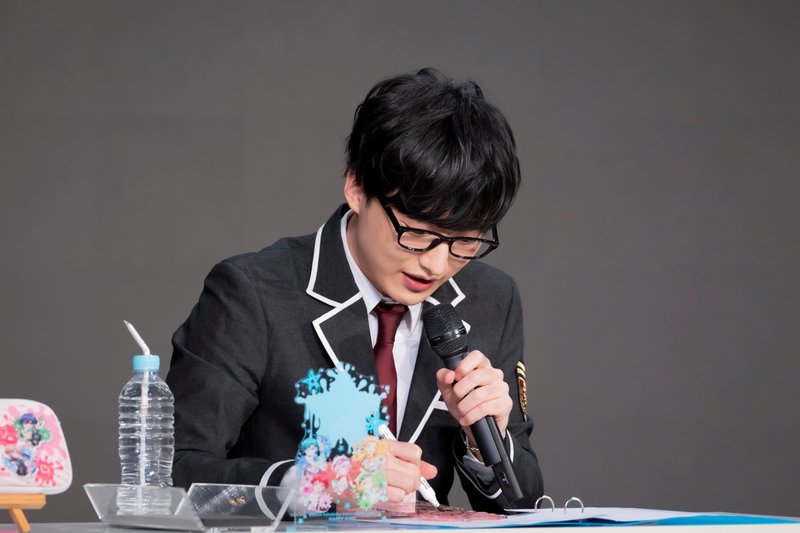 Yasuda went full-on informercial mode with his "informercial" prompt and channeled the spirit of a famous president from a certain infomercial series. "Unclutter your messy bags with just this one item! Now's your only chance! Act now, and it'll come with SD illustrations of the characters," he said, as he tried to promote the pouch.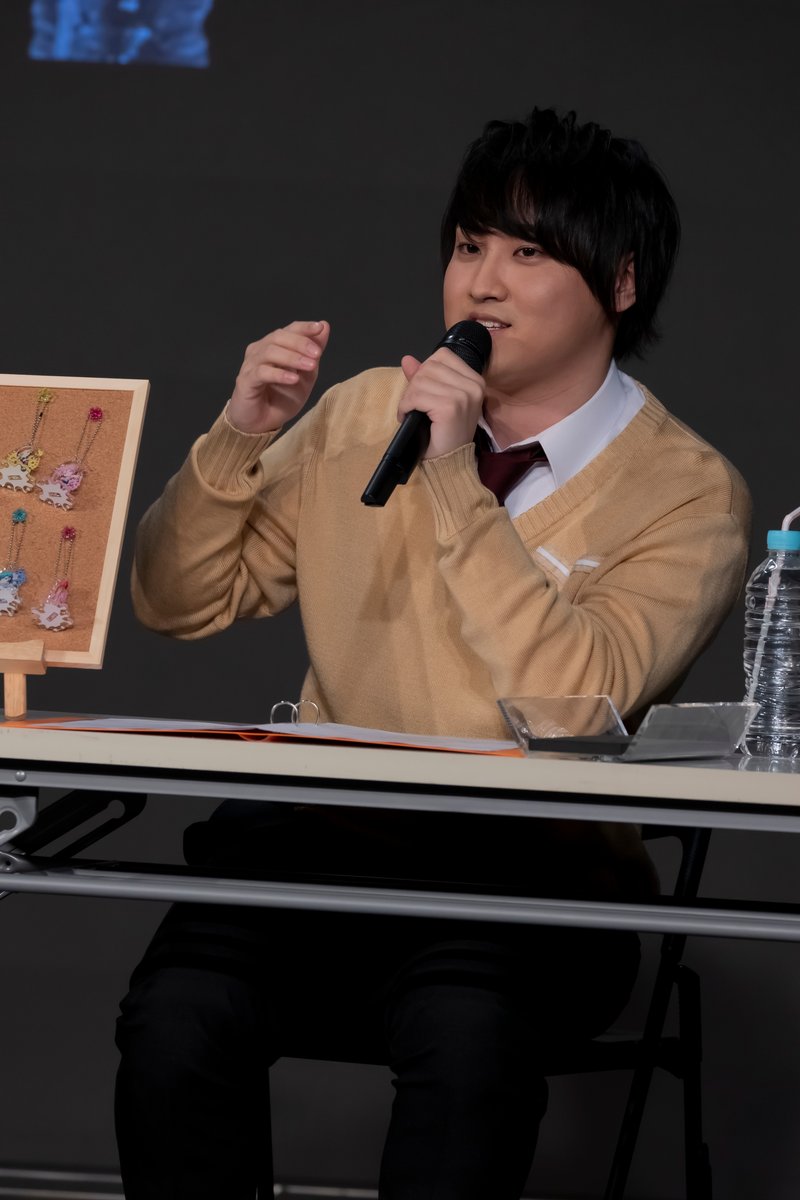 Komata was given the "matter of life or death" prompt and put on a skit using all ten versions of the acrylic keychains and ended with, "Uh... yeah, so you could do something like that with these."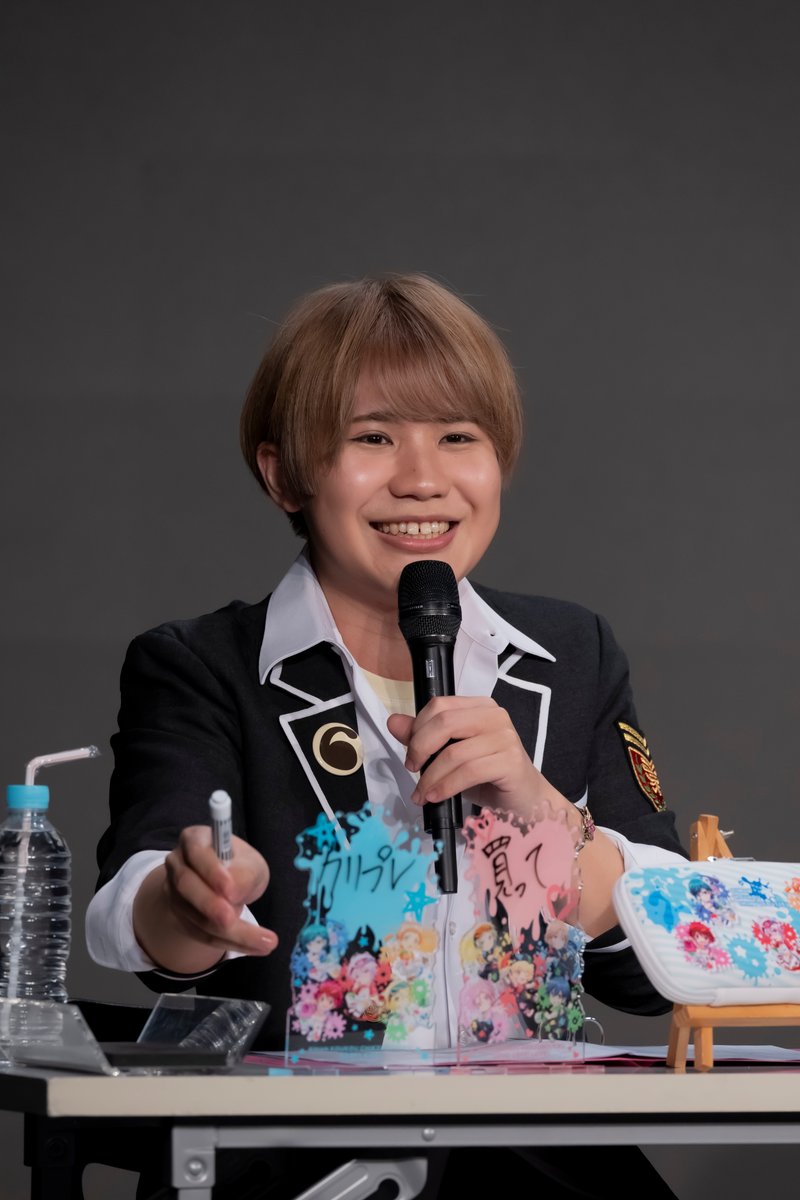 Hayama was given the "impromptu song" prompt and he changed the lyrics to the famous "Stone-Roasted Sweet Potatoes" song to promote how useful the acrylic memo board was.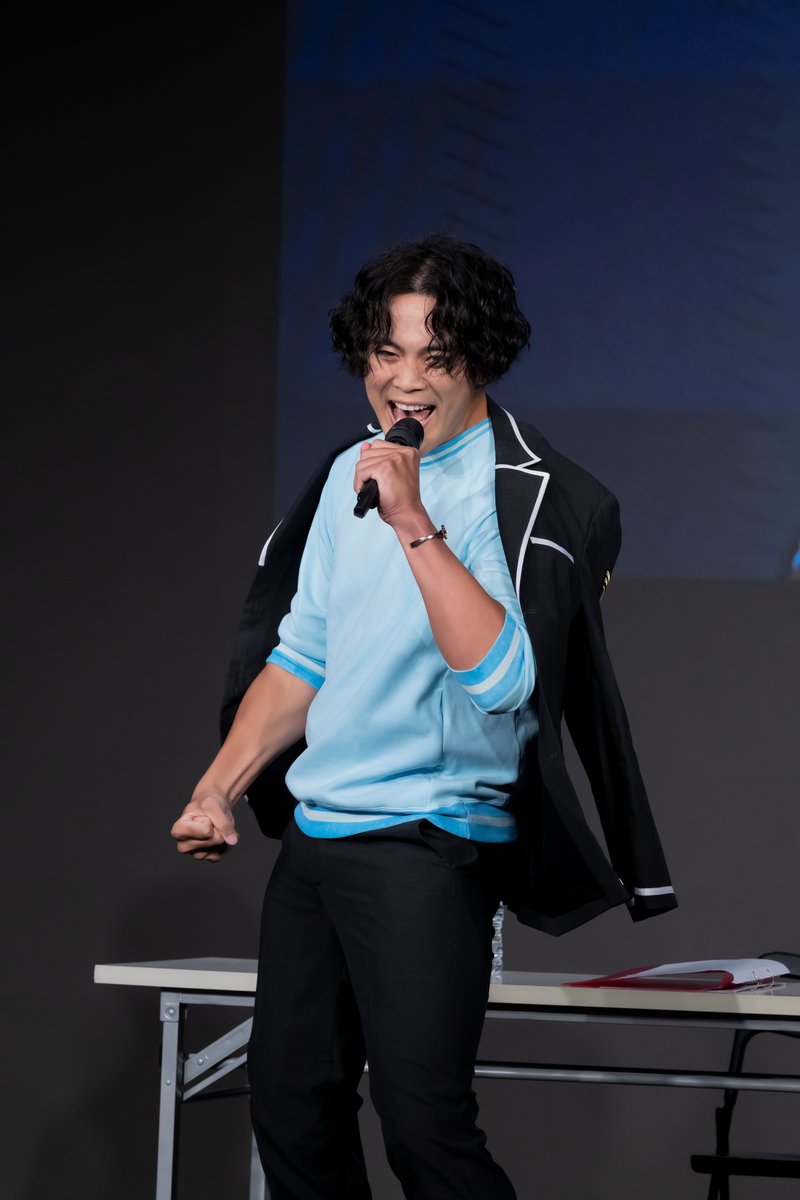 Shimoduru was given the "give the presentation in English" prompt where he struggled a bit but managed to tough through and promote the can badges by saying, "You should buy can badges! Thank you!"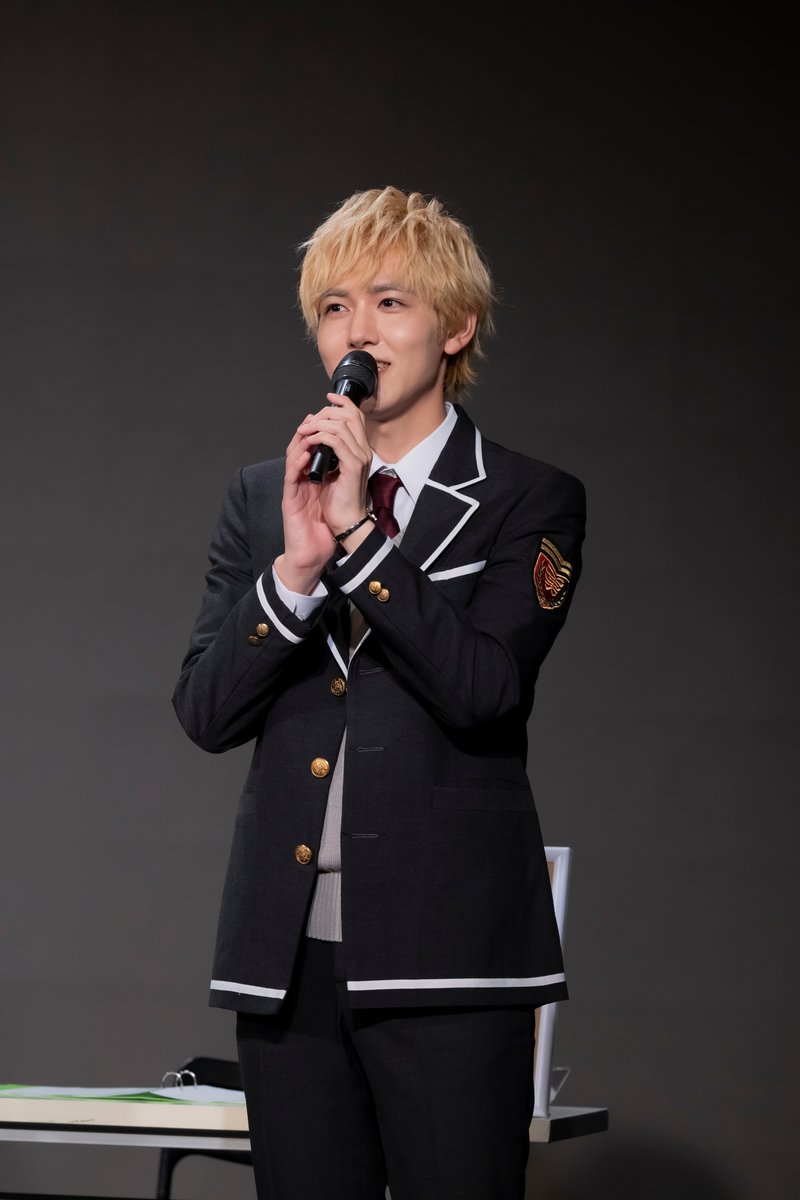 Ishii was given the "youth" prompt, and he dragged Hayama into a skit suddenly and they fumbled around with that, but he was able to successfully promote the sticker sets.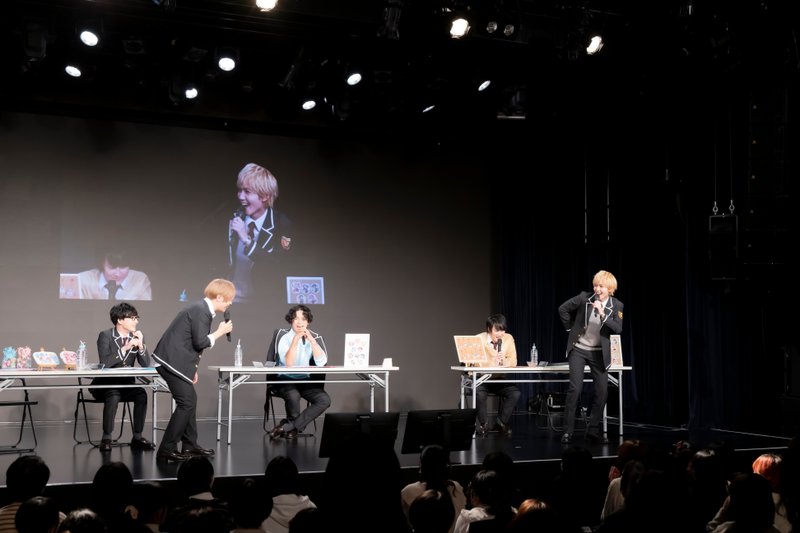 They had been keeping track of the preorder numbers that day, but because of each of their powerful presentations, the preorder numbers actually more than doubled!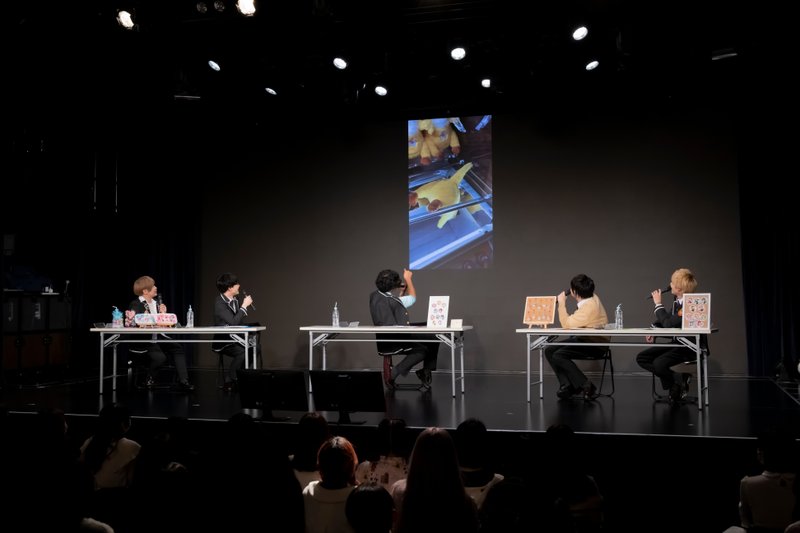 Komata was the MC for "Deliver the HAPPY! HAPPY Memories Battle Part 2," and Komata and Shimoduru shared their memories about "Cute High Earth Defense Club HAPPY KISS!" "Four years ago, Sho (Hayama) was the first one out of the Earth Defense Club members to go out to eat with me one-on-one. But then, the next person to go out with me one-on-one was Yasuda, and we went to a family restaurant and then karaoke, and we talked a whole bunch, so my memories of going out with Sho are much hazier (lol). But then, I went to Hide's (Ishii's) house and went to the Pokémon Center with him, and then I also went to eat Korean BBQ with Tsuru (Shimoduru)," Komata shared. They then shared a video where the five of them went to an arcade and managed to get a huge plushie of Karurusu from "Cute High Earth Defense Club HAPPY KISS!" from a crane game. "That was so much fun!" reminisced Shimoduru. Apparently after all the memories shared during part 1 and 2, the audience felt the HAPPYest with Shimoduru's memories.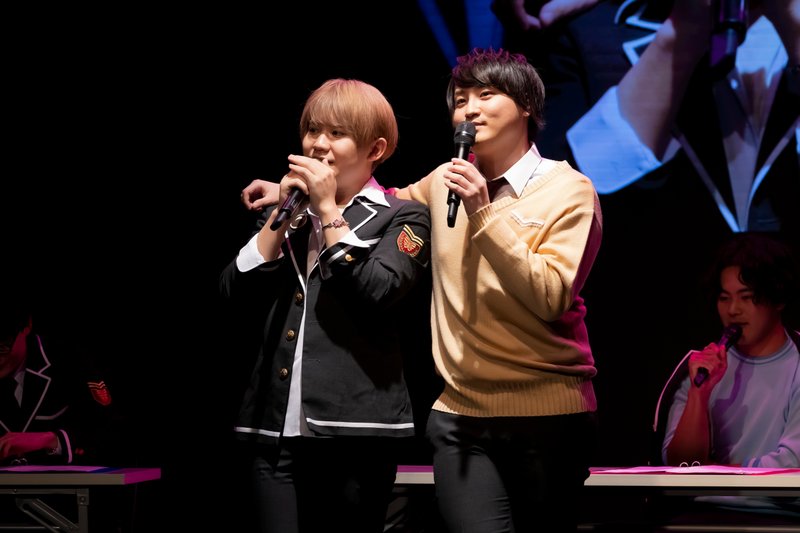 The five cast members were told that the HAPPY level was way too low, so the next segment had Komata and Hayama say, "Let's get married!" and blow kisses to the audience in the "HAPPY Wedding KISS" segment. Under a pink spotlight, Komata proposed to Hayama without hesitation by saying, "Shota, I have something important to tell you. Let's get married." Hayama responded with, "When you invited all of us to go to Shibukawa Ikaho Hot Springs that has a collaboration with "Cute High Defense Club" over LINE, no one else was going to go so I went with you, didn't I? (lol) Ryo kept going up and down the stairs at Ikaho and looked really tired, and for some reason, we didn't go use the foot bath even though it was there. It all was a lot of fun though." After all that, Komata asked again, "Well? Can I get an answer, Shota?" Hayama then replied, "I would like to continue enjoying a fun-filled life with all of you, so, Rikuya Yasuda, Naoyuki Shimoduru, Takahide... Ishii(?), Ryouga Komata, please marry me, ♡" and proposed to all four of them. In which, Shimoduru for some reason replied, "Yes, please." Ishii was upset that Komata had forgotten his name for a moment and said, "You took too long! Now blow everyone a kiss!" but his request was ignored. Yasuda ended the segment by saying, "And now, everyone is HAPPY!" These five are definitely in sync.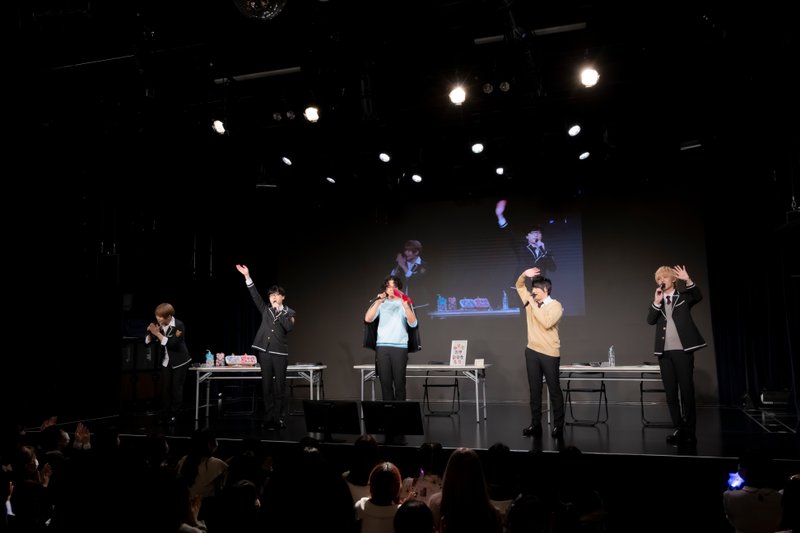 They also announced a talk event, "Christmas 'Eve x 8' Let's Talk Christmas Party," that will be held on Saturday 12/17 at the Shibukawa City Ikaho Gymnasium for the "Cute High Earth Defense Club" series x Shibukawa Ikaho Hot Springs collaboration "♡LOVE&HAPPY☆ Yu no Hana Roman," and the five cast members talked about their thoughts on the event. They expressed the happiness of being able to do things together again as the Earth Defense Club and gave their love and thanks to all of their fans who have supported them over the years.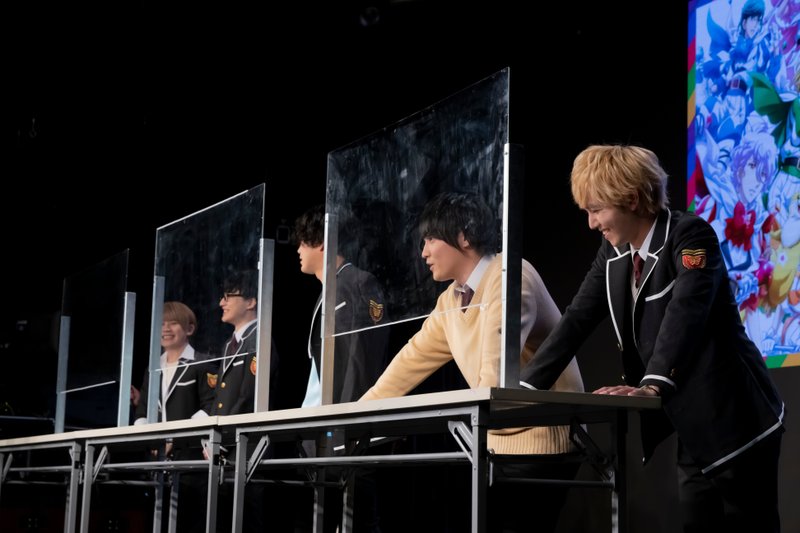 After the livestream, there was a kiss-blowing event for fans who had preordered some of the merch, so the five cast members gently blew kisses to fans from behind acrylic panels, delivering a truly "HAPPY END" to the event. The event archive can still be seen on the YouTube channel PonyCan (https://youtu.be/bsq85J3rZM8).
Also, all of the new featured merchandise are available to purchase until 11:59 PM JST on Wednesday, 12/21/2022 from the PONYCANYON SHOP. Anyone who spends more than 2,727 yen (tax excluded) on qualifying merch and if preorders exceed 1,000, will receive 2 postcard sets. If preorders exceed 3,000, 10 lucky winners will be picked to get a 10-piece set of replica key frames. For more details, please check out PONYCANYON SHOP. (https://shop.ponycan.com/products/list?name=CHIKYUBOUEIBU)
[canimesse "Cute High Earth Defense Club" Series New Merchandise Info]
To purchase, click here: https://bit.ly/3VWqW43
Check out the event here: https://youtu.be/bsq85J3rZM8
PONYCANYON SHOP Website: https://shop.ponycan.com
PONYCANYON SHOP Twitter: https://twitter.com/PonycanyonShop/
PONYCANYON SHOP Facebook: https://www.facebook.com/PONYCANYONSHOP/
PONYCANYON SHOP Instagram: https://www.instagram.com/ponycanyon_shop/
[Information]
"Cute High Earth Defense Club" series x Shibukawa Ikaho Hot Springs collaboration "♡LOVE&HAPPY☆ Yu no Hana Roman"
https://www.knt.co.jp/meito/sp/boueibu/