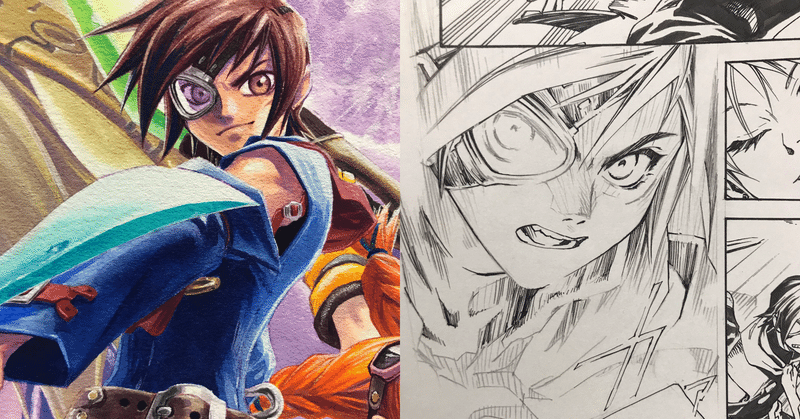 [Skies of Arcadia] A Small, Tremendous Miracle that You and I Made after 20 years.
Today, October 5, 2021, is the 21st anniversary of the release of the Dreamcast version of "Eternal Arcadia", the Japanese version of "Skies of Arcadia".

It was finally officially announced on this day, the comic version of "Skies of Arcadia" will be published electronically in 2022! At first, only Japanese version though.

……What's that!? What does that mean? Are you for real?

I can see your surprised face. No wonder. If I heard this as a third person, I couldn't believe it.

But who did this are YOU and ME, we made it!!

This is a ridiculous, tremendous story. I started this challenge in January 2020, and it took a year and nine months. Let me tell you how that happened. Please read to the end!

What is Skies of Arcadia?

"Skies of Arcadia" on Wikipedia :
https://en.wikipedia.org/wiki/Skies_of_Arcadia

Skies of Arcadia is an RPG released by SEGA in 2000 that depicts the adventures of Vyse, the air pirate. I participated as a programmer on the development of this game and made the sky.

In a little more detail, I made "All the objects in the moving part of the RPG that fly in the skies of the world". It's a bit important part of the game. I control all the objects in the sky, except the player's ship and islands. For example, clouds, the moons, other ships, fish swimming in the skies, etc.

The Beginning of Everything

In the fall of 2019, I was contacted by a big fan of Skies of Arcadia overseas. He was coming to Japan, and he wanted me to sign the Limited Box of Skies of Arcadia. It's been 19 years since the game was released, and I was surprised that he was still a fan. Actually, I was afraid that my sign would reduce the value of the limited box, but he was coming from afar, so I agreed it.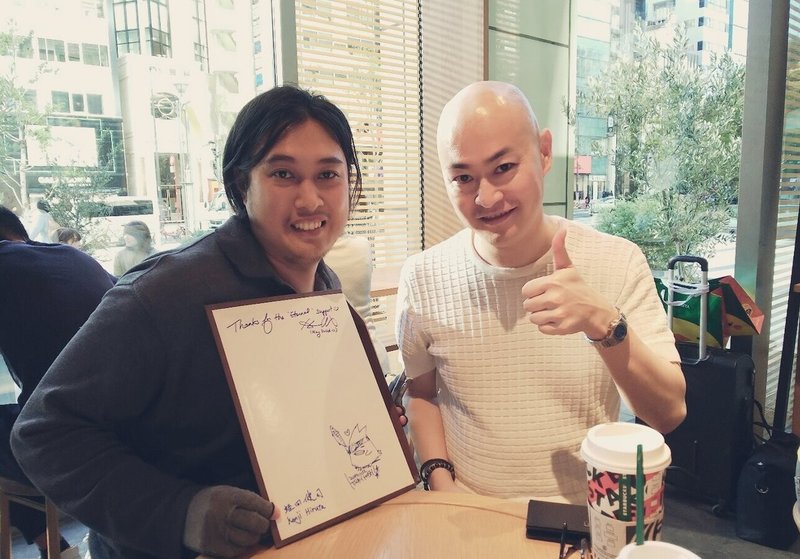 He said that he also met the illustrator of Skies of Arcadia. The illustrations of Skies of Arcadia were wonderful, so I would had liked to see her too. Thanks to him, I was able to discover the illustrator's Twitter account.

The illustrator tweeted that she would participate in an event where SEGA fans gather in January of the following year, and she would also exhibit the original pictures of Skies of Arcadia, so I decided to go see them.

At the Event
I met the illustrator for the first time at the event, and I was able to see the original drawings of Skies of Arcadia. She also brought a comic version of it, and the pages were a lot. I felt very sorry that I couldn't read them all at there. Moreover, it has not released as a comic in the past because it was discontinued without being completed. However, it was a great quality work, so I started thinking whether it could be released or not. "Is there any possibility for electronic publishing?".
It was also great that some Skies of Arcadia fans were exhibiting in the event and many fans were visiting there. I was so grateful that the fans had been supporting the game for a long time, and I felt that I should do something I could do.

Status of the Comic Version

But in fact, the situation of the comic version was hopeless.
- Almost 20 years had passed since the serialization.
- The magazine that was serialized at that time was suspended, and the editorial department was disbanded.
- No one knows where the person in charge who knows about the comic version.
- Permissions from both the game rights source SEGA and the magazine's publisher were required.

The more I researched, the more difficulties I found. Even though I was involved in the game development, I had quitted SEGA many years ago, and I was a complete outsider of the comic version.

There were a lot of fans who had been supporting the game for many years, and even though the wonderful masterpiece still exists, but it couldn't be released. I spent days in agony in the painful reality.

Fan response

However, I wanted to do as much as I could for the fans, so I decided to give the autograph given by the illustrator at the event to overseas fans as a gift. Expenses such as shipping costs were on me. Then, there were more than 1,000 applications, and I felt the strong support of the fans.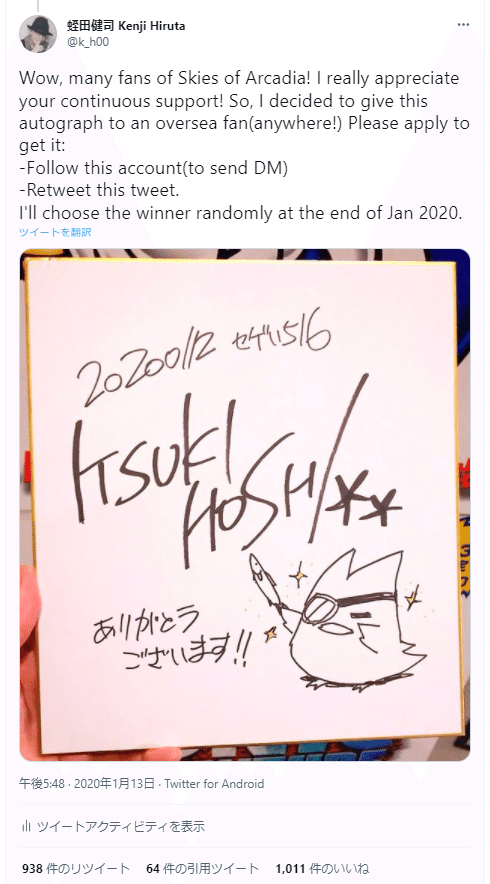 Also, I'd always wanted to develop a sequel of Skies of Arcadia, so when I tweeted it in English, the response exceeded 1.15 million impressions, and so many articles were written all over the world. Again, I was able to feel the enthusiasm of the fans.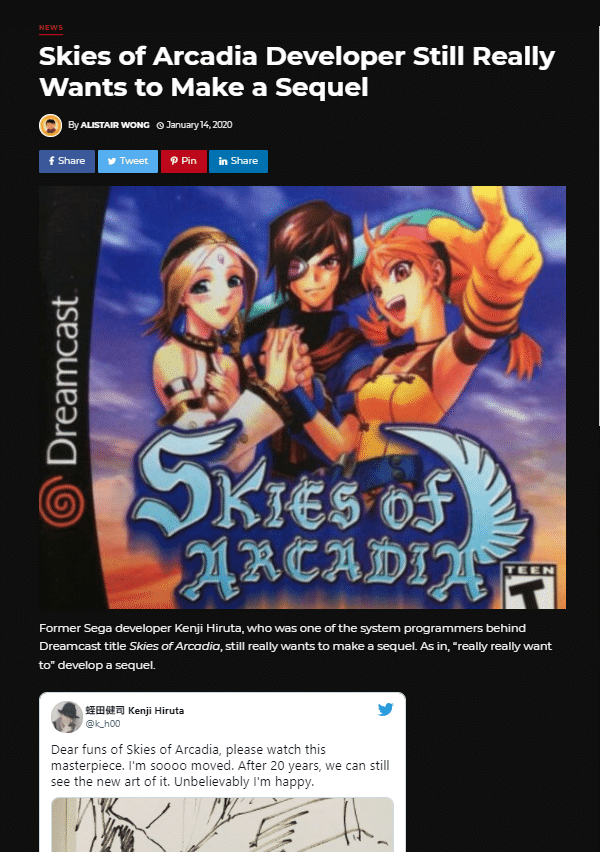 In addition, a large European game media wrote a long great article about me and Skies of Arcadia, and it had been talked about all over the world.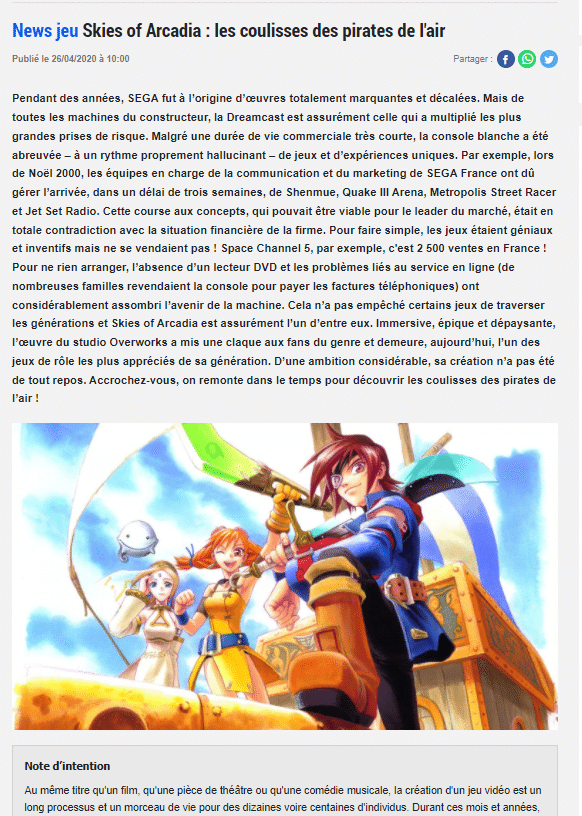 Decision

It was a big surprise to receive such a great response. I was deeply moved and encouraged by the fact that many fans have always liked the game.
Is it really impossible to release a comic version by electronic publishing?

Of course, it must be unbelievably difficult. Find out the people involved, explain the situation and persuade them, get permission from SEGA and the publisher, ask the publisher to get the budget for the project, have each necessary contract signed, prepare all the existing original pages in a format for electronic publishing, and after making various marketing arrangements, it would be finally able to be released.

How much effort and time would it take if I, an outsider, would proceed it? All the work would be unpaid. Even if it could be realized, I wouldn't get even one cent.

But, I decided to take on the challenge. Games are not for the developers, but for the fans. In my life as a video game developer, I have been developing and doing business with all my power and skills for the fans who have been waiting for the game. It will never change.

Once again, I would do my best for the fans all over the world. I decided to take on this incredibly difficult challenge.

The Only Weapon

I was an outsider, so I had no influence on this challenge. The only weapon was the support of the fans. Although I couldn't disclose the challenge, I had organized the response of the gift campaign, my tweets, and the articles that had been published all over the world.

These were all manual work, so it took a long-long time. But I was very grateful for each and every response, and I could get even more energy. Then, using the results of the compilation as a weapon, I finally started negotiations with SEGA and the publisher.

Progress of the Negotiations

Since I worked at SEGA, I was able to be introduced to the licensee person smoothly. I told the person about the voices of many fans, and negotiated the license. Then, I received a reply that the procedure could be the same as for normal licensed products. I made the first step.

Negotiation with the publisher was much difficult. Fortunately, I was able to contact the person in charge of the comic, and I told him about my eagerness and the big support of the fans in a long-long email, then he said that he was able to consider it positively. He talked to another editorial department, and a new person in charge was assigned. And I was able to connect the person with the SEGA licensing team.

After spending a lot of time exchanging dozens of emails, I finally reached agreements with SEGA and the publisher!

Sudden Stop

However, this story didn't go so well. Because the rights holders of the comic are not only SEGA and the publisher, but there was another person involved (let's say Mr. A). We couldn't publish it without the permission of Mr. A, but after nearly 20 years, we couldn't get in touch with him at all.

At the point, it became necessary not only to negotiate but also to find a person.

Moreover, finding Mr. A was extremely difficult. Because Mr. A used this work-only pen name, so I couldn't get any information on the internet, and no one knew where he was.

Still, with a small hope, I searched online for months and continued to ask to the people involved. However, I could get only a small amount of information about another person with the same name, and no information about Mr. A.

Clue?

I couldn't give up, so I posted the situation on Facebook and gathered information from all my connections. Fortunately, I have connections more than 1,700 people in the industry, and I wondered if anyone knew about Mr. A.

Then, I received information that seemed to be a part of the name of Mr. A's job change destination. It was an uncertain information, but I was so grateful. In order to follow in his footsteps, I listed the candidates companies, and started to look up the information of the members of these companies. The range to be investigated had expanded enormously, but I thought I could reach Mr. A's information somewhere. I was very motivated by the connection of hope that I was almost lose.

However, while the investigation was proceeding at a tremendous pace, another person pointed out that the information was totally incorrect. This was from heaven to hell. The information to be researched suddenly returned to 0, and Mr. A's footsteps to be traced was completely cut off.

Searching in public?

I had no choice but to take the last resort. The way was after disclosing the information, searching Mr. A on Twitter etc. on a large scale. In fact, there were some miracles that find a person on Twitter, so I wanted to bet. Of course there were risks, but I couldn't give up.

However, when I consulted with the people concerned, it was not allowed because it might bother Mr. A. I was also aware of that possibility, so I had no choice but to respect it as long as the people involved decided no.

Thinking about Vyse

After exchanging dozens of emails and messages, browsing hundreds of websites, and working unpaid for months, I finally couldn't go even one step further.

I made the agreements with SEGA and the publisher, and that alone was tremendous. I've done my best, that's no doubt.

But it hurt me. I wanted to see the happy faces of all the fans who supported the game. Until the point, I had been working hard to overcome the great difficulties.

To be honest, I had spent too much time that it had a big impact on my career. I knew it was the time to reconsider. I was also aware that I was too obsessed with it.

But even though, I just couldn't give up. Because, did Vyse, the main character of Skies of Arcadia, gave up in the face of difficulties? No, he never gave up. It was such a courageous story, so it still remains in the hearts of many fans.

"Is this really impossible? Should I give up here?"

I asked myself many-many times, but I couldn't give up.

Only one "Like"
I decided to make this challenge a lifework, even if it didn't lead to immediate results. And I decided to re-examine the information I had already searched.

During I continued to do that in between my daily work, I noticed one trivial fact that I had missed when I looked it up before. There was a person named Mr. B who brought Mr. A into the project 20 years ago, but an acquaintance Mr. D who made "Like" to the Facebook page of company C, which seemed to have been related to Mr. B. I newly noticed only one "Like" made by only one person among the more than 1,700 Facebook connections.

Connected strings

I immediately explained the situation to Mr. D, he said that Mr. E, who was the superior of Mr. D, had founded company C, and although Mr. D had not contacted Mr. E for many years, but agreed to contact him. Then, actually the company C had a relationship with Mr. B in the past, and Mr. E would contact Mr. B. And Mr. B gave me the contact information of Mr. F, who was an intermediary with Mr. A! (Too many people involved …)

In this way, I was able to contact Mr. F. He said that Mr. A reduced his work in recent years, and he had further reduced contact with people due to the social conditions. When I heard about the situation, it seemed like a miracle that I had reached him.

And finally, Mr. A gave us the permission to release the comic version!

Online Meeting
Having overcome all the difficulties and being able to move on to the release, I had an online meeting with the person in charge in the publisher. Actually, although we have been communicating for a long time, that was the first time we saw each other's faces. It made me a bit feel strange.

In the meeting, he asked me really wonderingly, "Excuse me but you will not get even one cent, why did you work so hard for long time?"

I answered, "20 years after its release, I did my best for the many fans who have been supporting Skies of Arcadia." It's simple.

Mission completed!

Finally, my tremendous challenge was completed. Looking back on the work for it, there were 86 emails and 161 messages!

There were more events than I could write here, and there are countless people who helped me. I would like to express my deepest gratitude to all concerned people.

And above all, I would like to once again thank all the fans around the world who had driven me to such a difficult challenge and continued to support the game. Thank you very much for your love of Skies of Arcadia!

If you like, I would like as many people as possible to spread the story of this reckless challenge. Let's reach those who used to play Skies of Arcadia and loved it.

And if anyone wants to appreciate for my struggle for one year and nine months, please buy me a cup of coffee. You can donate around 5 dollar from the following link.
https://ko-fi.com/kenjihiruta

This may be a small step, but it's still a tremendous miracle that has changed the world of Skies of Arcadia. The power of the fans is great. If many people want it, we may be able to make even bigger changes. I myself am looking forward to the future of Skies of Arcadia.

And to all who challenge difficulties. Unfortunately, even if you never give up, you won't always get results. I was greatly helped by my personal connections and luck. But, I will continue to face the challenges without giving up. And no matter how ridiculous the challenge or the reckless struggle, I will continue to support those who have the courage to face the challenges. Let's explore over the end of the sky together.

( Please ask your questions here: https://bookcomi.kds.jp/form/ )
この記事が気に入ったら、サポートをしてみませんか?
気軽にクリエイターの支援と、記事のオススメができます!