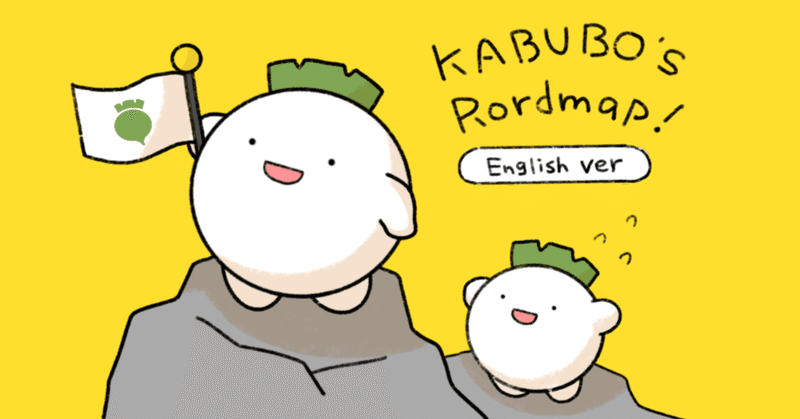 Kabubo's Rordmap (English ver)
■ Kabubo's dream
To bring happiness from Kabubo to everyone.
Kabubo are turnip creatures with gentle personalities that live in nature.
Their cute appearance brings happiness and healing to people who are tired from work or who are feeling depressed.
We dream of having Kabubo in every corner of people's lives, spending time with them, and bringing them happiness.
In order to make this dream come true, we are working to help as many people as possible to find Kabubo.
What exactly do you want to be?
We want to increase the number of opportunities to see Kabubo, so we have the following goals.
Capsule Toy

Prizes

Merchandise (sold in stores)

Picture book publishing (through a publisher)

Clay animation (or 2D animation)

Tie-up products with companies, farmers, etc.
■ What you can do to make your dreams come true
Make them aware
Publicity activities on social networking sites (illustrations, 4-frame posts, streaming, etc.)

Exhibiting at retail events
Corporate Approach
Participation in business meetings

Sending sales e-mails to mail order sites, etc.
creating an actual state of affairs
Production of LINE stamps (can be used to spread the word, and in the case of a group line where multiple people are participating, a single stamp can be sent to all members at once)

Produce NFT works (not just for purchase, but also for secondary and tertiary distribution, and overseas development can be expected)

Production of contents such as picture books or four-frame comics to learn about the contents of Kabubo.

Production of products for other events and mail-order sites
■ Purpose of entering NFT
There are two main reasons for starting the NFT and objectives of the NFT.
Expanding awareness

Fundraising
These are our main objectives.
Specific reasons for choosing NFT
There is a possibility of secondary and tertiary distribution, and since buyers tend to be active in sending out information, we can expect diffusion power.

As the overseas market is large and opportunities to be seen increase, future overseas development can be expected.

NFT-related communities are thriving, so you can exchange opinions and information with friends and fans.

There is a possibility that NFT works will be purchased at a high price, and there is a possibility of raising funds.
■ NFT Collection Introduction
Currently (2021.12.06), we are showing two different Kabubo NFT works in one collection.
① Kabubo gif series
This is a gif animation work.
The moving illustrations make it easy to imagine Kabubo's world view and image, and the work is close to the taste of Kabubo's picture books (self-published).
② Kabubo icon series
This is a simple illustration that can easily be used as a SNS icon.
The price is deliberately set at a low level so that people who are new to NFT can easily pick up the model and people who are not familiar with Kabubo can easily purchase it.
The purpose of this series is to increase the number of owners, thereby expanding awareness and establishing distribution.
③ Kabubo 3D series
This is a series that we are working on with a 3D creator.
The release date is currently undecided.
Kabubo's round form is his charm point, and we would like to show the parts that cannot be expressed in 2D illustrations as 3D works. In fact, the actual Kabubo figure is the most popular among the goods.
③ Collaborative works with other creators
Currently, we are also exhibiting collaborative works with overseas creators and project organizations.
We plan to continue to collaborate positively with any of the above series, both in Japan and overseas.
■ About the number of NFT works
In the past, we fixed the maximum number of NFTs for each series at 20, but we plan to move forward with no limit.
Why did you remove the quantity limit?
To continue making NFT works for the rest of my life as well as Kabubo's actual goods

For the purpose of expanding recognition (because the pace of secondary and tertiary distribution is slow and the probability decreases if the number is small)
■ About Benefits
We'd like to thank all the people who have contributed to the Kabubo Project, whether you're a purchaser or a member of the Discord community, so we've prepared special offers for purchasers and Discord members only.

May Kabubo appear by your side too!
2021.12.06 Kabu,Inc. Chama.






この記事が気に入ったら、サポートをしてみませんか?
気軽にクリエイターの支援と、記事のオススメができます!