Sourcing Low Volume Custom Thread Taps And Thread Gauges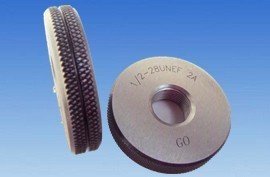 When you are sourcing your UNC thread gages and thread taps one of the challenges you are likely to face is finding a supplier that is ready to take up custom thread taps and thread gauge orders. Thread gauges and thread taps are available in standard sizes as well as custom sizes. In some manufacturing environment, you would need standard or regular sized tools but in certain circumstances, you will be required to order custom tools.
Most of the manufacturers of trapezoidal thread taps and thread gauges are ready to take up custom orders but they would require you to meet their minimum order quantity or MOQ requirements. It would not be financially viable for most companies to manufacture low volume custom thread gauges or thread taps. This is because whenever a custom size needs to be deployed, adequate preparation is required. The equipment needs to be set up correctly to the required specifications. Once the set up process is over, it has to be tested for the accuracy of the output or the thread gauges or thread taps manufactured so that it is as per the specifications. All these translate to a higher cost per piece. If you send high volume requirements to your suppliers, the initial setup cost would be absorbed automatically in the high volume order. As a result, most of the manufacturers do not entertain low volume custom thread gauge or thread tap order.
Just because the manufacturers are not ready to take up low volume custom orders you will not be able to go for standard sized thread gauges or thread taps. Neither would you be able to go for high volume order. This poses a serious challenge when you are trying to source your custom thread gauge and thread tap.
Instead of trying to source your inspection tools and threading tools locally, you should consider sourcing them from other countries such as China. Manufacturers in these sourcing hubs are ready to take up low volume orders too. You will be able to order even a single piece custom thread gauge or thread tap. Explore the options available in the industry to source the required tools.
You can make use of the internet to spot the right suppliers from China. All the leading companies have strong online presence. Therefore finding your suppliers of thread gauges and thread taps will certainly not be a huge problem. You just need to identify a good manufacturer. Just because you could place low volume orders with a particular manufacturer, you cannot simply place the order without ensuring the quality of the tools you are ordering. There are multiple manufacturers in the industry ready to meet your requirements even if you have low volume orders. This is mainly to help you test their products and this gives them a chance to introduce their products and their capabilities to you. Once you are impressed, you are very likely to approach them for your future needs too.

Contact
Chenchuan Tools Co.,LTD
Chenbei Industry Zone,
Longgang Road,
Huangshi,Hubei
China,435202
Tel: 0714-7321211
Fax: 0714-7321210

この記事が気に入ったら、サポートをしてみませんか?
気軽にクリエイターの支援と、記事のオススメができます!