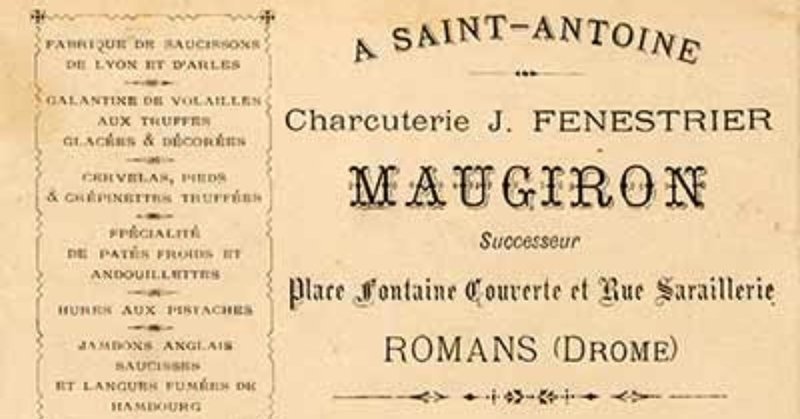 HISTORY of the UNIC JOSEPH FENESTRIER
FOUNDER
Fénestrier - Joseph, 1850 - 1926.

- Les parents de Joseph Fénestrier étaient charcutier à St Antoine en Isére et un magasin à Romans place Fontaine Couverte et rue Saraillerie qu'ils cédèrent à M. Maugiron en 1895, pour acheter une petit atelier de galoches Pervillat.

- The parents of Joseph Fénestrier were charcutier at St Antoine en Isére and a store in Romans place Fontaine Couverte and rue Saraillerie they ceded to Mr. Maugiron in 1895, to buy a small workshop Pervillat galoshes.

The Art of the Shoe / Marie-Josèphe Bossan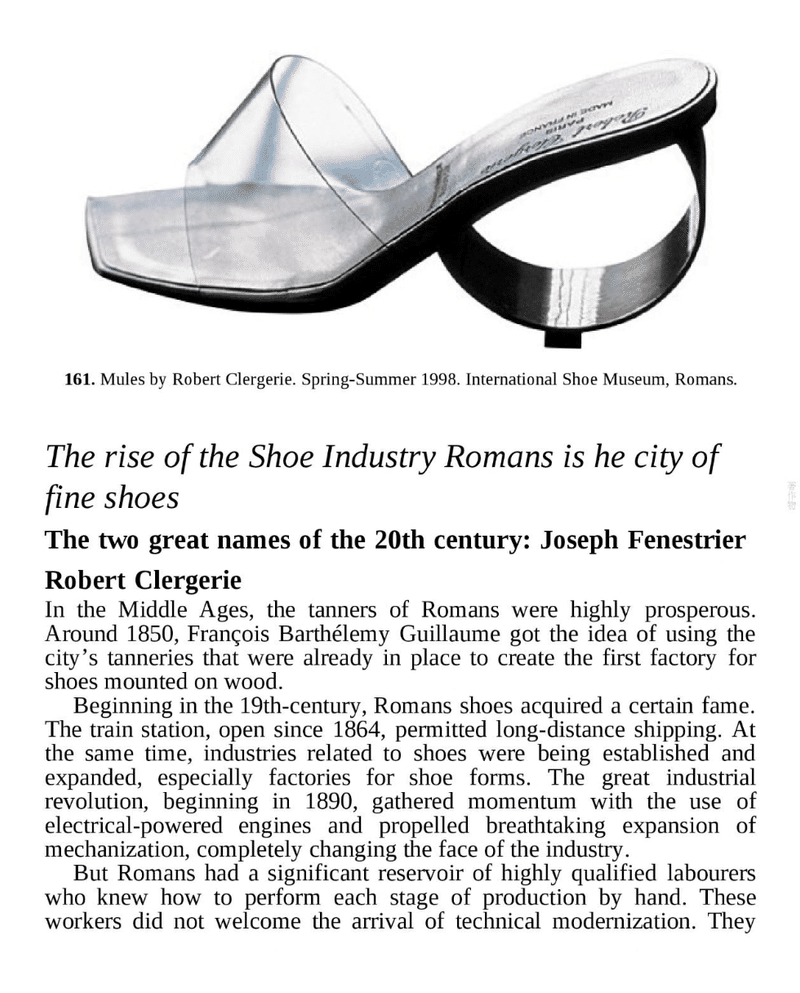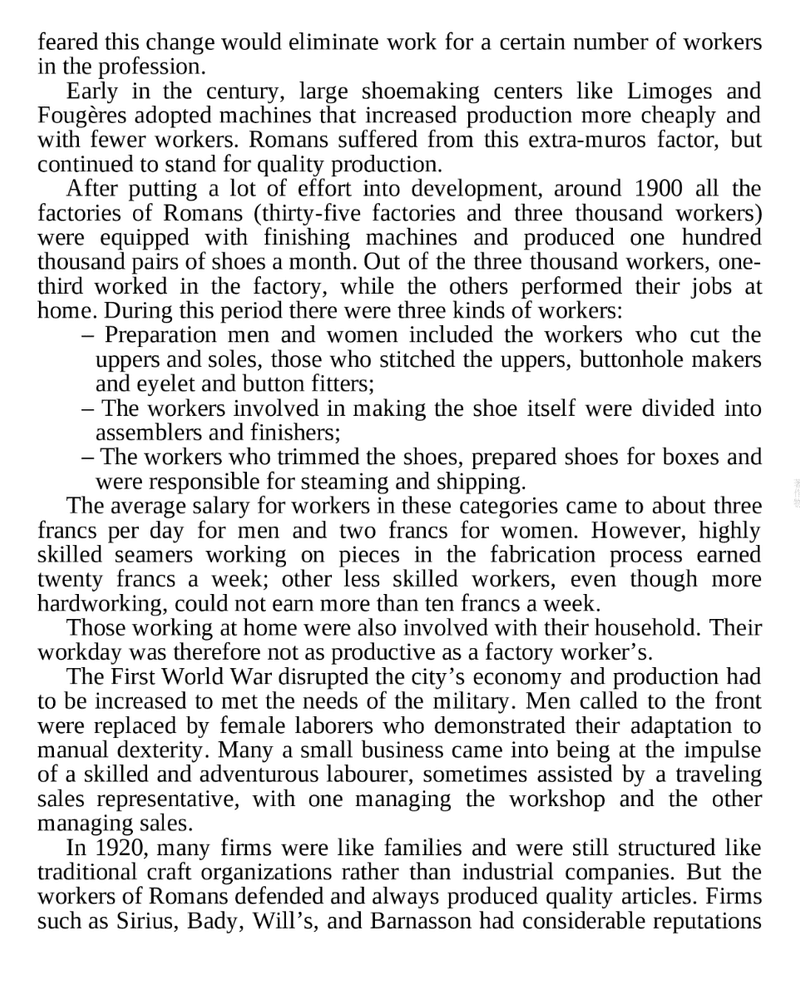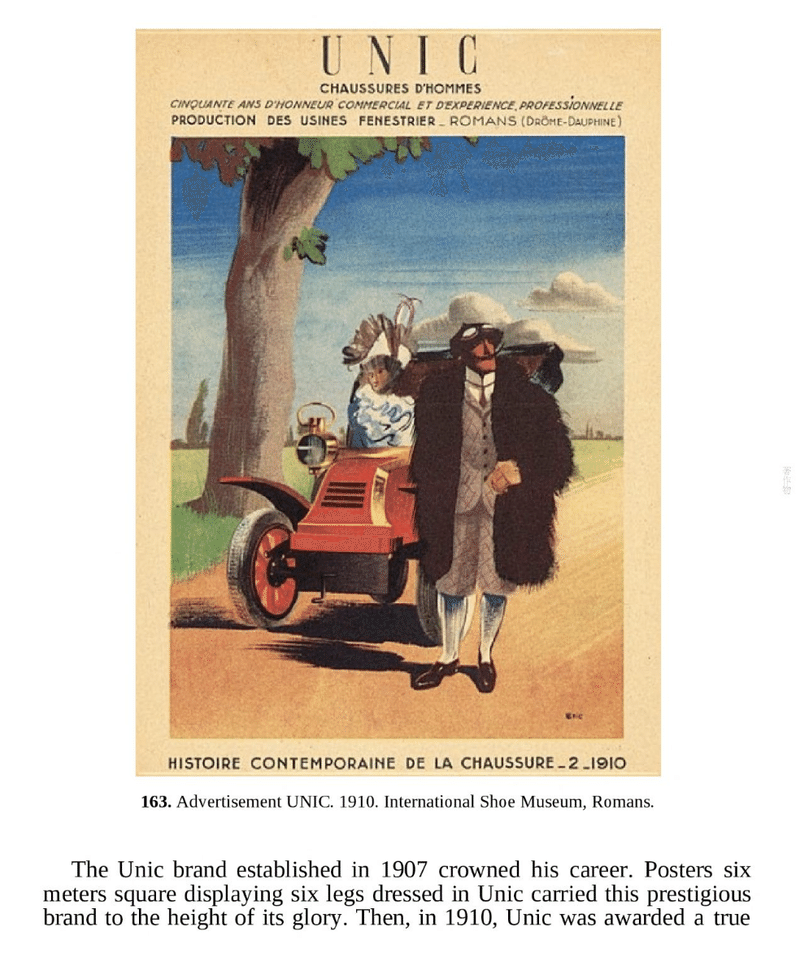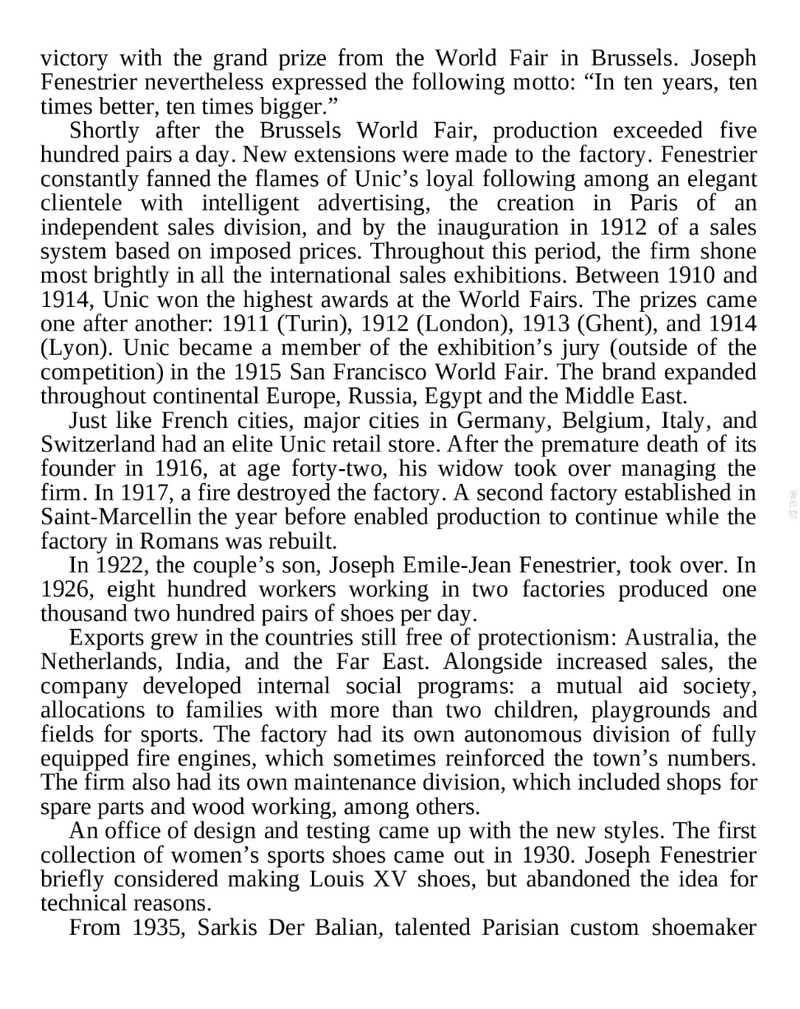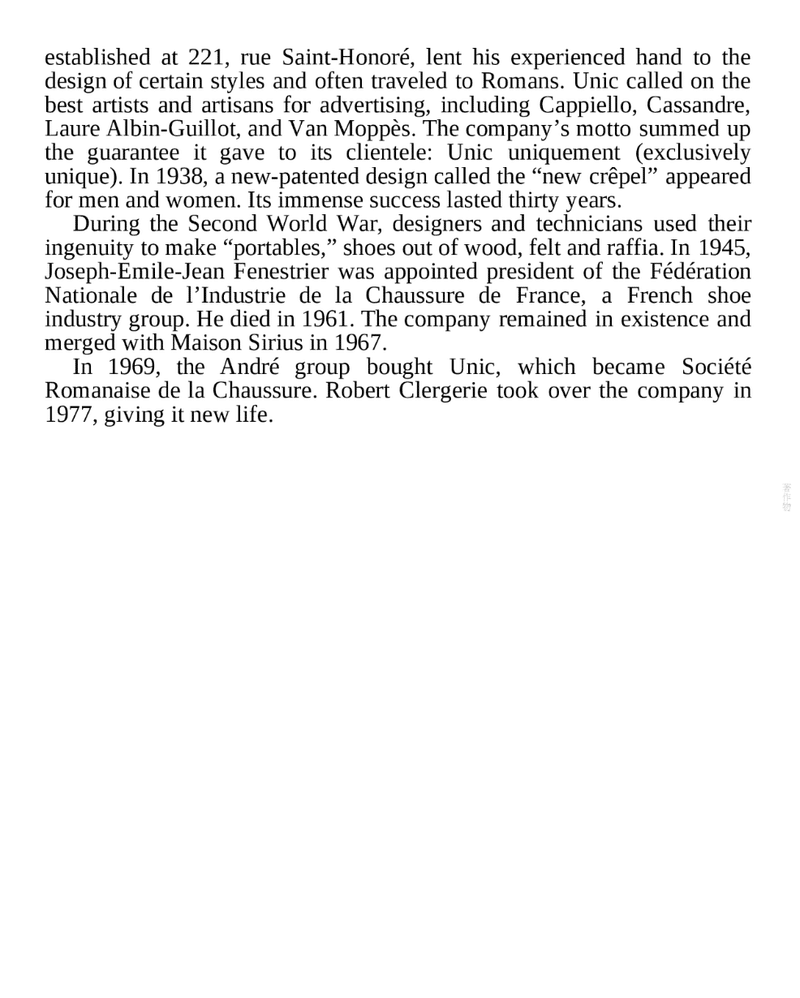 The rise of the Shoe Industry Romans is he city of fine shoes The wo great names of the 20th century: Joseph Fenestrier Robert Clergerie In the Middle Ages, the tanners of Romans were highly prosperous. Around 1850, François Barthélemy Guillaume got the idea of using the city's tanneries that were already in place to create the first factory for shoes mounted on wood. Beginning in the 19th-century, Romans shoes acquired a certain fame. The train station, open since 1864, permitted long-distance shipping. At the same time, industries related to shoes were being established and expanded, especially factories for shoe forms. The great industrial revolution, beginning in 1890, gathered momentum with the use of electrical-powered engines and propelled breathtaking expansion of mechanization, completely changing the face of the industry. But Romans had a significant reservoir of highly qualified labourers who knew how to perform each stage of production by hand. These workers did not welcome the arrival of technical modernization. They feared this change would eliminate work for a certain number of workers in the profession. Early in the century, large shoemaking centers like Limoges and Fougères adopted machines that increased production more cheaply and with fewer workers. Romans suffered from this extra-muros factor, but continued to stand for quality production. After putting a lot of effort into development, around 1900 all the factories of Romans (thirty-five factories and three thousand workers) were equipped with finishing machines and produced one hundred thousand pairs of shoes a month. Out of the three thousand workers, one- third worked in the factory, while the others performed their jobs at home. During this period there were three kinds of workers: - Preparation men and women included the workers who cut the uppers and soles, those who stitched the uppers, buttonhole makers and eyelet and button fitters; - The workers involved in making the shoe itself were divided into assemblers and finishers; - The workers who trimmed the shoes, prepared shoes for boxes and were responsible for steaming and shipping. The average salary for workers in these categories came to about three francs per day for men and two francs for women. However, highly skilled seamers working on pieces in the fabrication process earned twenty francs a week; other less skilled workers, even though more hardworking, could not ear more than ten francs a week. Those working at home were also involved with their household. Their workday was therefore not as productive as a factory worker's The First World War disrupted the city's economy and production had to be increased to met the needs of the military. Men called to the front were replaced by female laborers who demonstrated their adaptation to manual dexterity. Many a small business came into being at the impulse of a skilled and adventurous labourer, sometimes assisted by a traveling sales representative, with one managing the workshop and the other managing sales. In 1920, many firms were like families and were still structured like traditional craft organizations rather than industrial companies. But the workers of Rom ans defended and always produced quality articles. Firms such as Sirius, Bady, Will's, and Barnasson had considerable reputations and knew how to create a true brand image for their shoes. But the most typical Romans-style factory was the work of a pork butcher called to a higher destiny and fame. In 1895, Joseph Fenestrier, age twenty-one, bought a small rubber boot factory near the train station. A novice to the industry, he partnered with M.Pervillat. The business had a very craft-based structure, and despite an unfavorable business climate, it produced eighty pairs of shoes a day. From 1890-1901, the industrial sector slowed down and during this period many factories closed their doors. But from 1901, lack of space on the premises justified the construction of a new factory on the boulevard Gambetta, with immense possibility of future expansion. Joseph Fenestrier launched the then innovative idea of specialization and made expensive men's shoes, an idea that would remain the foundation of his future concepts. To this end, he introduced a new assembly technique: Goodyear Stitch construction. To do this, he set up the most modern machine available, which he leased from the United Shoes Machinery Company, an American trust. Well aware that abundant skilled labour was located in situ, Joseph Fenestrier proceeded to risk mechanizing. In 1904, he launched the first advertis ing campaign in the history of the shoe throughout France under the following brand names: - Excelsior chaussures moderne
- Good Taste American Fashion
- Chaussures supérieures Fenestrier
The Unic brand established in 1907 crowned his career. Posters six meters square displaying six legs dressed in Unic carried this prestigious brand to the height of its glory. Then, in 1910, Unic was awarded a true victory with the grand prize from the World Fair in Brussels. Joseph Fenestrier nevertheless expressed the following motto: "In ten years, ten times better, ten times bigger." Shortly after the Brussels World Fair, production exceeded five hundred pairs a day. New extensions were made to the factory. Fenestrier constantly fanned the flames of Unic's loyal following among an elegant clientele with intelligent advertising, the creation in Paris of an independent sales division, and by the inauguration in 1912 of a sales system based on imposed prices. Throughout this period, the firm shone most brightly in all the international sales exhibitions. Between 1910 and 1914, Unic won the highest awards at the World Fairs. The prizes came one after another: 1911 (Turin), 1912 (London), 1913 (Ghent), and 1914 (Lyon). Unic became a member of the exhibition's jury (outside of the competition) in the 1915 San Francisco World Fair. The brand expanded throughout continental Europe,Russia, Egypt and the Middle East. Just like French cities, major cities in Germany, Belgium, Italy, and Switzerland had an elite Unic retail store. After the premature death of its founder in 1916, at age forty-two, his widow took over managing the firm. In 1917, a fire destroyed the factory. A second factory established in Saint-Marcellin the year before enabled production to continue while the factory in Romans was rebuilt. In 1922, the couple's son, Joseph Emile-Jean Fenestrier, took over. In 1926, eight hundred workers working in two factories produced one thousand two hundred pairs of shoes per day. Exports grew in the countries still free of protectionism : Australia, the Netherlands, India, and the Far East. Alongside increased sales, the company developed internal social programs: a mutual aid society, allocations to families with more than two children, playgrounds and fields for sports. The factory had its own autonomous division of fully equipped fire engines, which sometimes reinforced the town's numbers. The firm also had its own maintenance division, which included shops for spare parts and wood working, among others. An office of design and testing came up with the new styles. The first collection of women's sports shoes came out in 1930. Joseph Fenestrier briefly considered making Louis XV shoes, but abandoned the idea for technical reasons. From 1935, Sarkis Der Balian, talented Parisian custom shoemaker established at 221, rue Saint-Honoré, lent his experienced hand to the design of certain styles and often traveled to Romans. Unic called on the best artists and artisans for advertising, including Cappiello, Cassandre, Laure Albin-Guillot, and Van Moppès. The company's motto summed up the guarantee it gave to its clientele: Unic uniquement (exclusively unique). In 1938, a new-patented design called the "new crêpel" appeared for men and women. Its immense success lasted thirty years. During the Second World War, designers and technicians used their ingenuity to make "portables," shoes out of wood, felt and raffia. In 1945, Joseph-Emile-Jean Fenestrier was appointed president of the Fédération Nationale de l'Industrie de la Chaussure de France, a French shoe industry group. He died in 1961. The company remained in existence and merged with Maison Sirius in 1967. In 1969, the André group bought Unic, which became Société Romanaise de la Chaussure. Robert Clergerie took over the company in 1977, giving it new life.
1914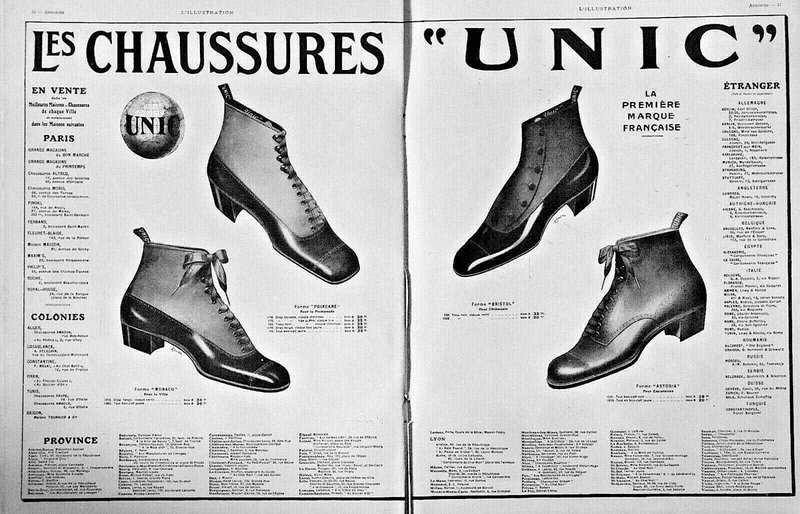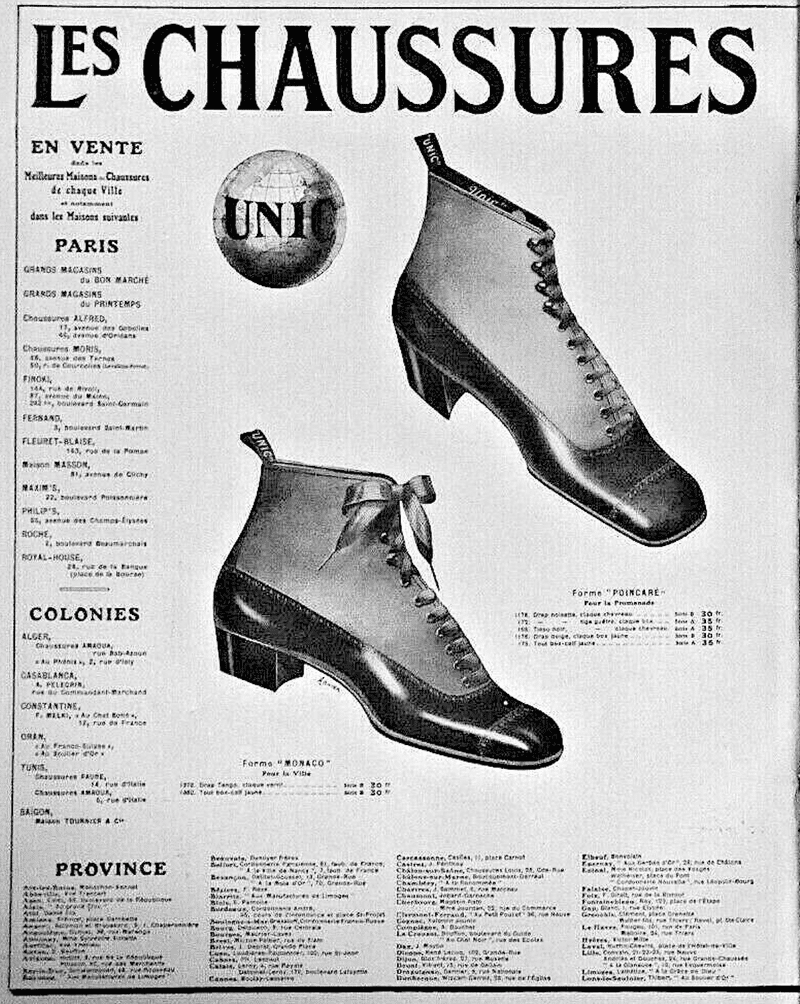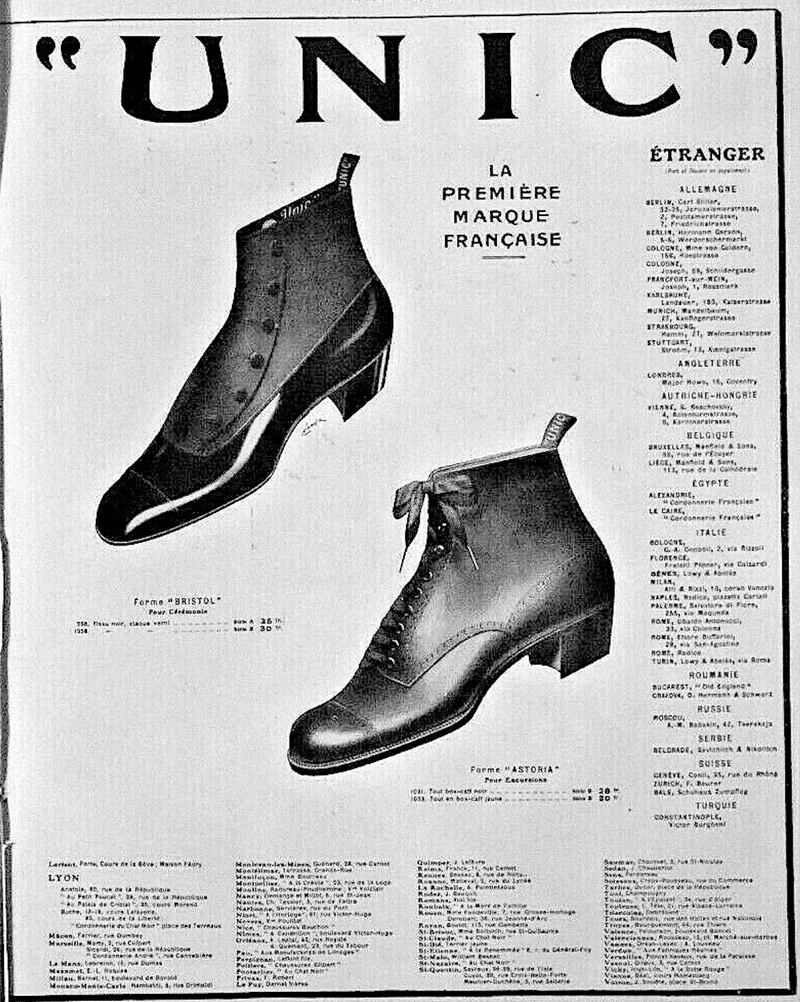 PUBLICITÉ PRESSE 1914 LES CHAUSSURES UNIC FORME POINCARÉ BRISTOL MONACO ASTORIA

1920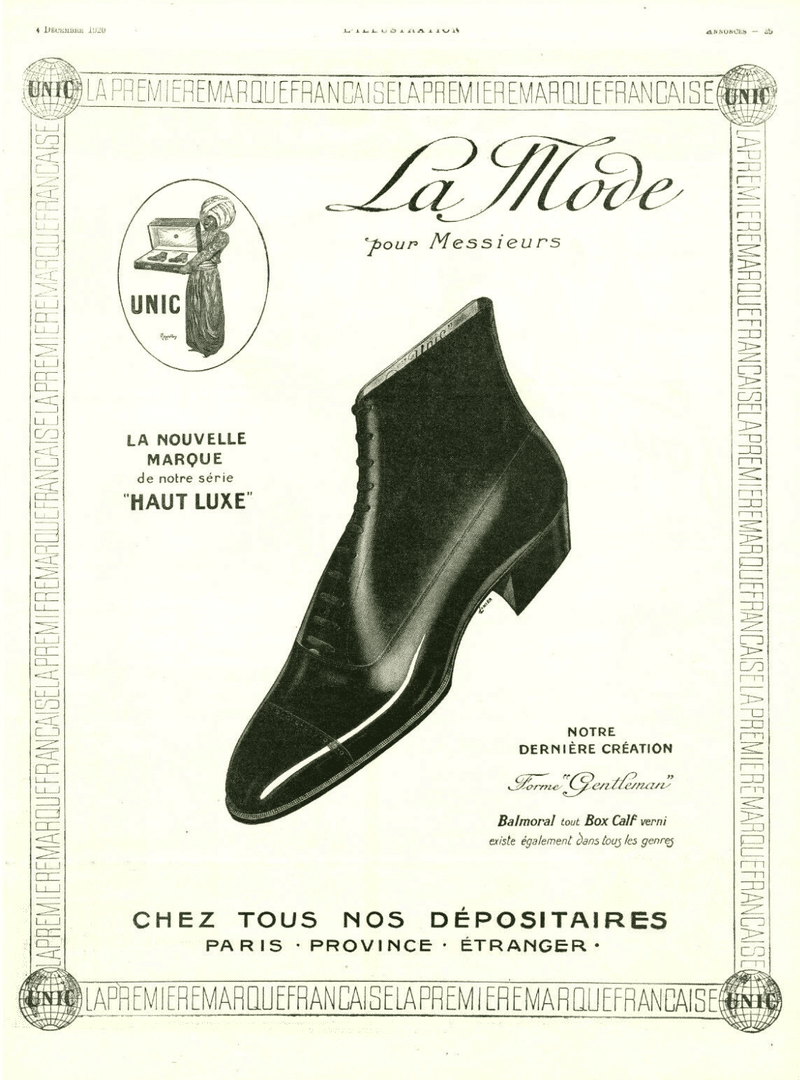 Publicité ancienne chaussures Unic 1920 issue de magazine

1922
PUBLICITÉ DE PRESSE 1922 CHAUSSURES UNIC MODE MESSIEURS FORME DANDY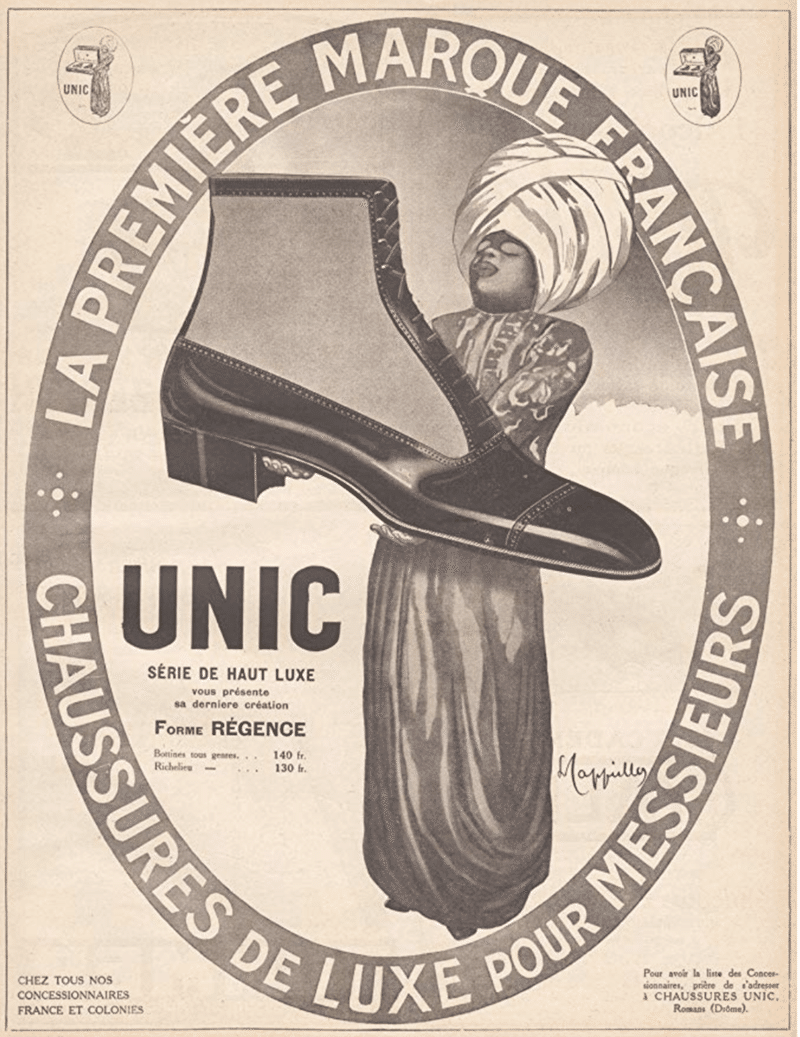 1923 Ad Print Unic French Men's Shoues Arab Boy Giant Shoe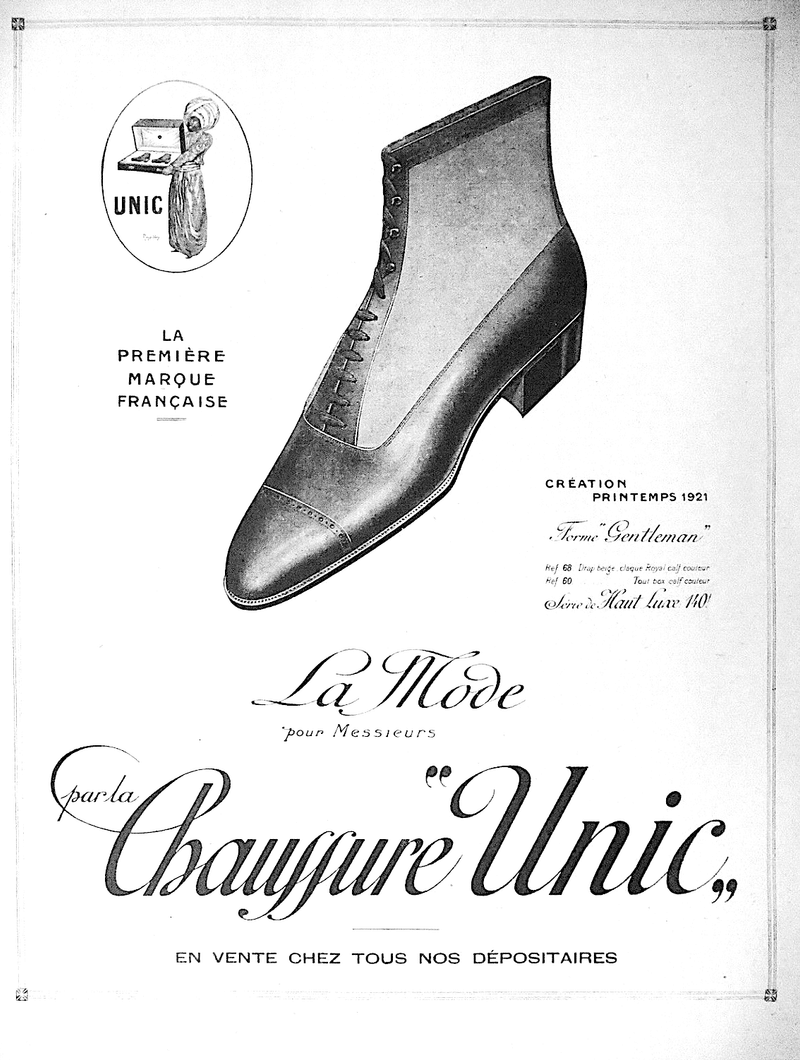 PUBLICITÉ CHAUSSURES UNIC FORME GENTLEMAN LA MODE POUR MESSIEURS ANNÉE 20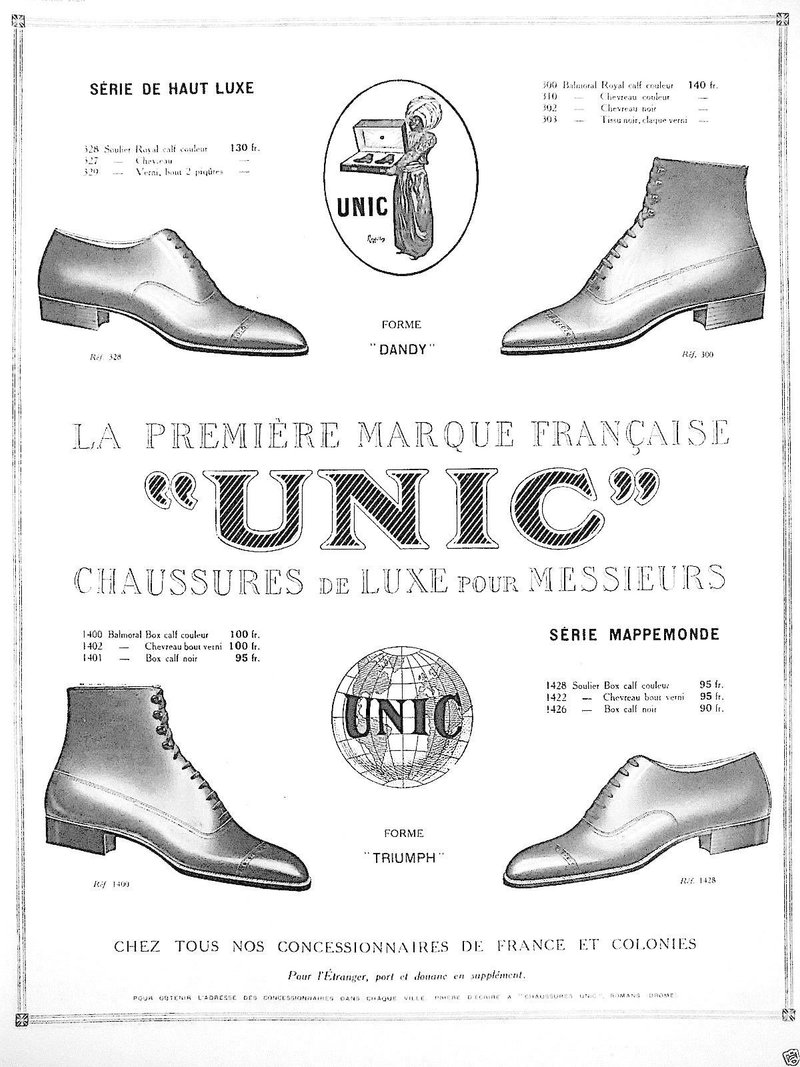 PUBLICITÉ CHAUSSURES UNIC LA PREMIÈRE MARQUE FRANÇAISE SÉRIE DE HAUT LUXE

1924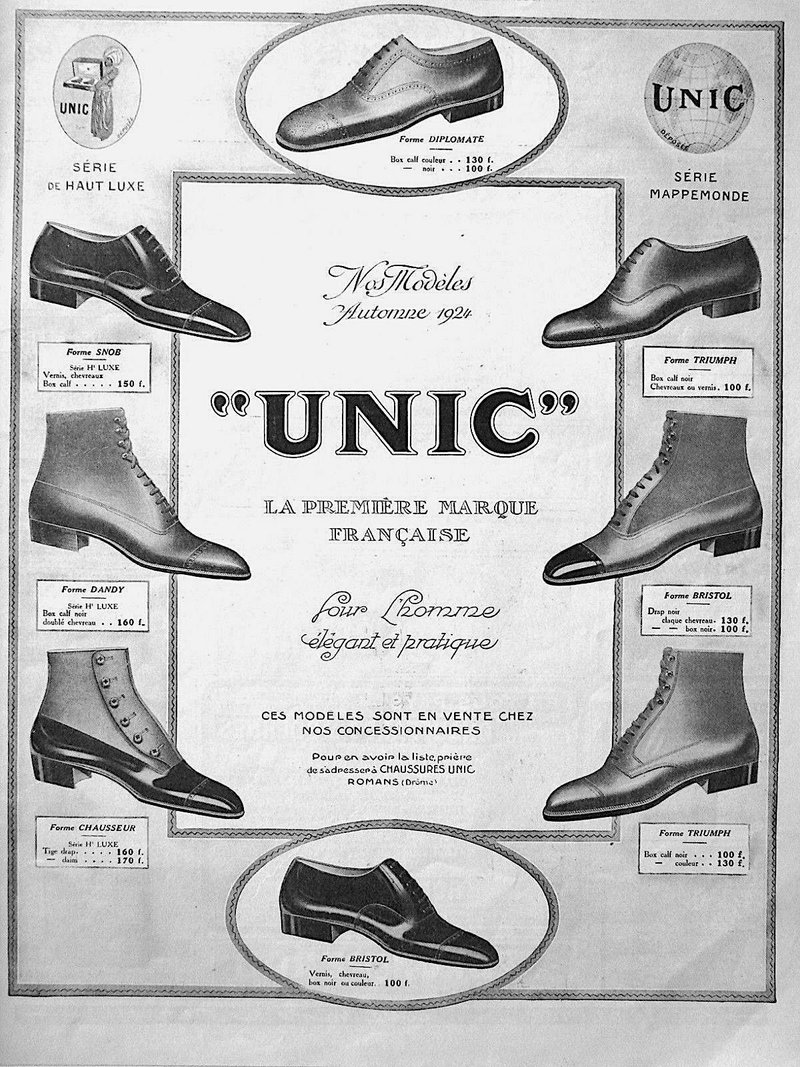 PUBLICITÉ DE PRESSE 1924 CHAUSSURES UNIC POUR HOMMES BRISTOL CHAUSSEUR TRIUMPH

1926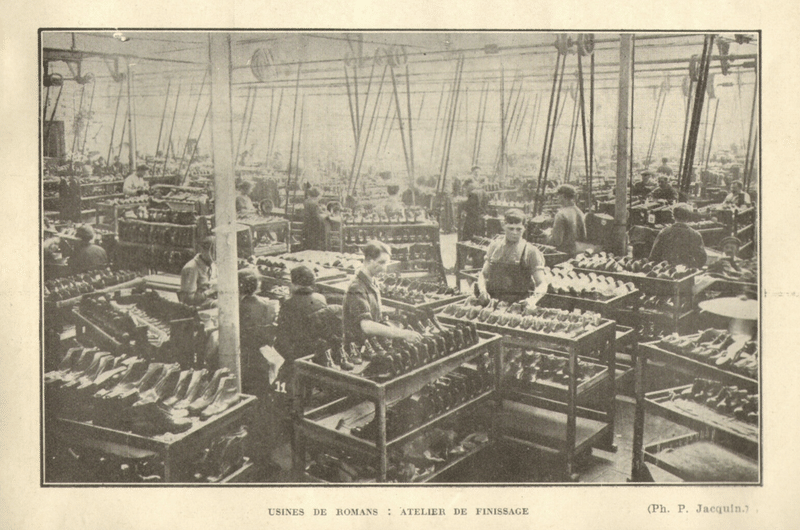 26 ROMANS LES USINES FENESTRIER CHAUSSURES UNIC IMAGE DE 1926



26 ROMANS LES USINES FENESTRIER CHAUSSURES UNIC IMAGE DE 1926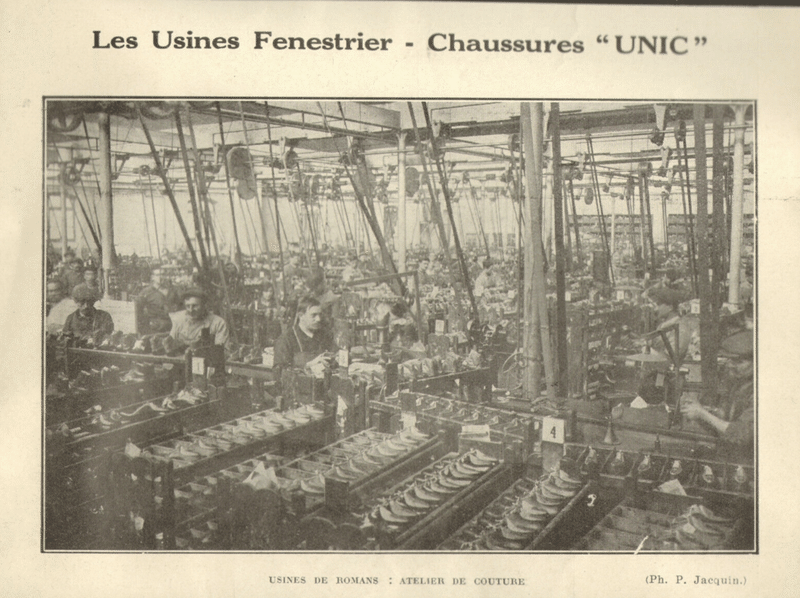 26 ROMANS LES USINES FENESTRIER CHAUSSURES UNIC IMAGE DE 1926
26 ROMANS LES USINES FENESTRIER CHAUSSURES UNIC IMAGE DE 1926
26 ROMANS LES USINES FENESTRIER CHAUSSURES UNIC IMAGE DE 1926
26 ROMANS LES USINES FENESTRIER CHAUSSURES UNIC IMAGE DE 1926


1927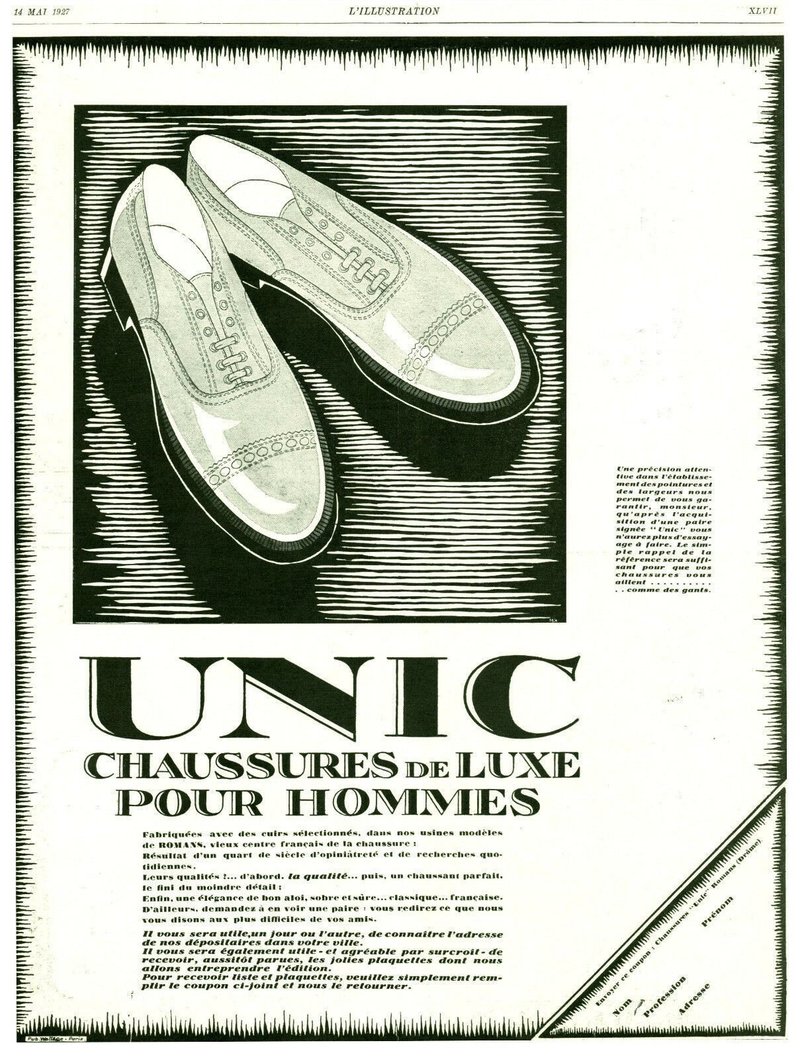 Publicité ancienne Unic chaussure de luxe pour homme 1927 issue de magazine

1928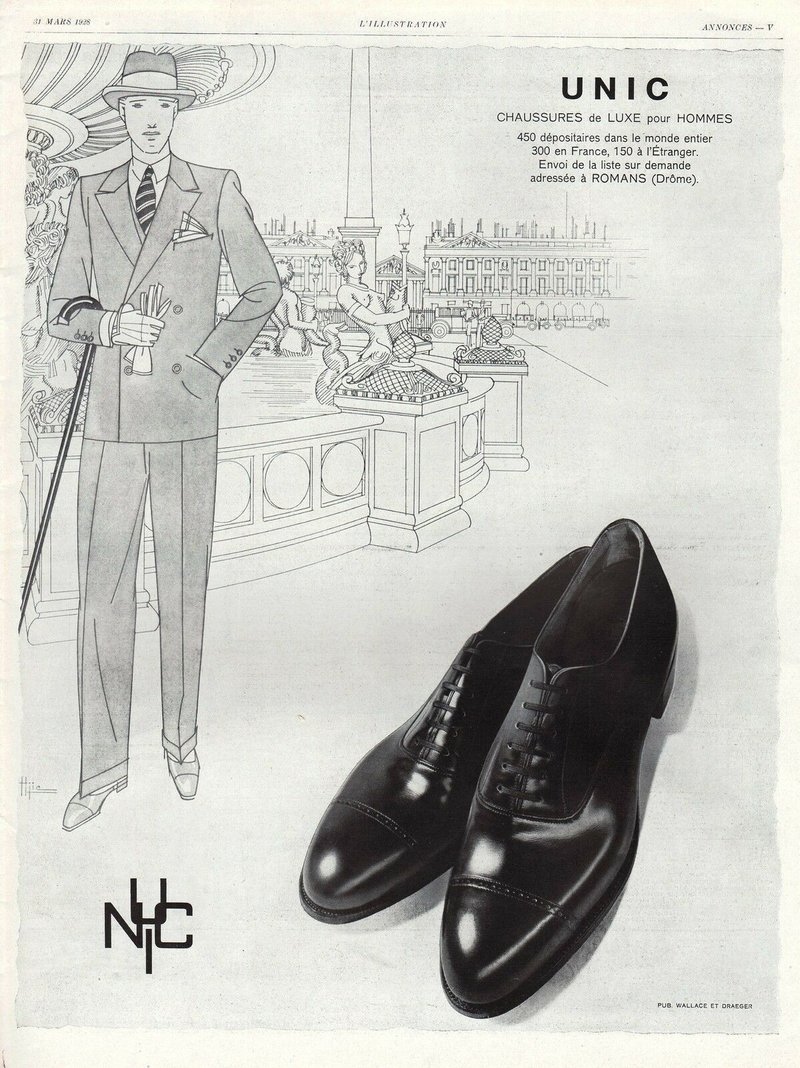 PUBLICITE CHAUSSURES DE LUXE POUR HOMMES UNIC MEN' S FASHION SHOES AD 1928

1929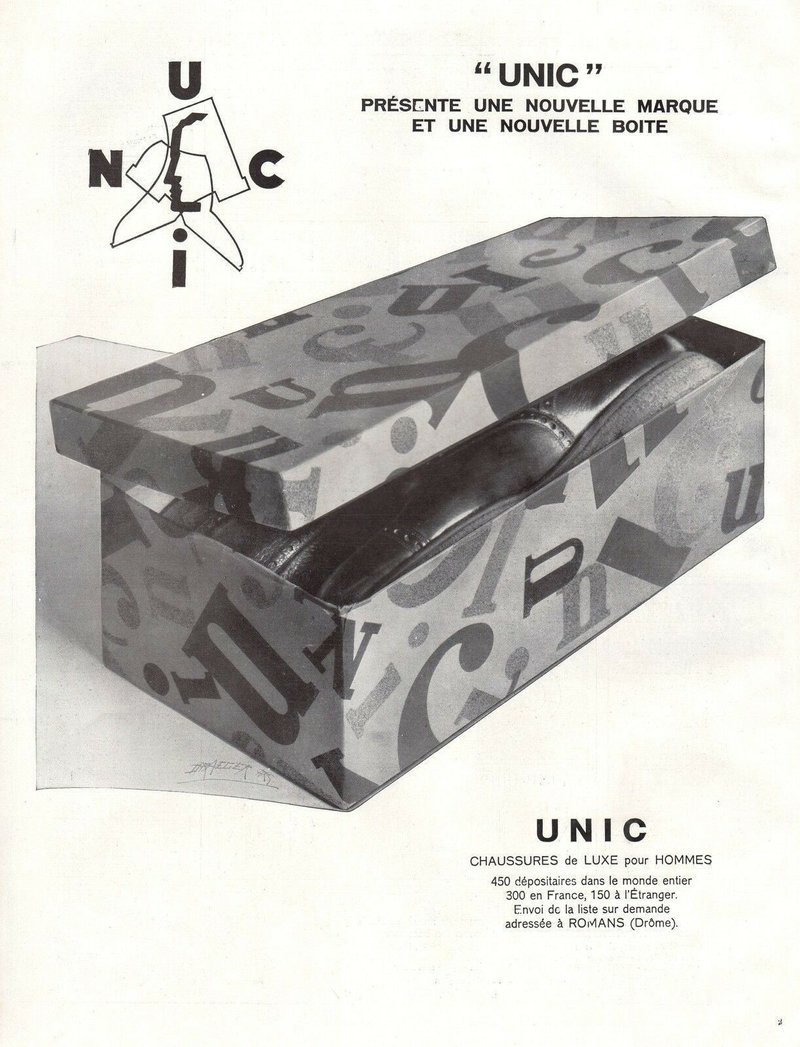 PUBLICITE CHAUSSURES DE LUXE POUR HOMME UNIC MEN' S FASHION SHOES AD 1929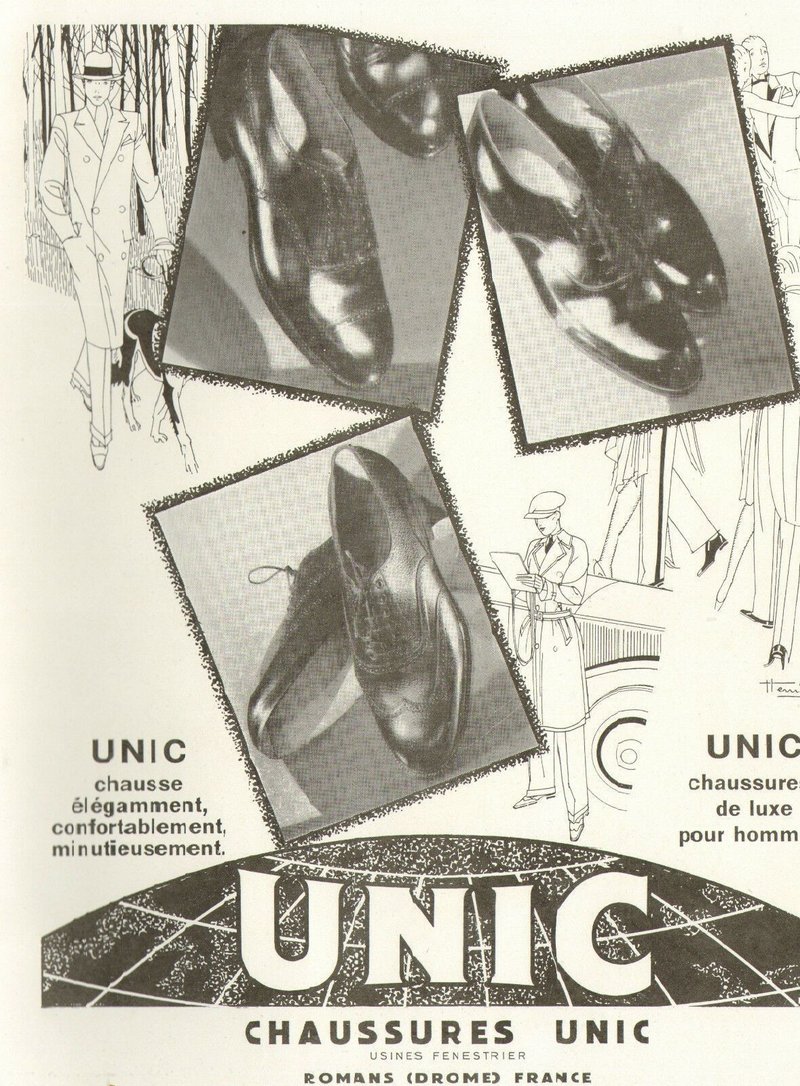 26 ROMANS PUBLICITE CHAUSSURES UNIC USINES FENESTRIER 1929


1930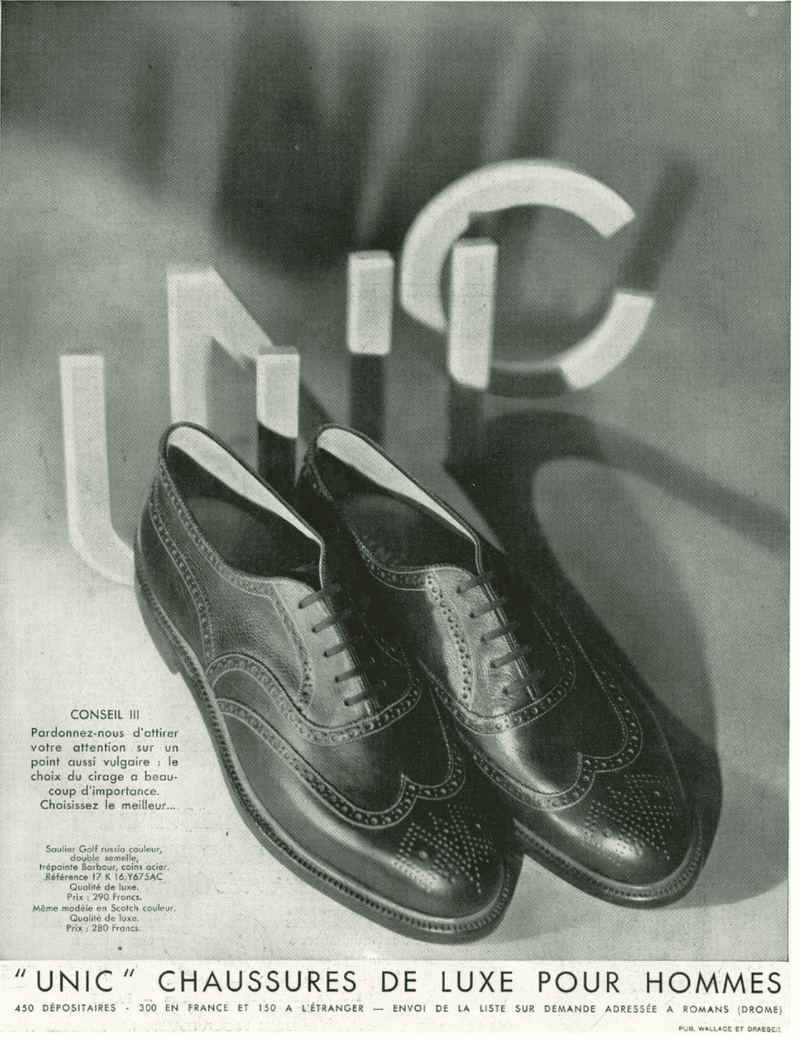 Publicité ancienne Unic chaussure de luxe pour homme 1930 issue de magazine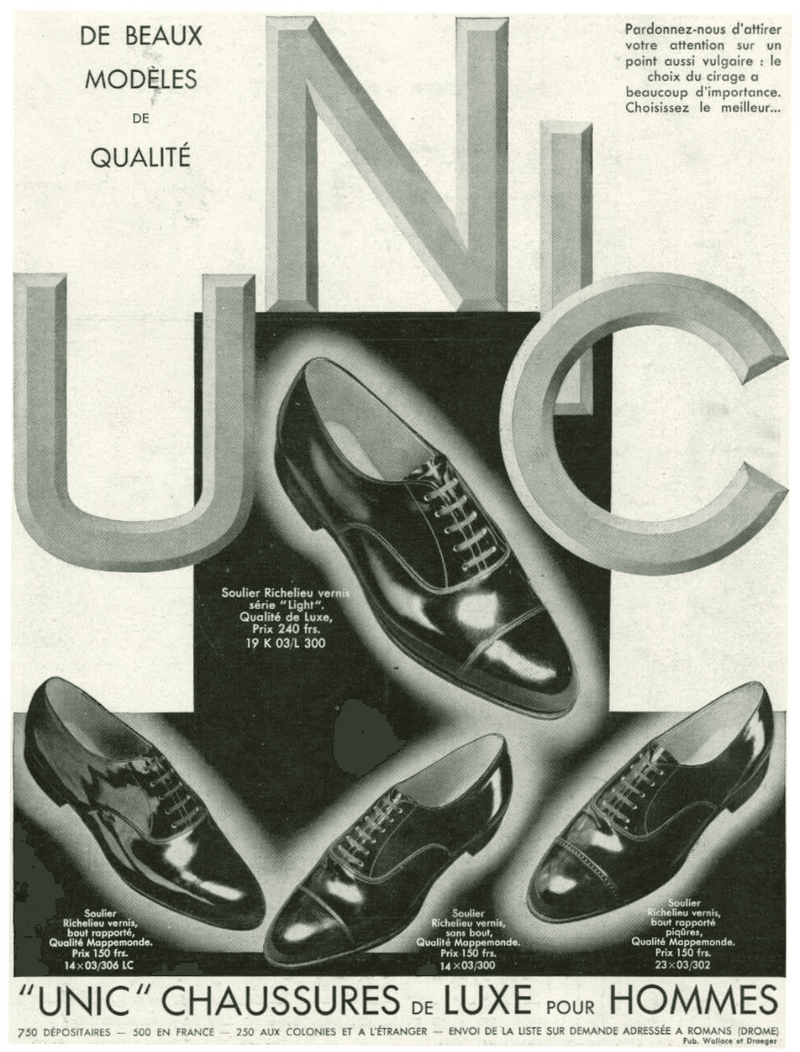 Publicité ancienne chaussure Unic beaux modèles de qualité 1930 issue magazine

1931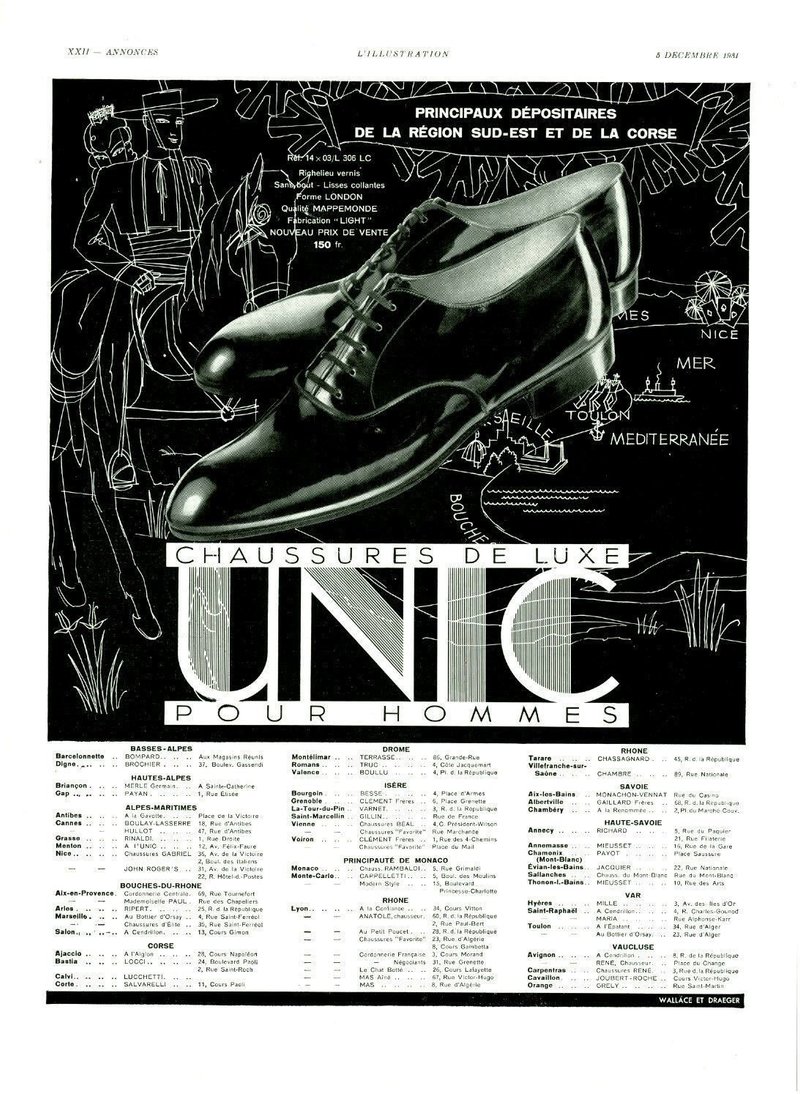 Publicité Ancienne chaussure Unic pour Hommes 1931 issue de magazine

1932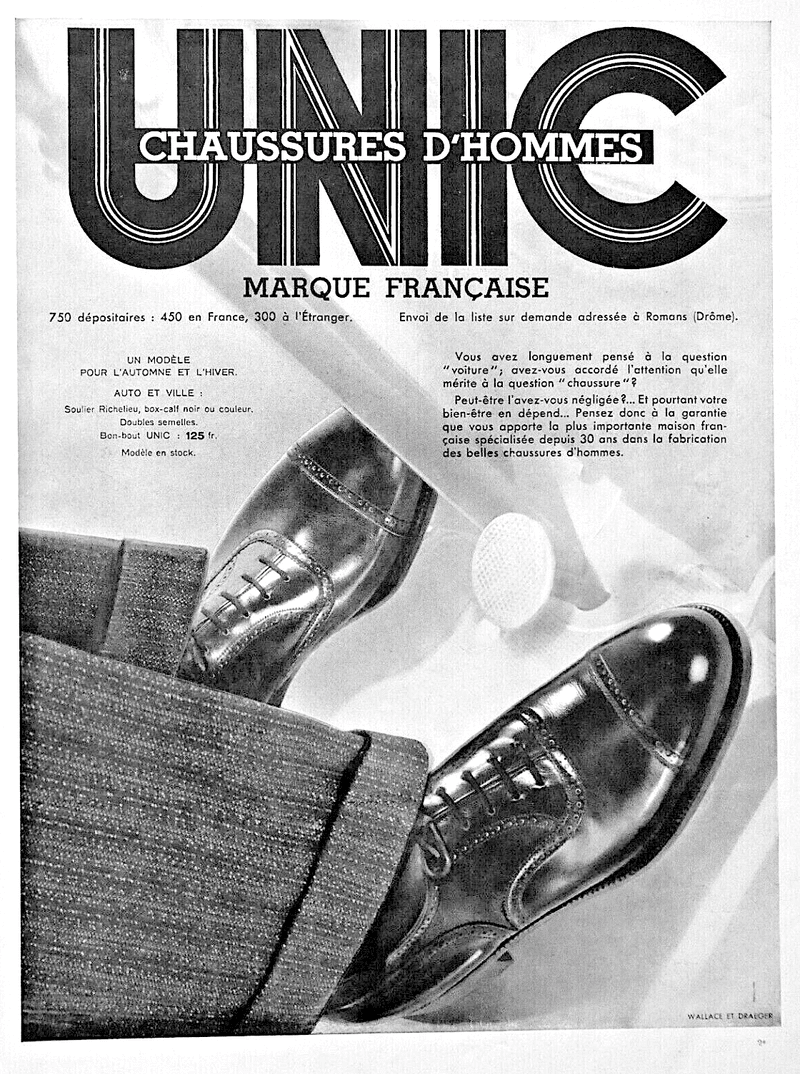 PUBLICITÉ DE PRESSE 1932 CHAUSSURES D'HOMMES UNIC MARQUE FRANÇAISE AUTOMNE/HIVER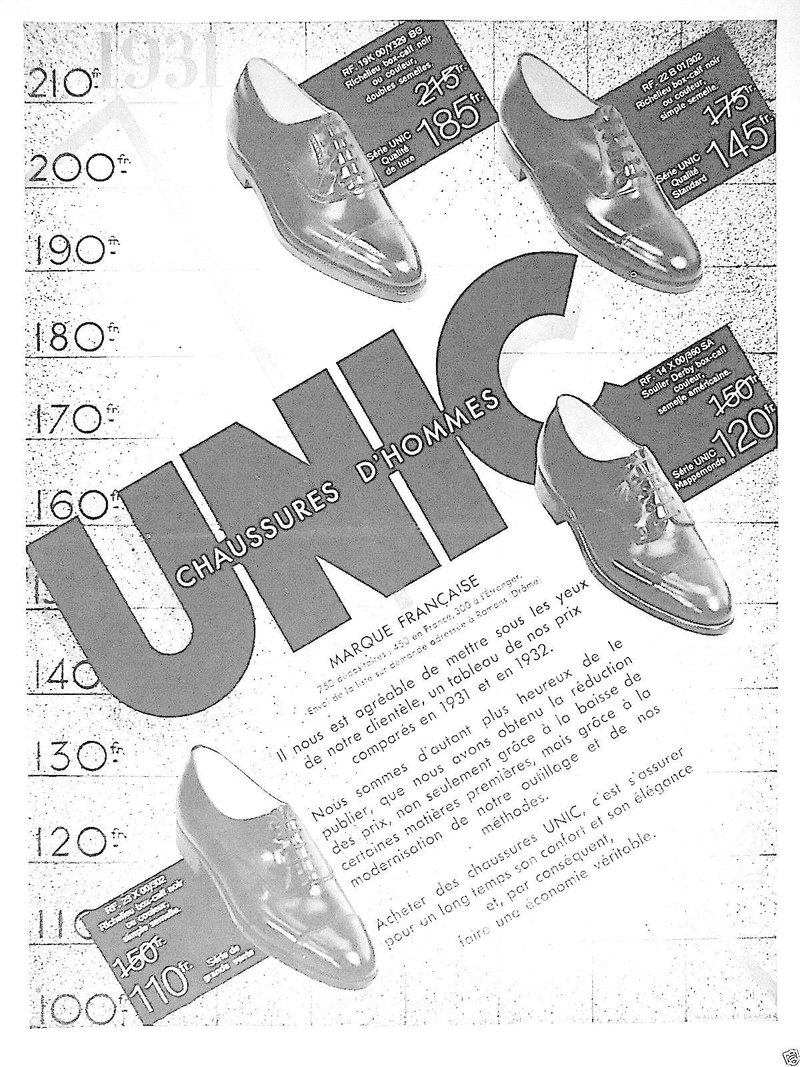 PUBLICITÉ 1932 UNIC CHAUSSURES D'HOMMES MARQUE FRANÇAISE - ADVERTISING

1934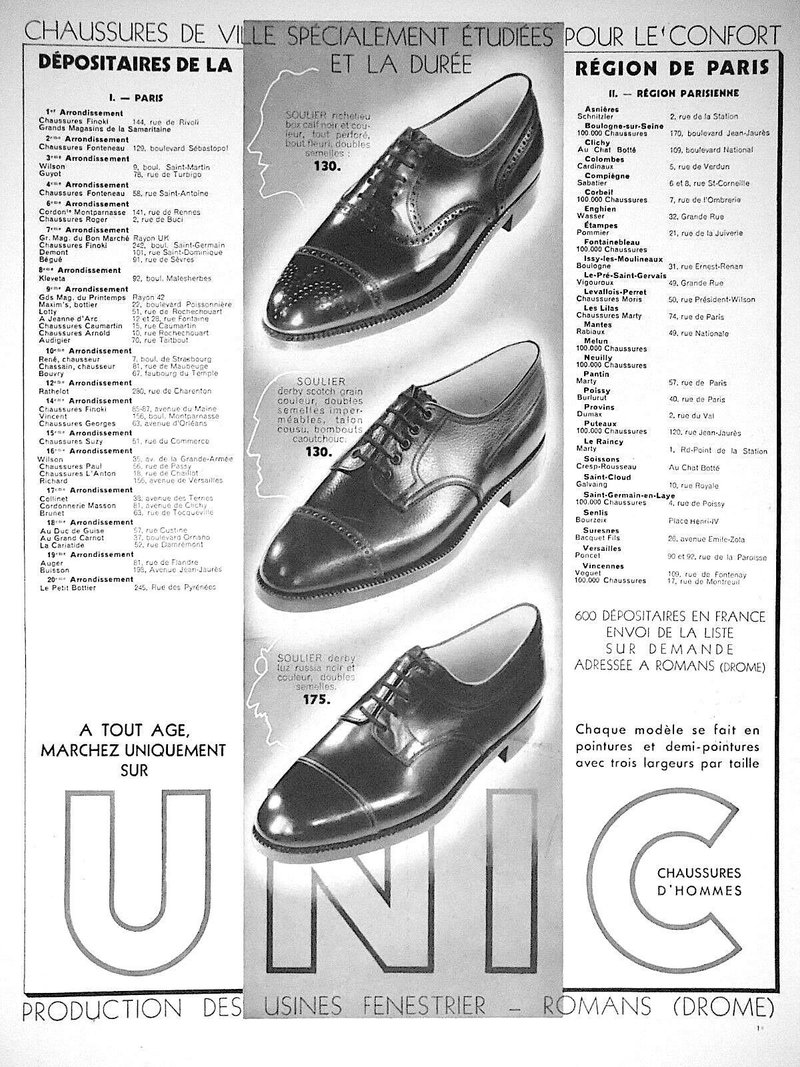 PUBLICITÉ DE PRESSE 1934 CHAUSSURES HOMMES UNIC 600 DÉPOSITAIRES - ADVERTISING

1935
PUBLICITÉ 1935 CHAUSSURES UNIC NOUVEAUX PRIX NOUVELLES FORMES - ADVERTISING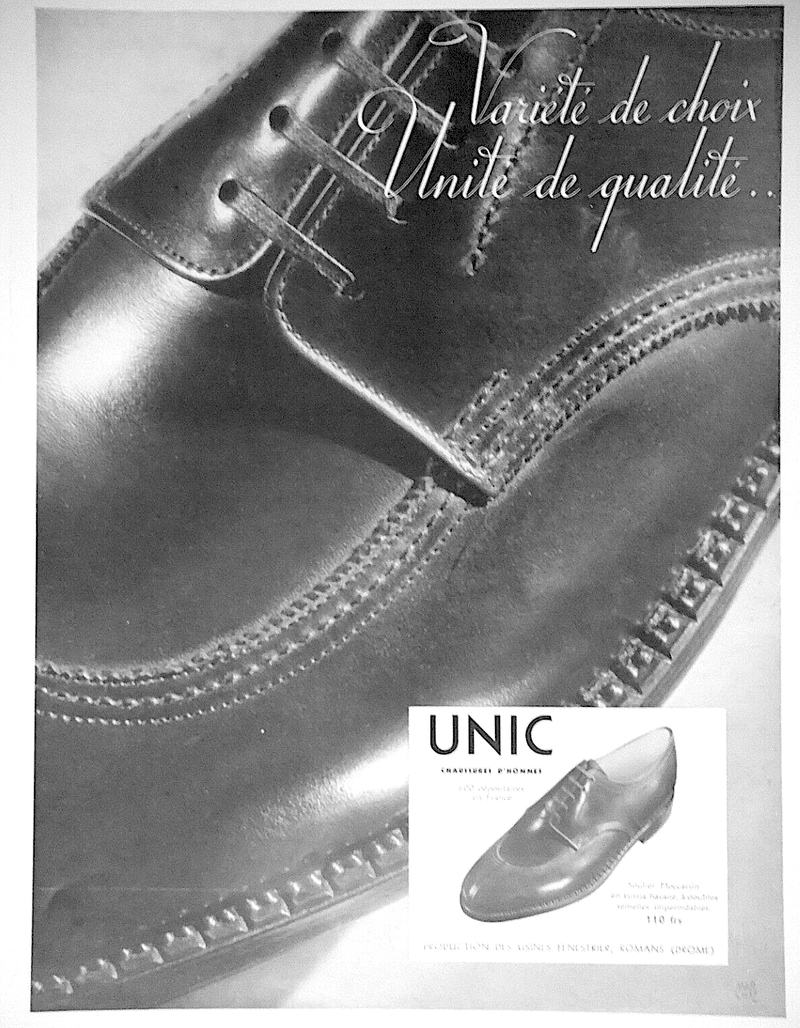 PUBLICITÉ 1935 CHAUSSURES UNIC VARIÉTÉ DE CHOIX UNITÉ DE QUALITÉ - ADVERTISING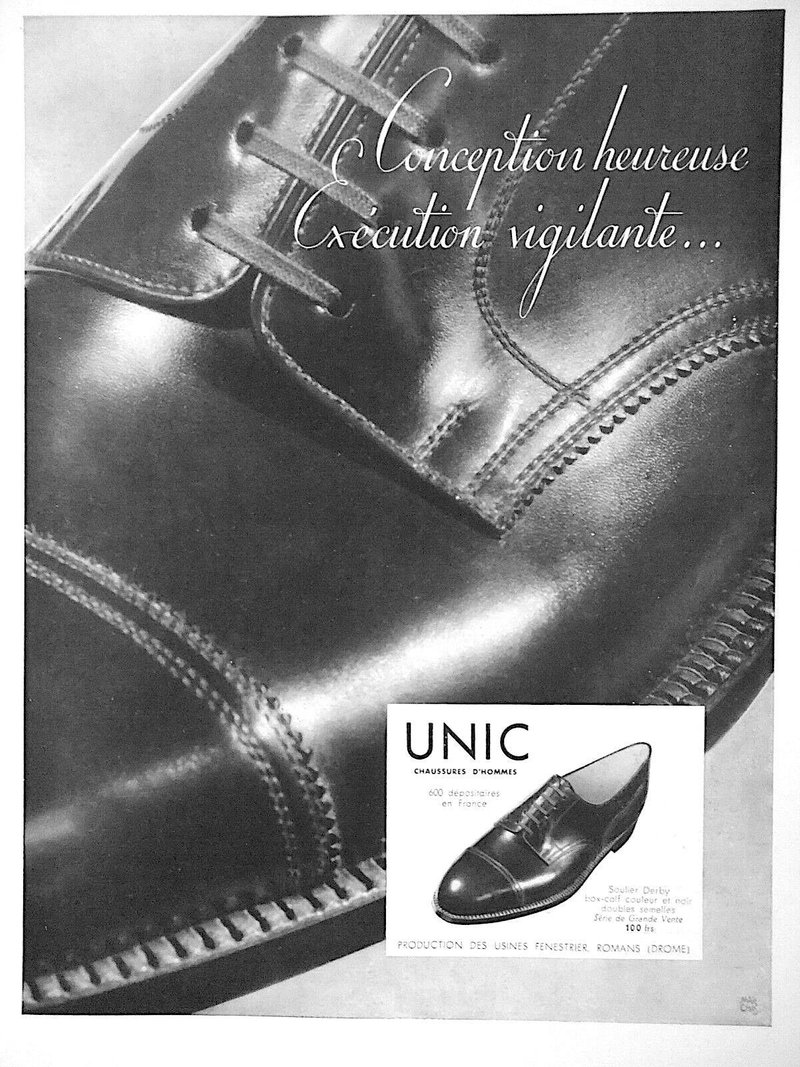 PUBLICITÉ DE PRESSE 1935 UNIC CHAUSSURES D'HOMMES SOULIER DERBY - ADVERTISING

Publicité ancienne chaussure Unic nouveaux prix 1935 issue de magazine

1936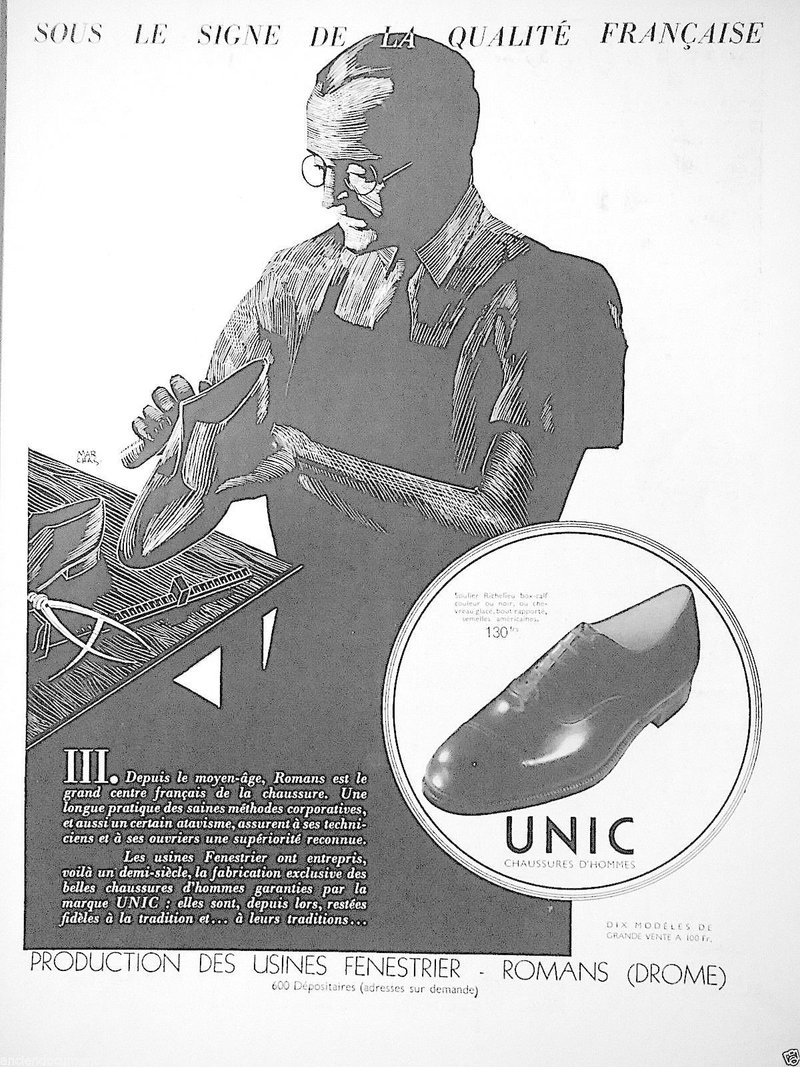 PUBLICITÉ 1936 CHAUSSURE UNIC SOUS LE SIGNE DE LA QUALITÉ FRANÇAISE -ADVERTISING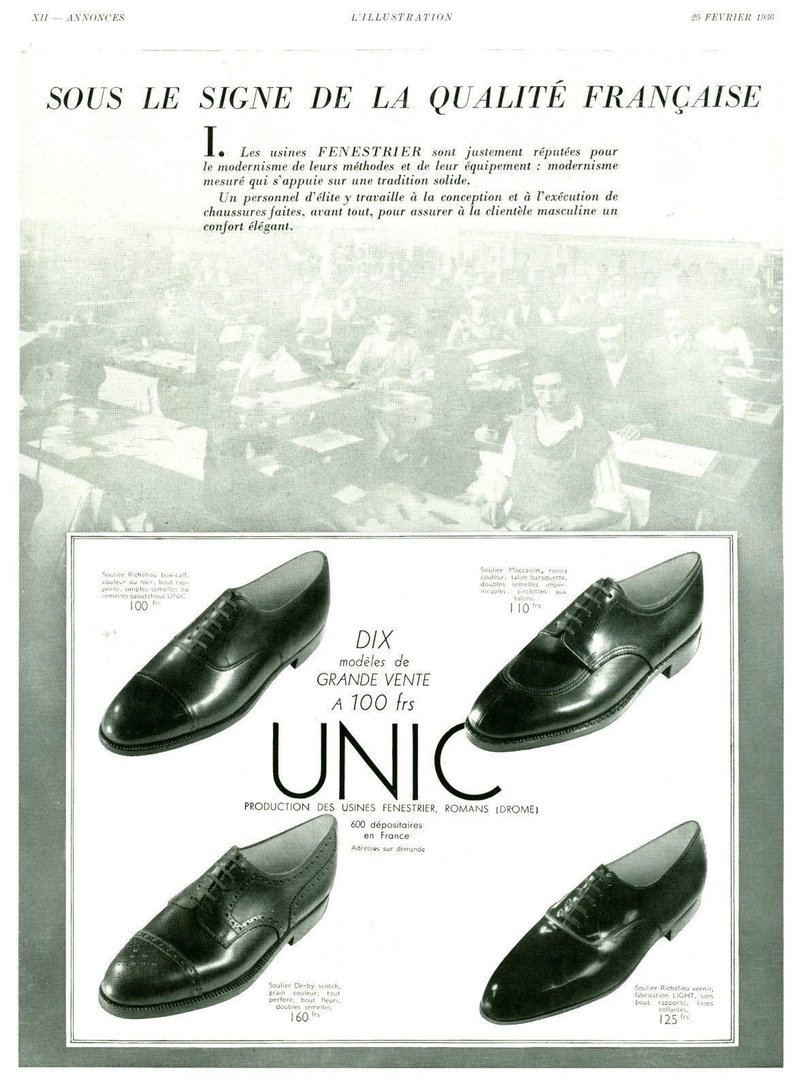 Publicité ancienne chaussure Unic Fenestrier 1936 issue de magazine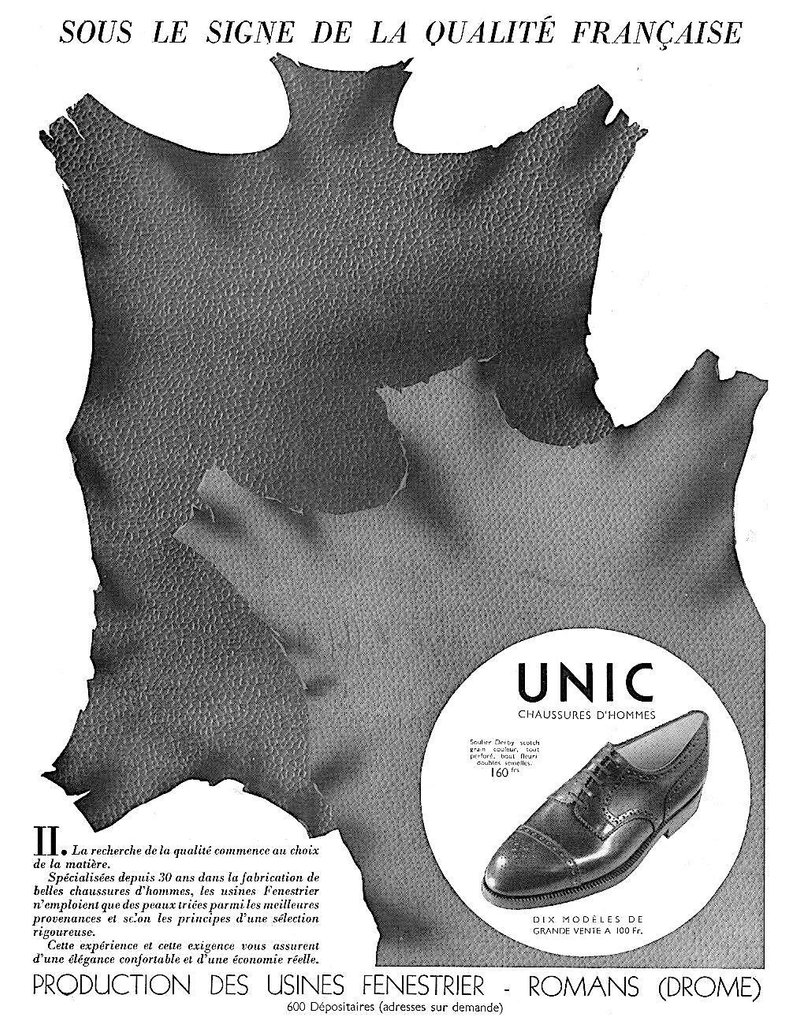 Publicité ancienne chaussure d'homme Unic 1936 issue de magazine

1937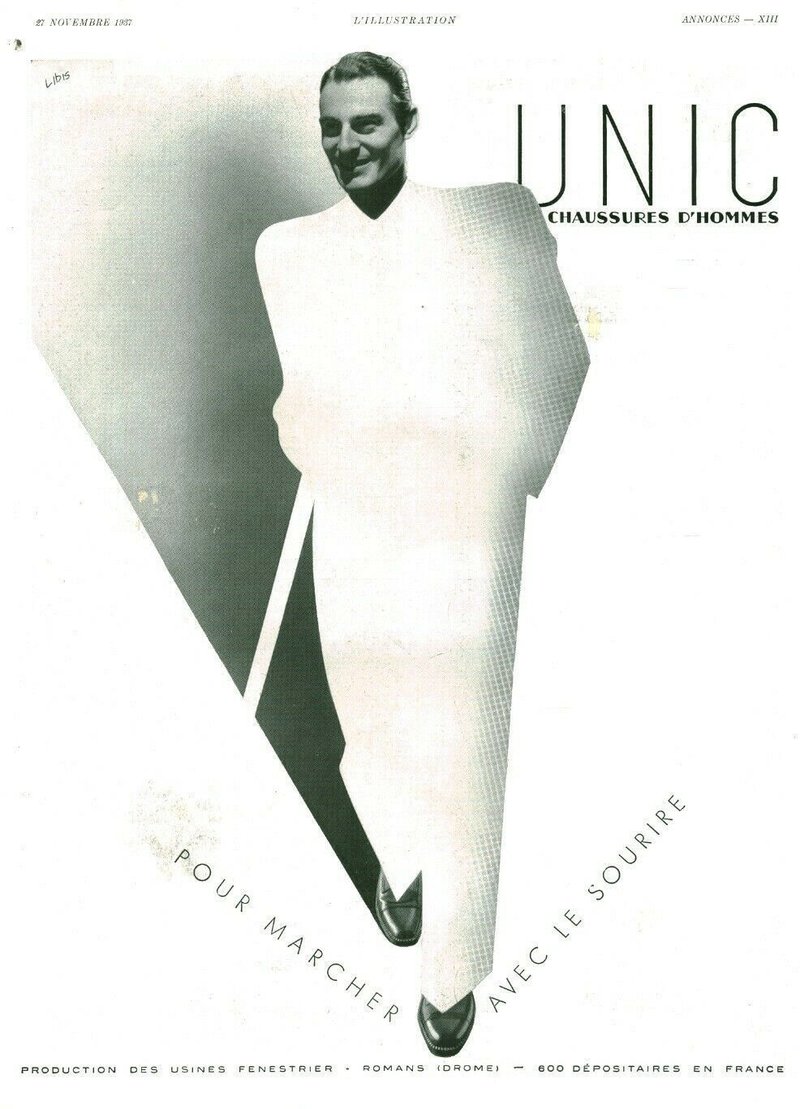 Publicité ancienne chaussures homme Unic1937 issue du magazine

1939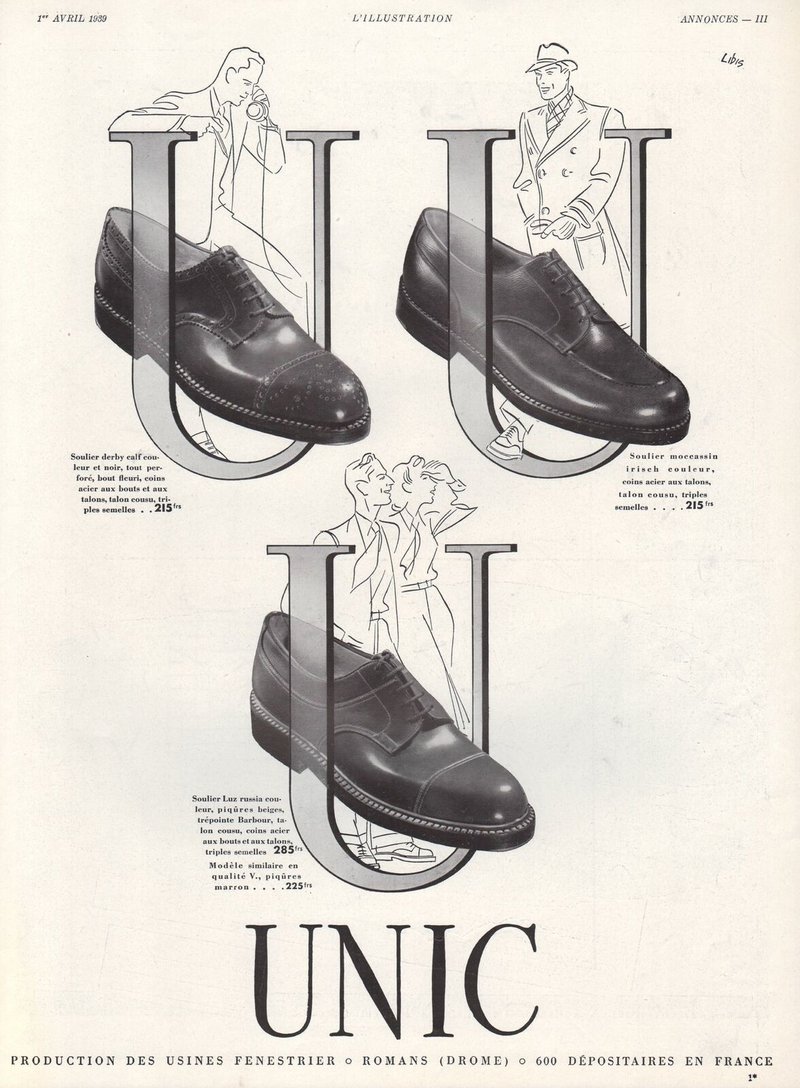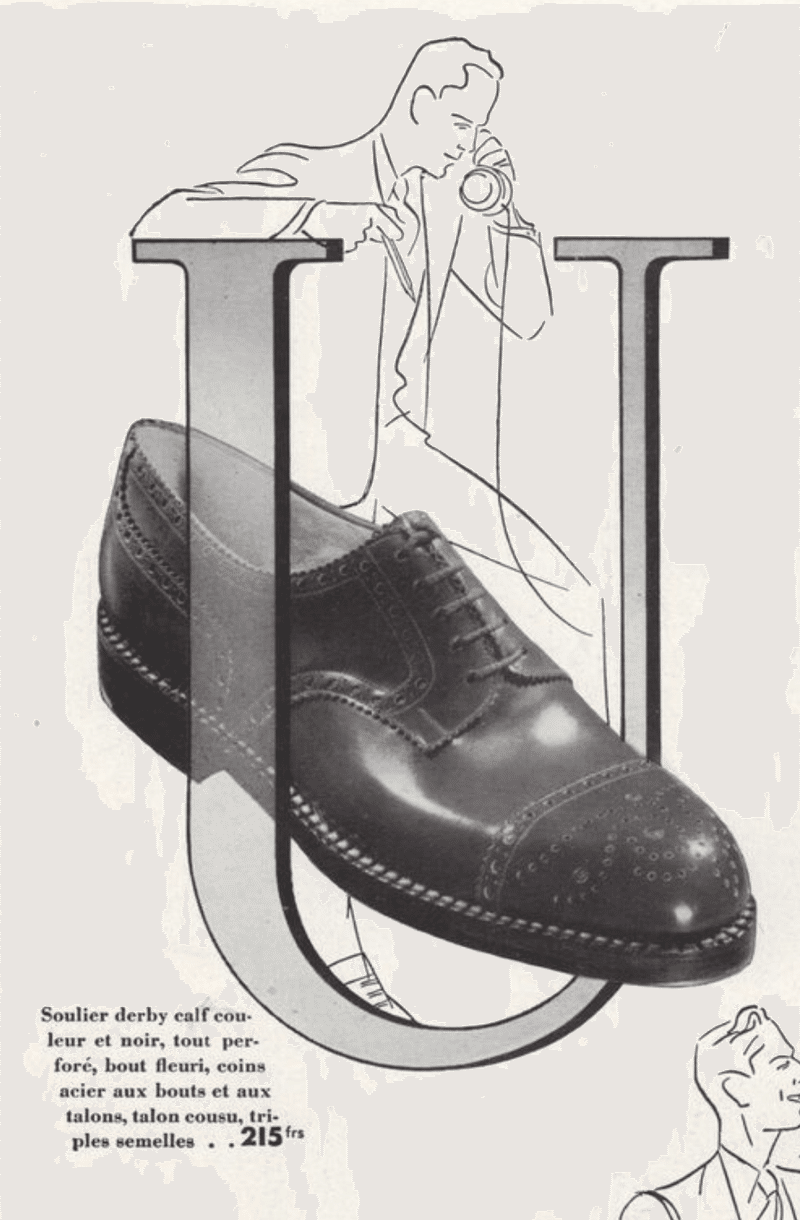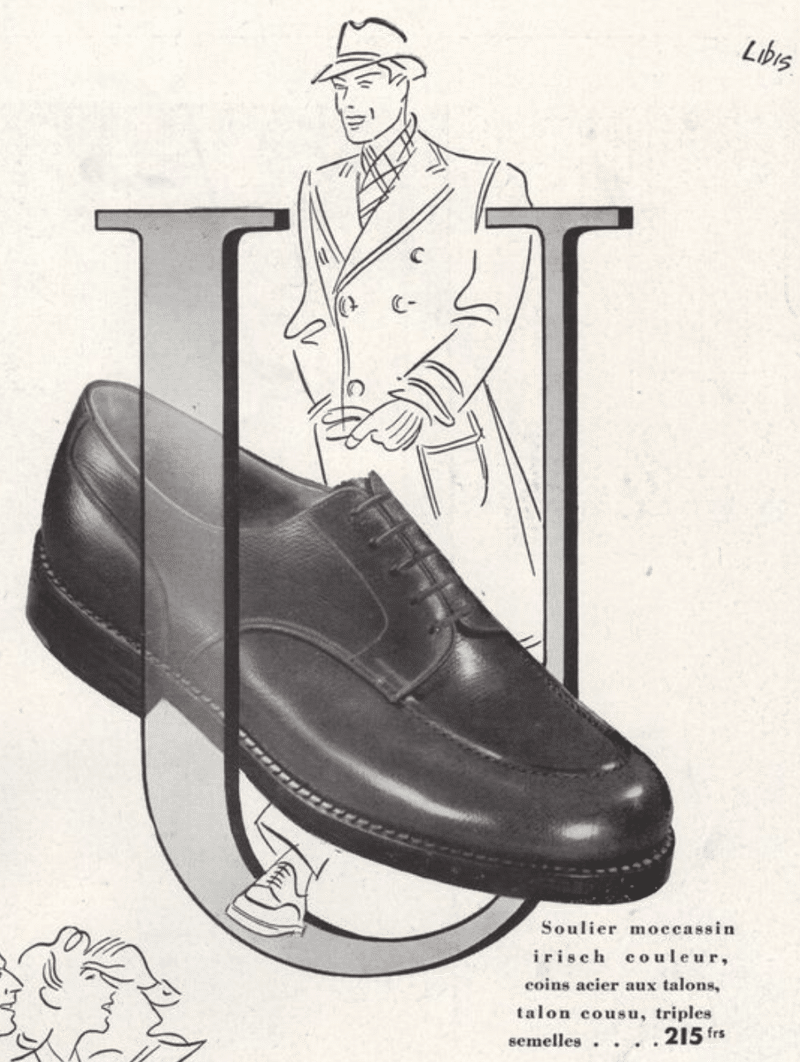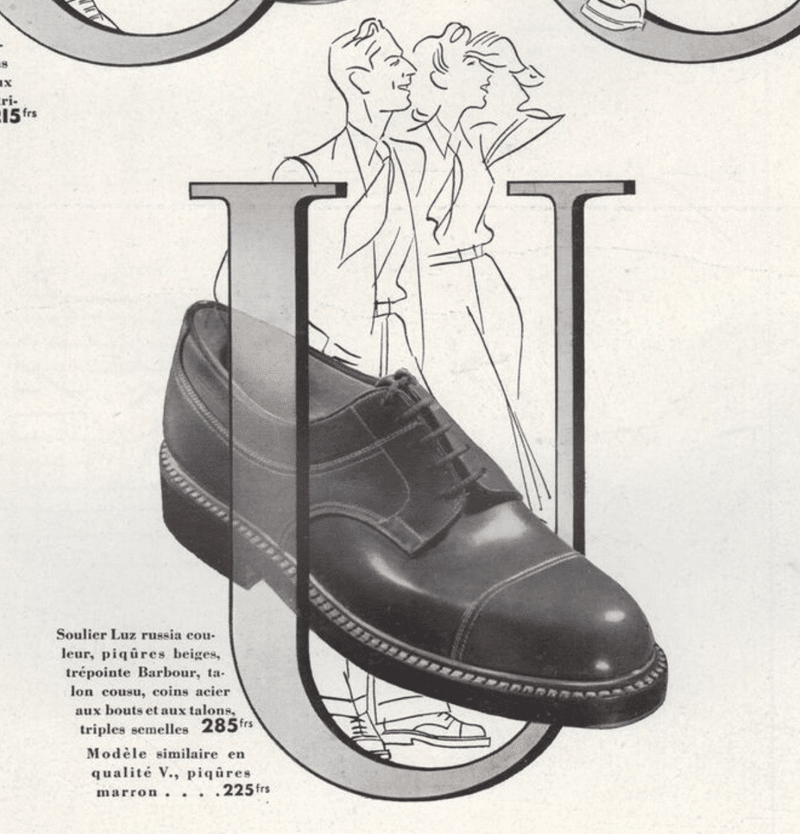 Publicité ancienne chaussure Unic pour homme 1939 issue de magazine

1946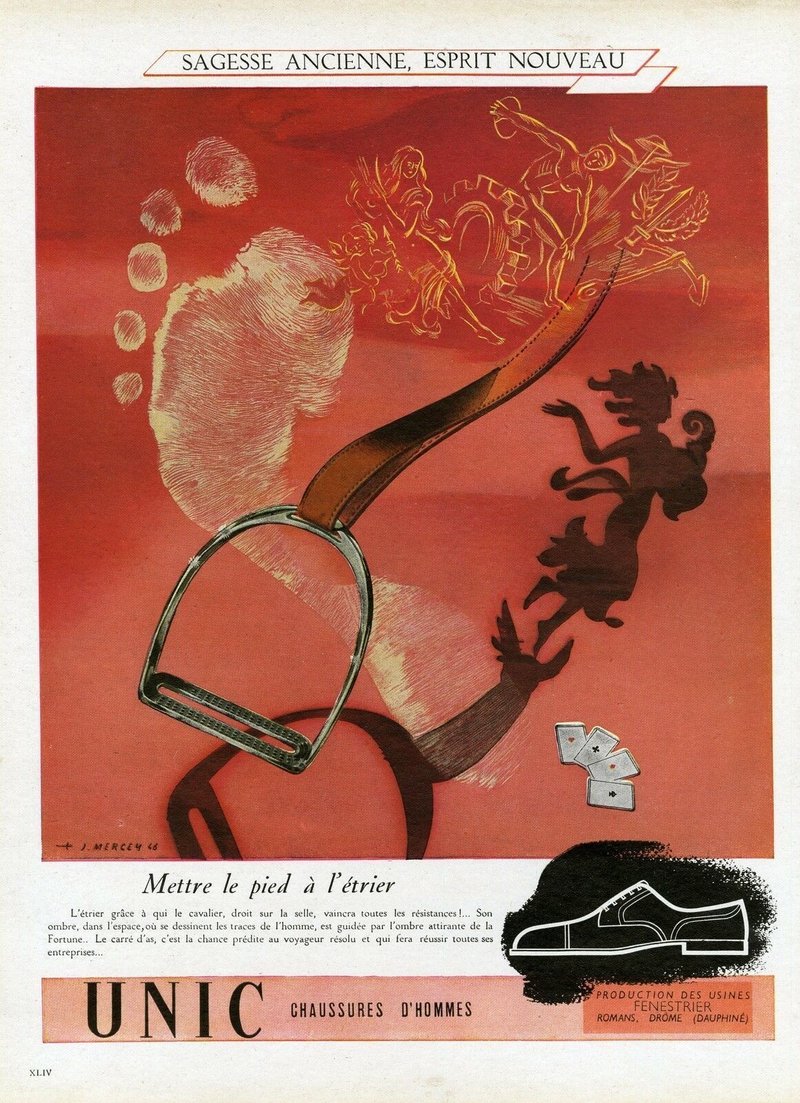 "CHAUSSURES D'HOMMES UNIC" Annonce orig. entoilée MERCEY /PLAISIR DE FRANCE 1946

1947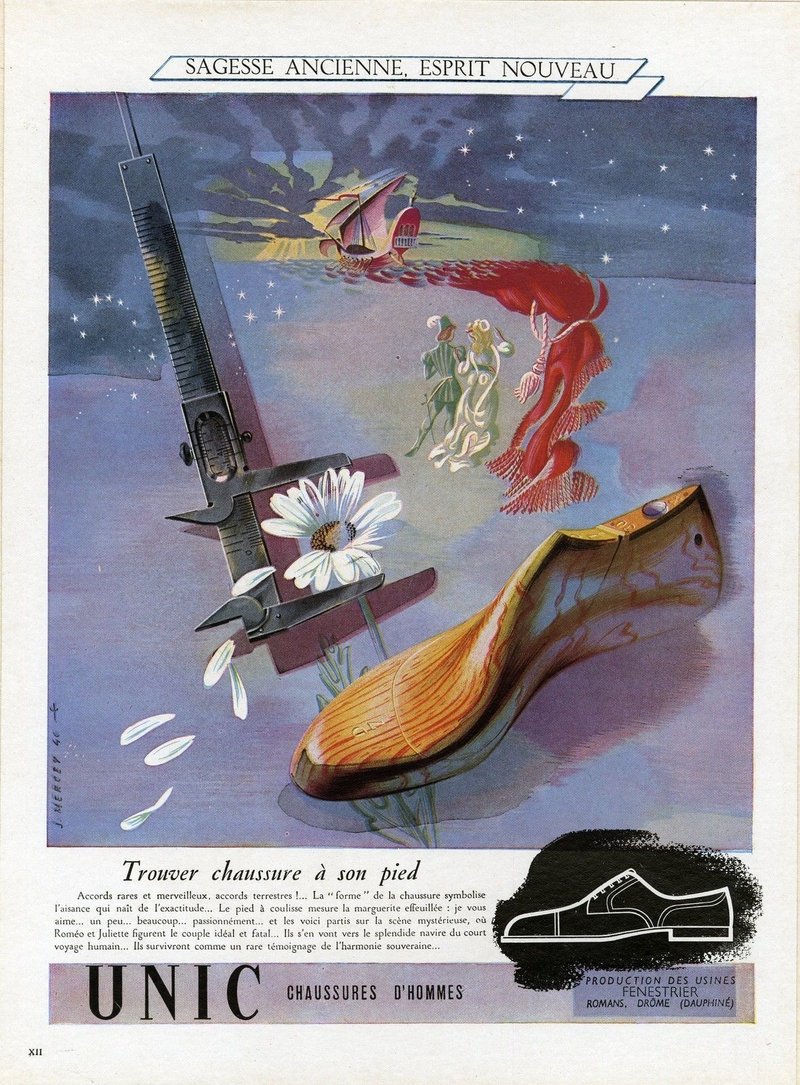 PUBLICITE DE PRESSE UNIC CHAUSSURES HOMME PAR MERCEY FRENCH ADVERTISING 1947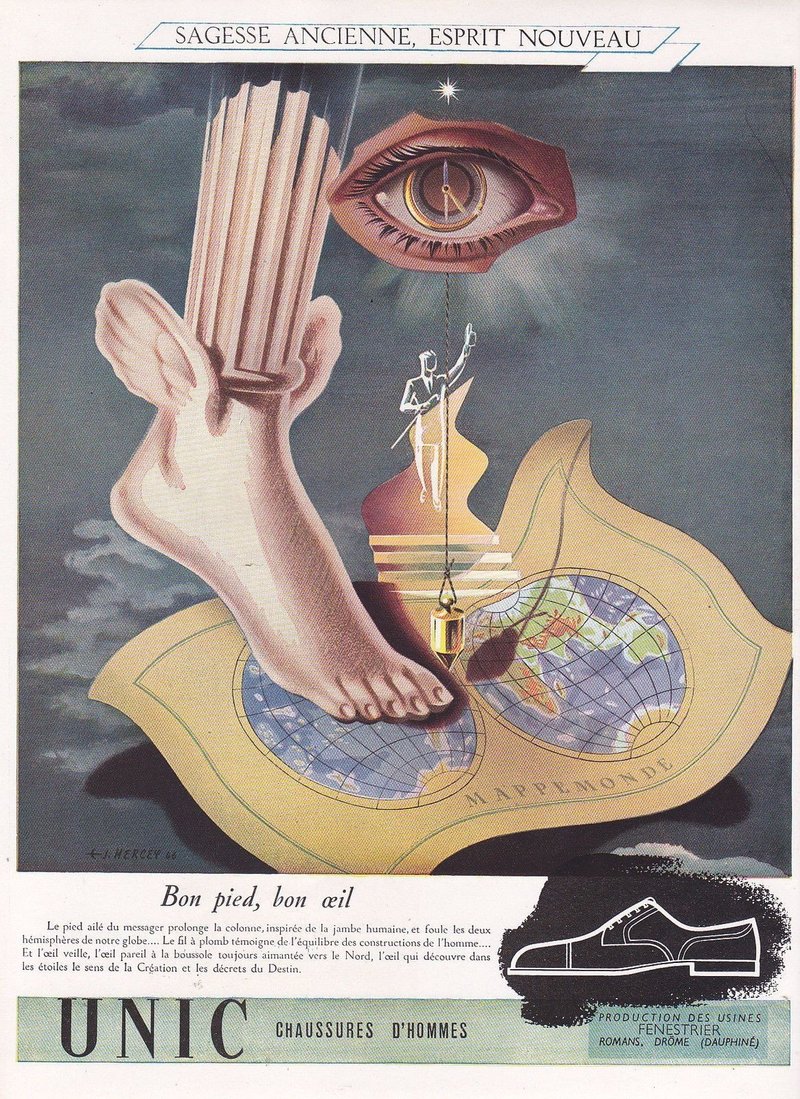 Publicité de presse Chaussures Hommes Unic J.MERCEY 1947 french Ad Mappemonde

1948
PUBLICITE ADVERTISING AD CHAUSSURES UNIC 1948

1949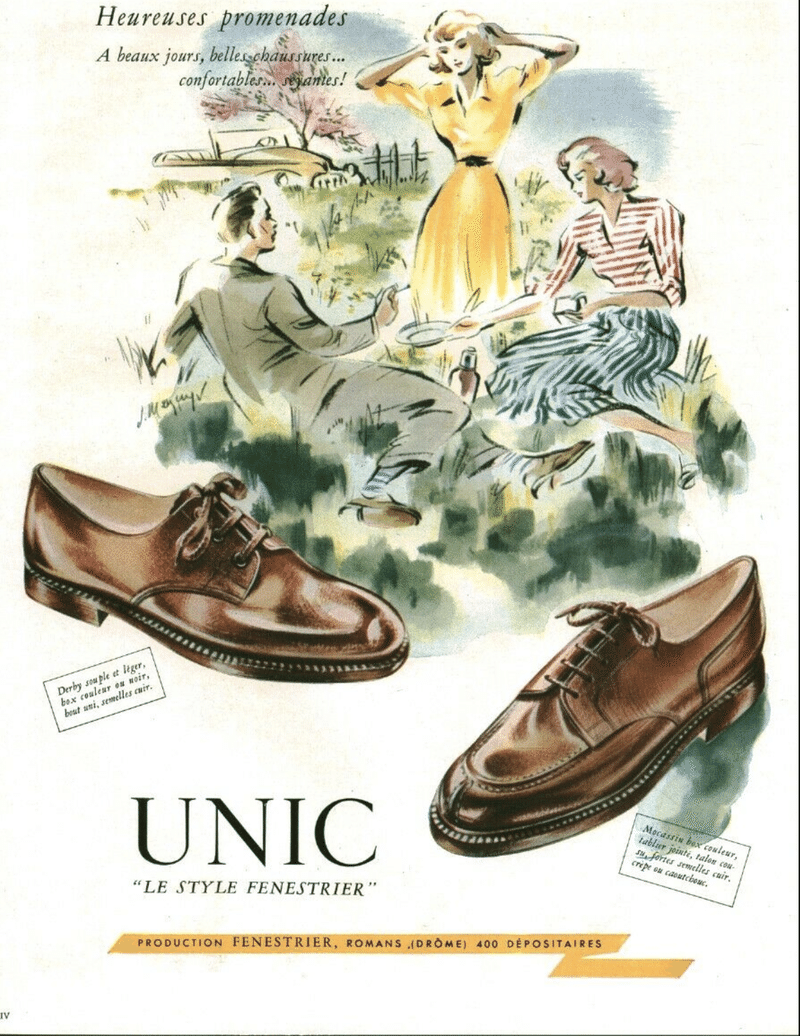 Publicité ancienne chaussures Unic Fenestrier 1949 issue de magazine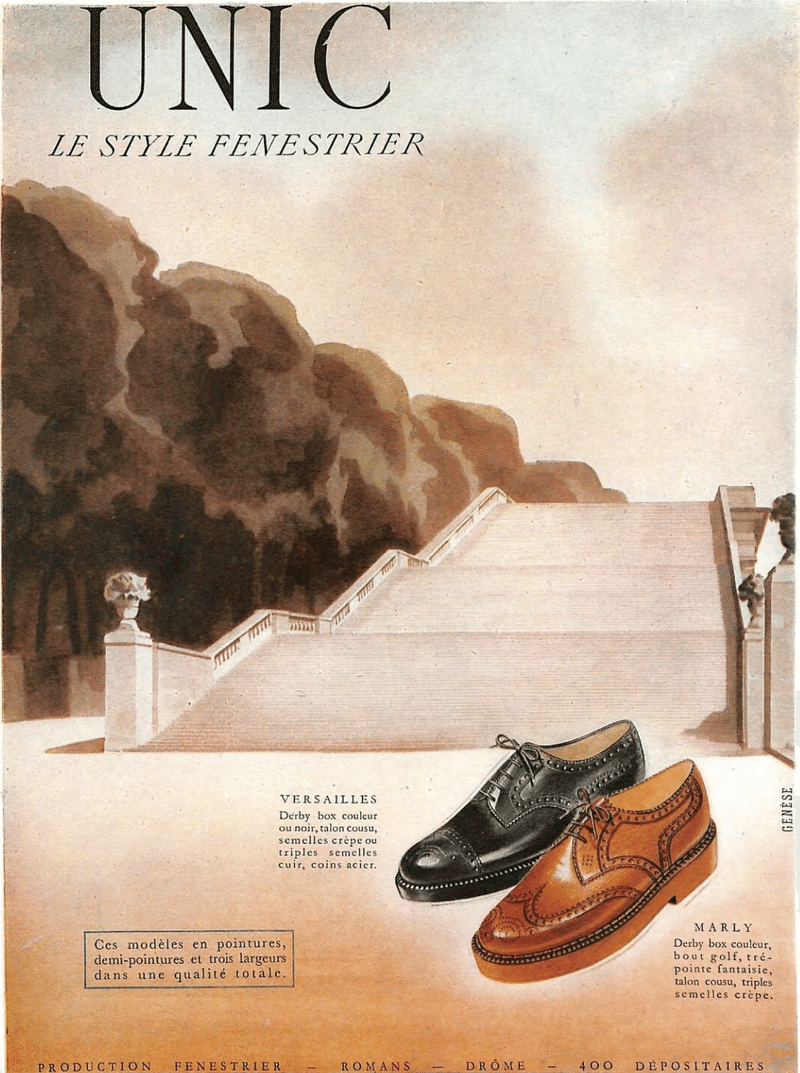 Publicité Chaussures soulier Unic Fenestrier derby Versailles ILLUSTRATION 1949

1950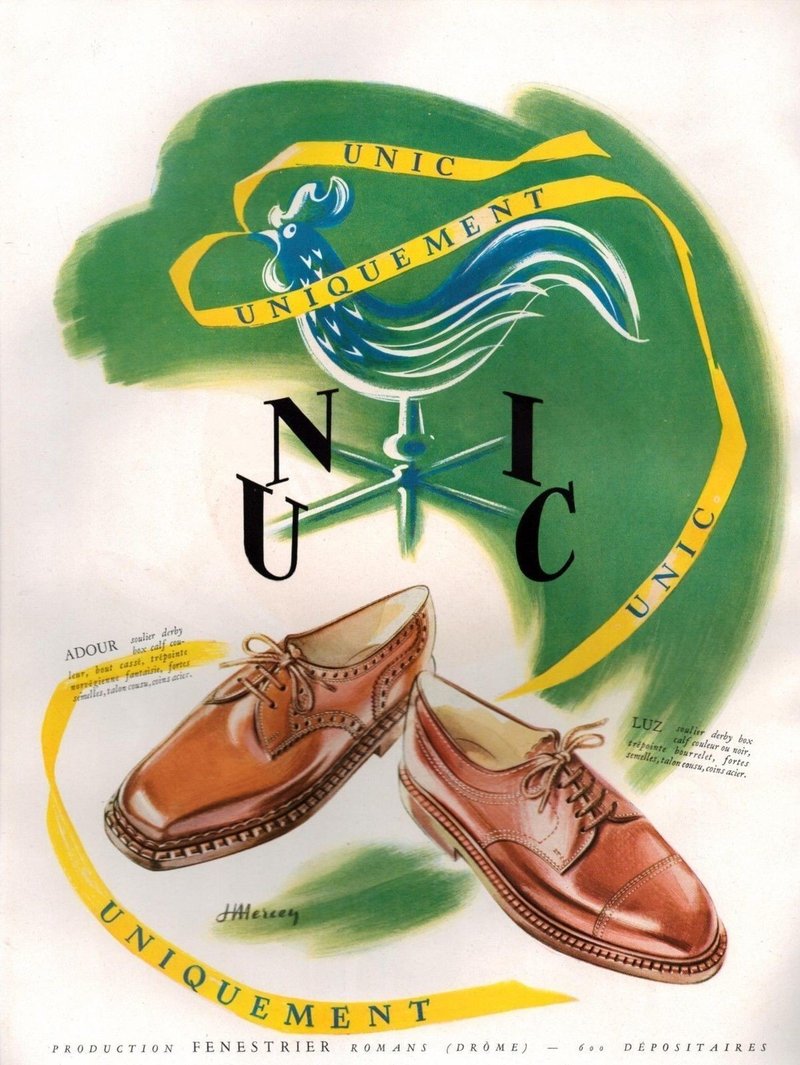 PUBLICITE ADVERTISING AD Shoes Chaussures UNIC Jean Mercey 1950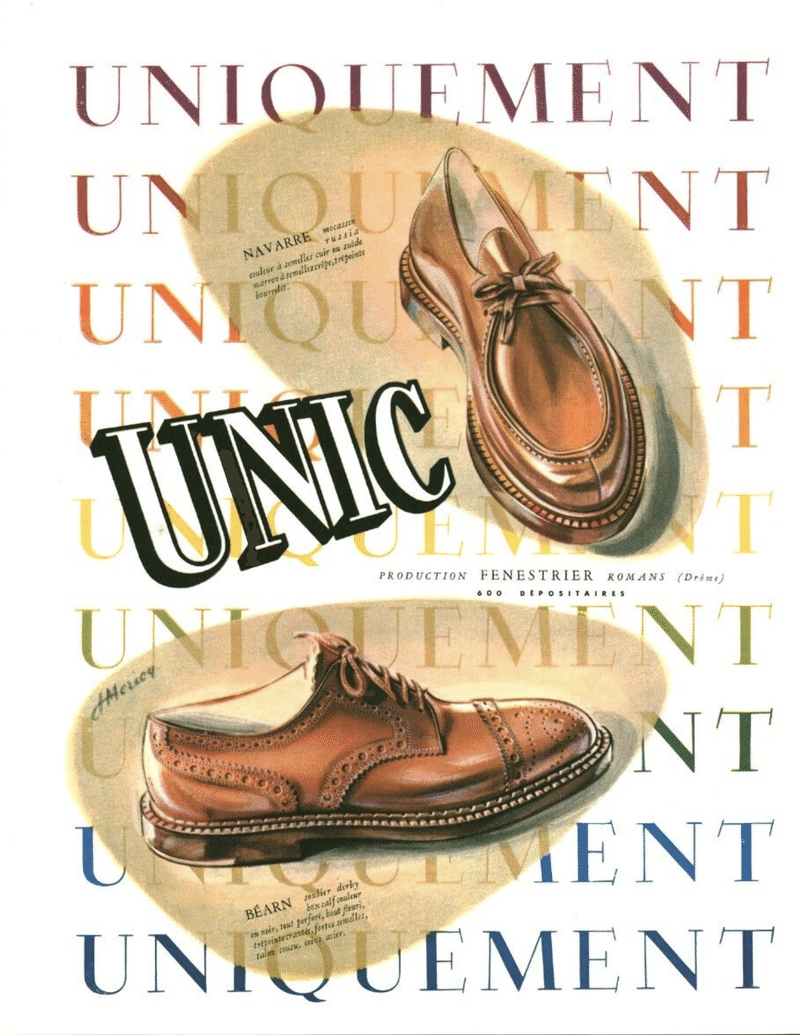 Publicité ancienne chaussure Unic 1950 issue de magazine J. Mercey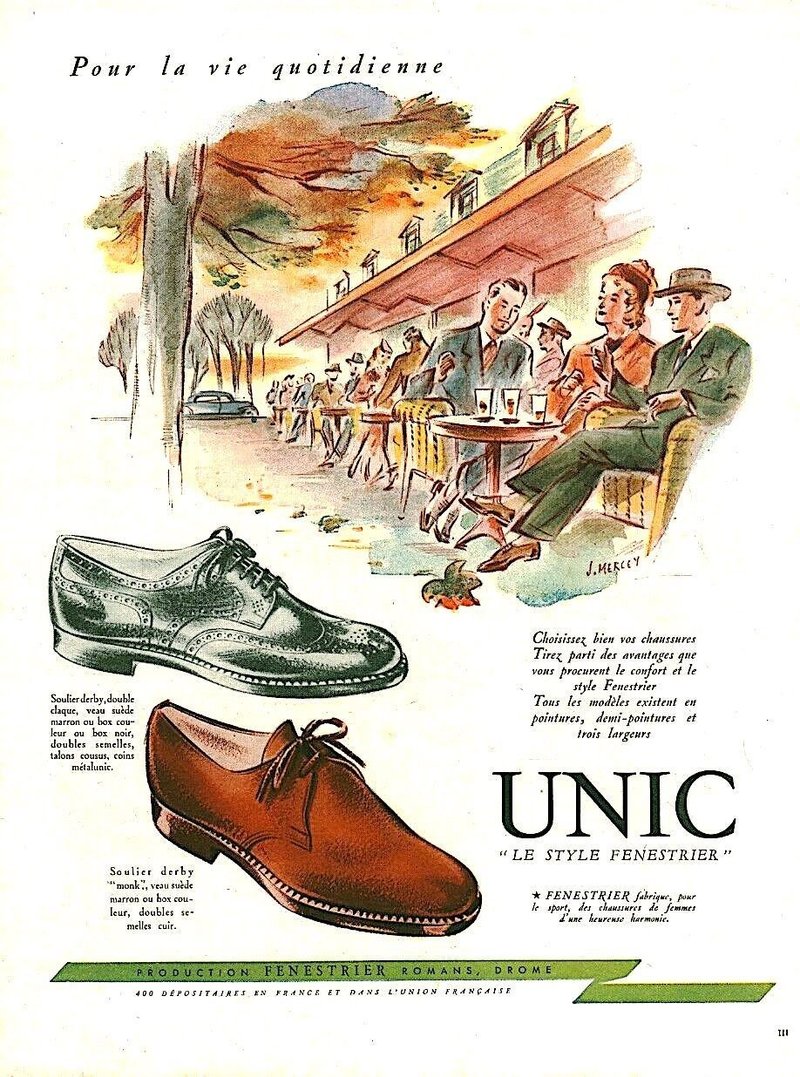 Publicité ancienne chaussure Unic 1950 issue de magazine J. Mercey

1951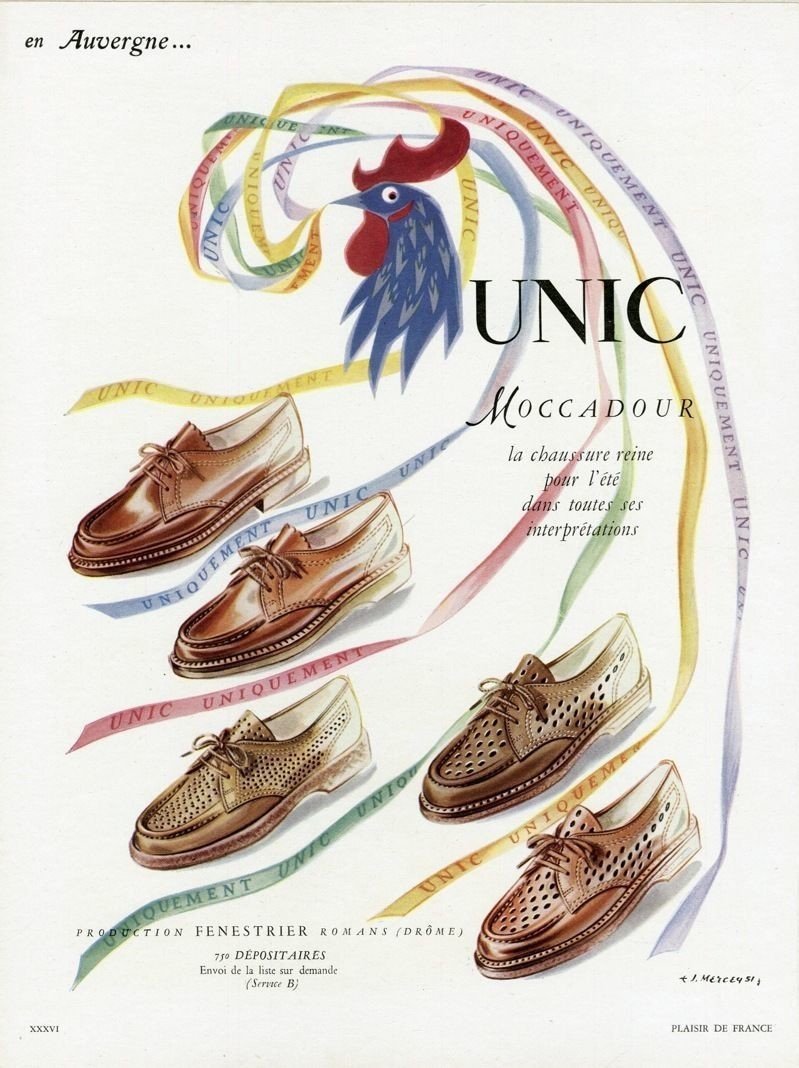 "CHAUSSURES UNIC" Annonce originale entoilée PLAISIR DE FRANCE 1951 J. MERCEY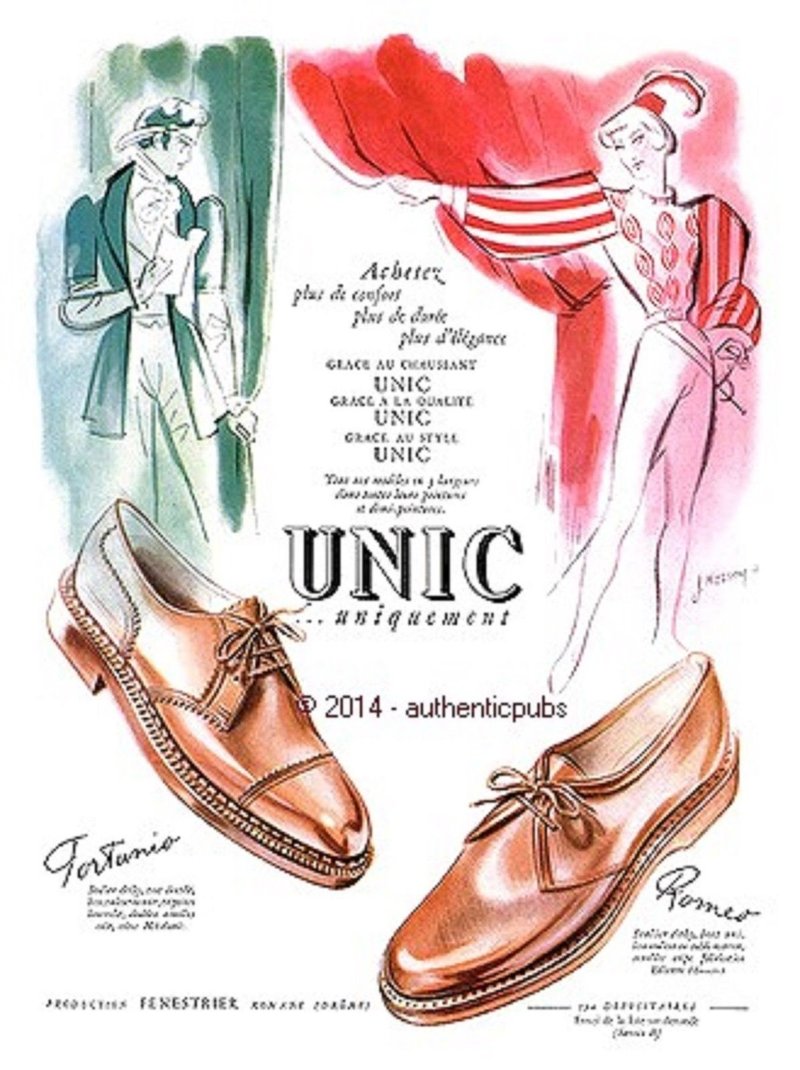 PUBLICITE CHAUSSURES UNIC SOULIER ROMEO FORTUNIO SIGNE MERCEY DE 1951 FRENCH AD


1952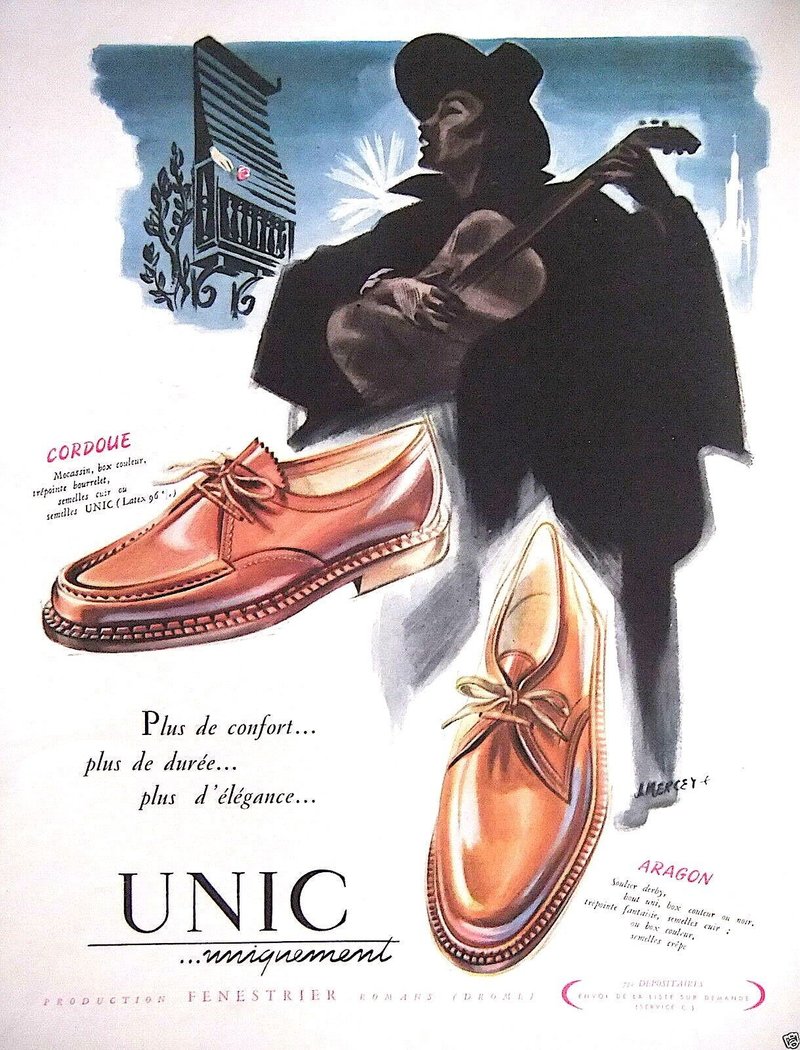 PUBLICITÉ 1952 CHAUSSURES UNIC CORDOUE ET ARAGON - J.MERCEY - ADVERTISING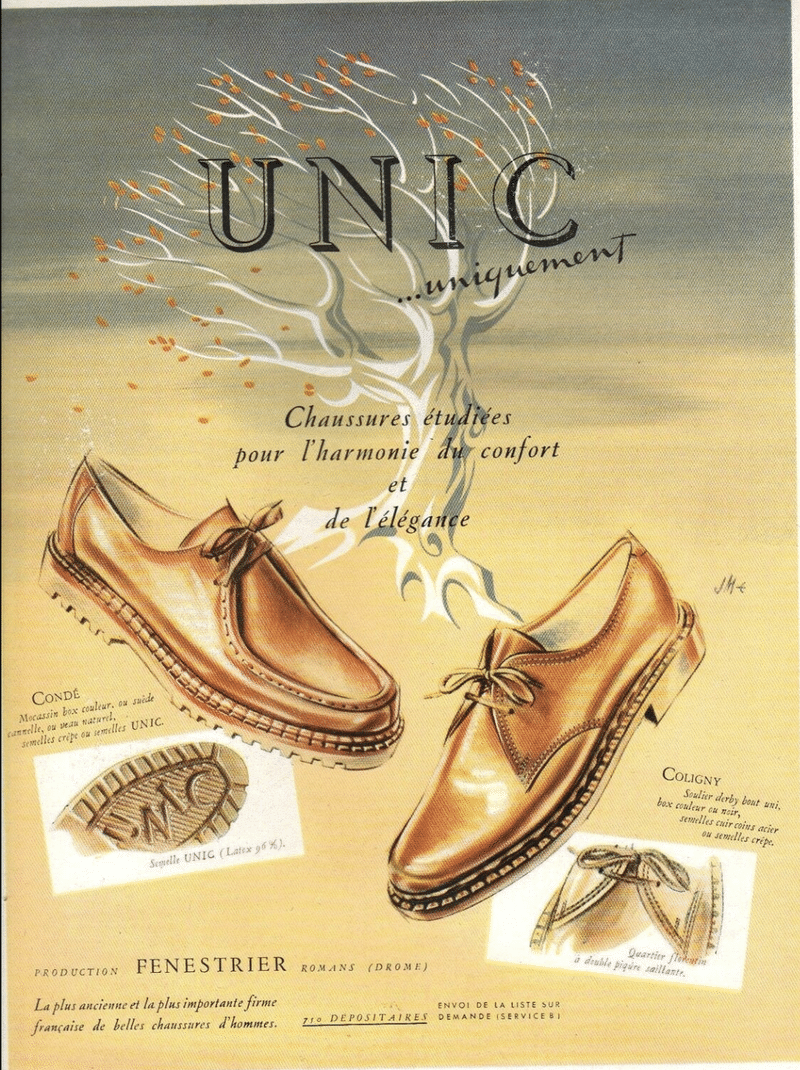 PUBLICITE ADVERTISING 1952 UNIC chaussures production FENESTRIER à Romans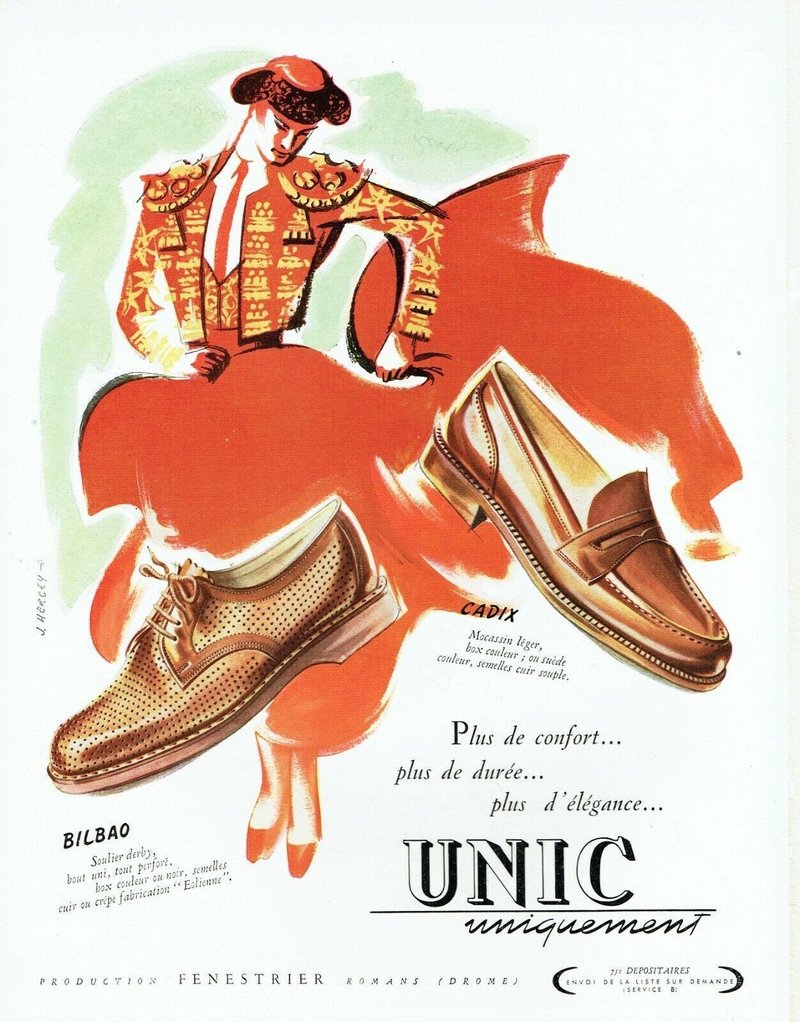 Publicité Advertising 049 1952 chaussures homme Unic Fenestrier par J.Hercey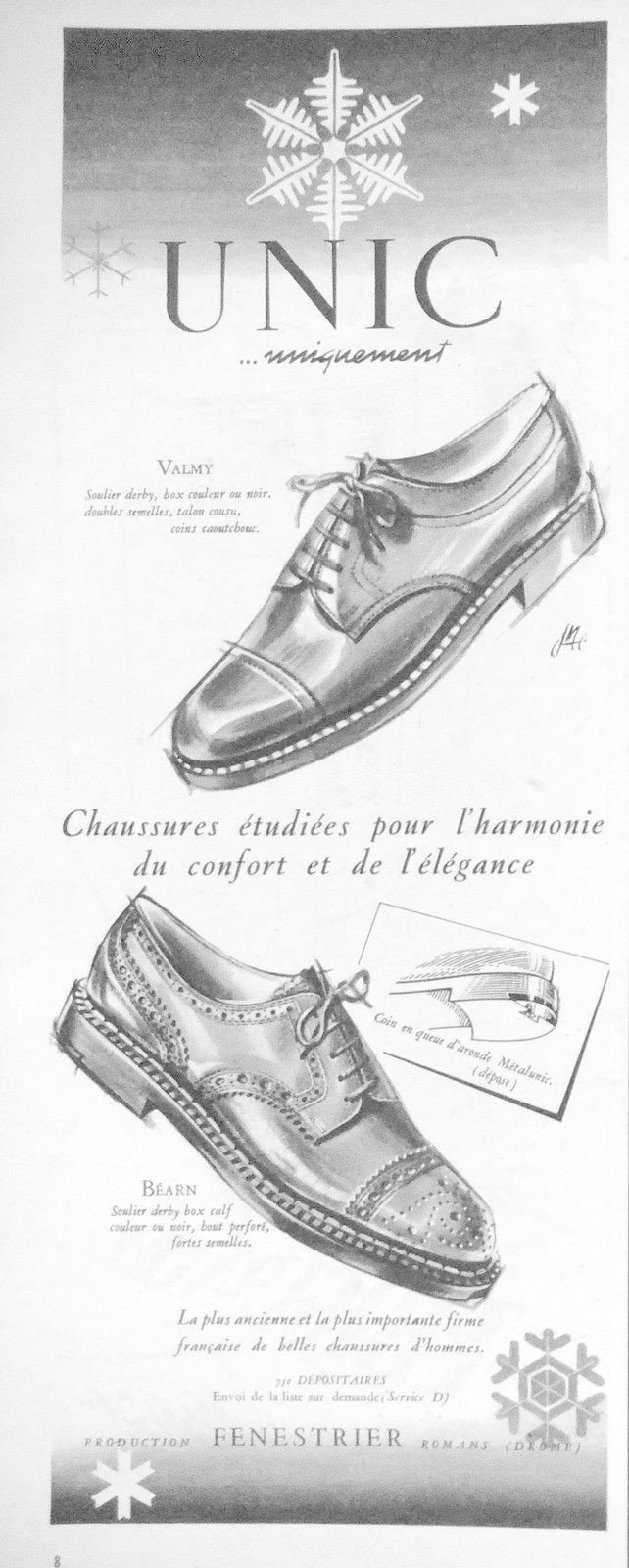 PUBLICITÉ DE PRESSE 1952 UNIC CHAUSSURE SOULIER DERBY BOX CALF VALMY BÉARN


PUBLICITE ADVERTISING 084 1952 UNIC chaussures Fenestrier Cadix Bilbao


PUBLICITE ADVERTISING 084 1952 UNIC chaussures Cordoue Aragon Fenestrier

1953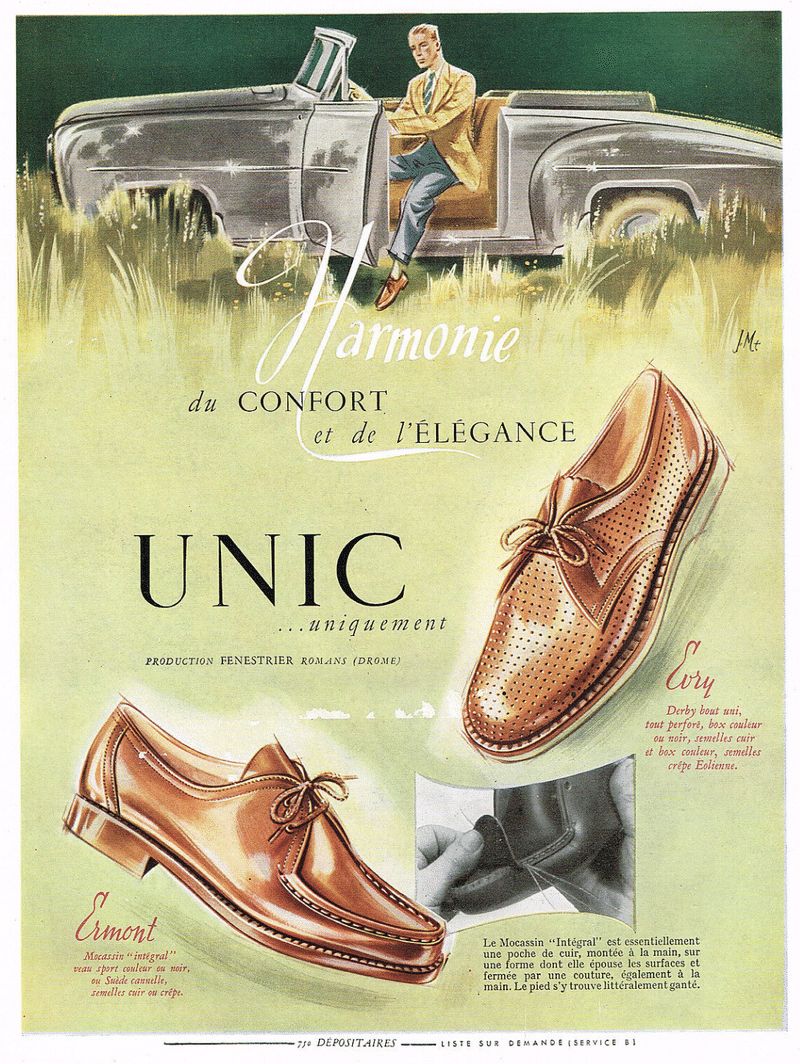 PUBLICITE ADVERTISING 024 1953 UNIC chaussures HARMONIE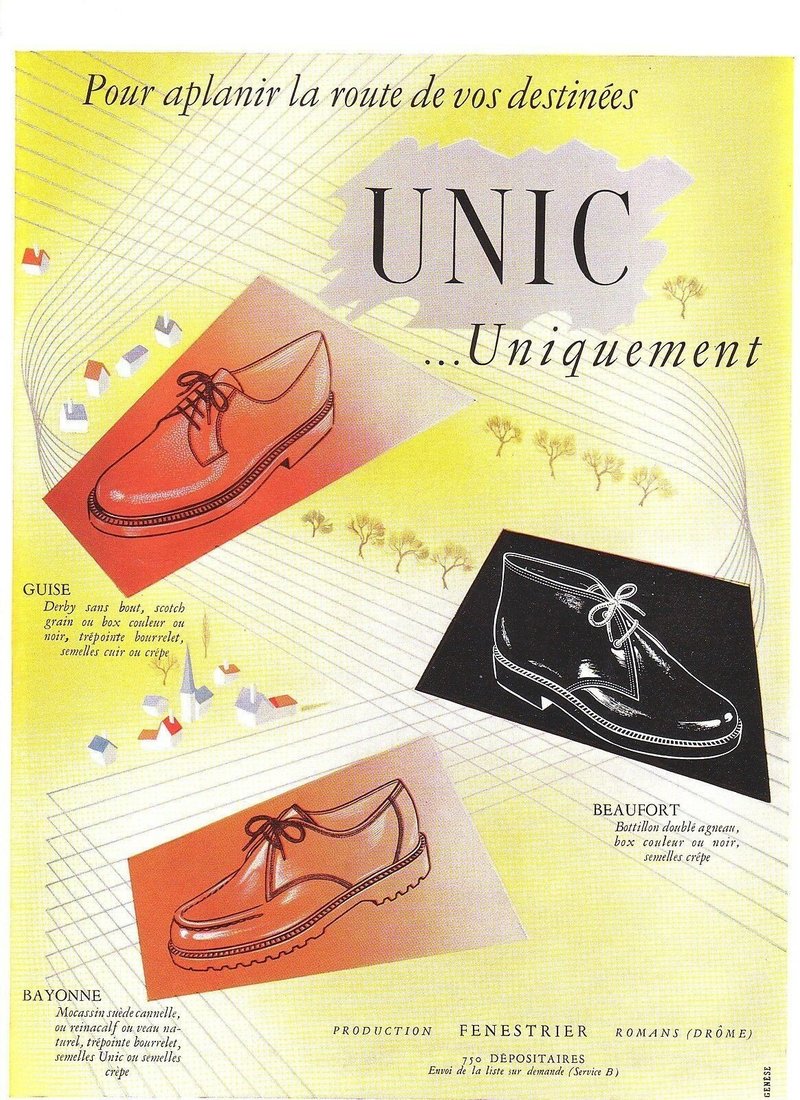 PUBLICITE ADVERTISING 034 1953 UNIC chaussures Fenestrier romans


PUBLICITE ADVERTISING 124 1953 UNIC chaussures homme par FENESTRIER

1957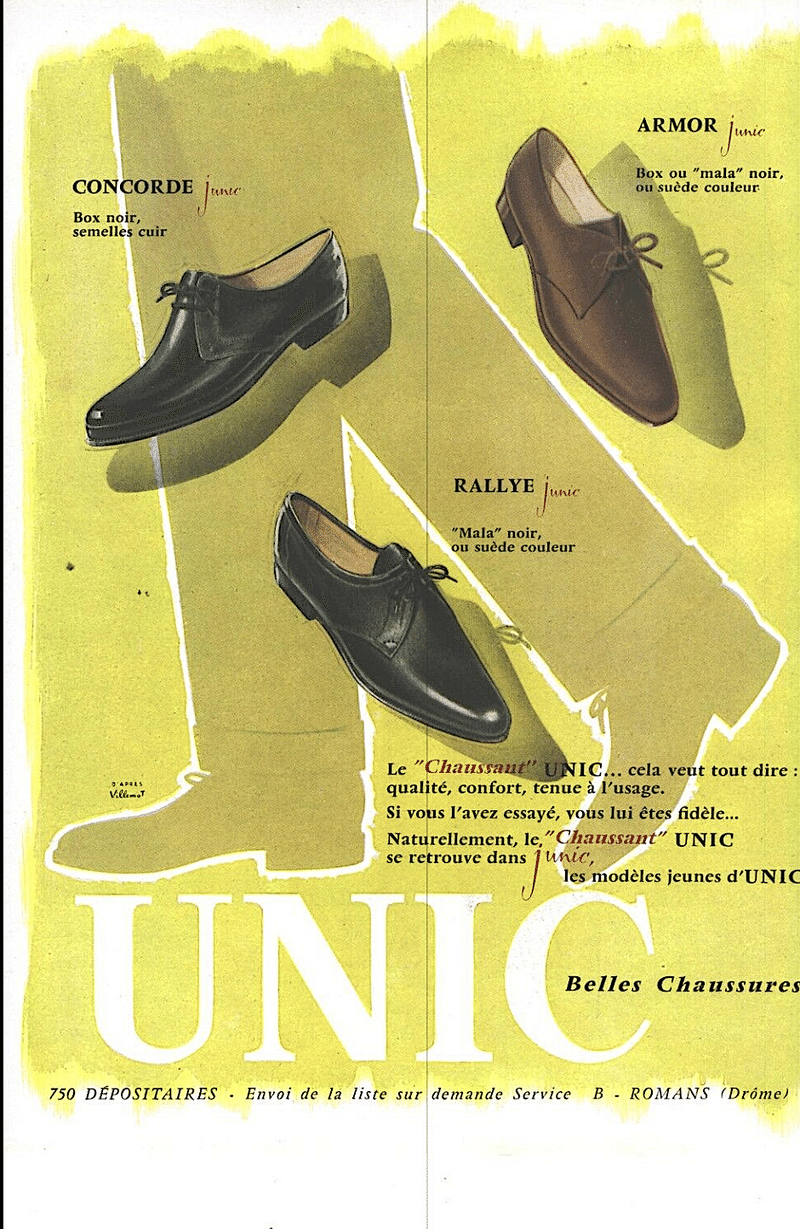 PUBLICITE ADVERTISING 1957 UNIC chaussures ref CONCORDE RALLYE & ARMOR

1965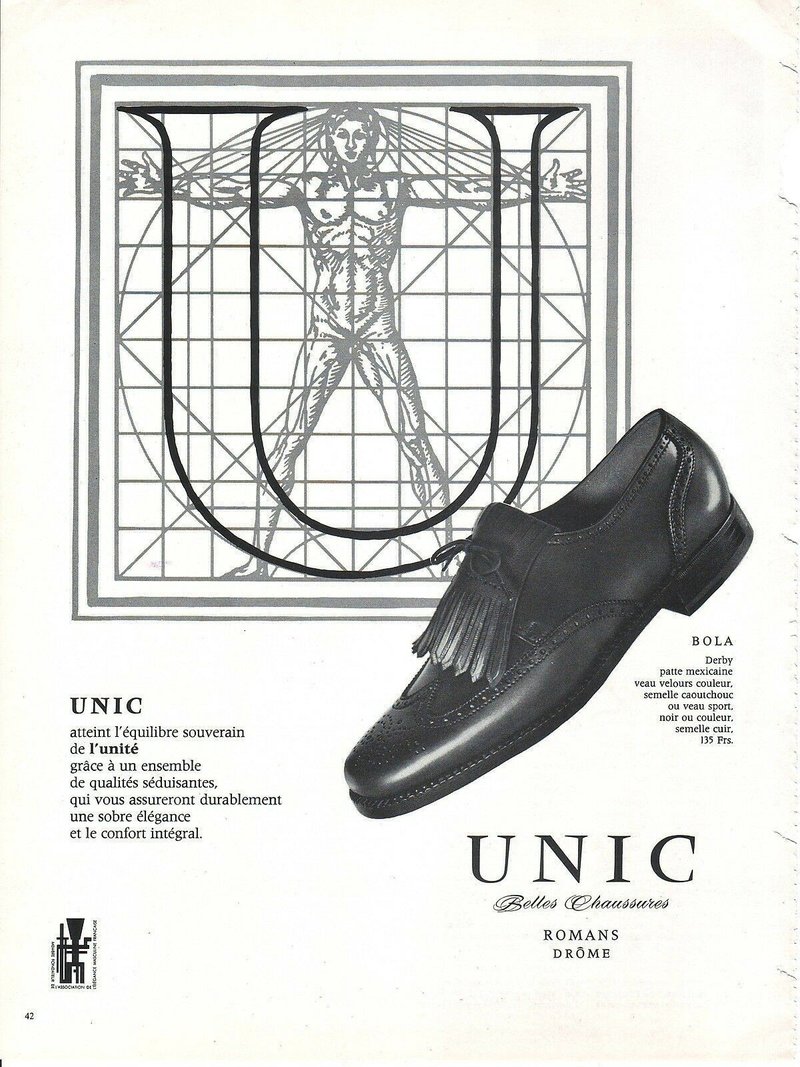 PUBLICITE ADVERTISING 034 1965 UNIC chaussures Romans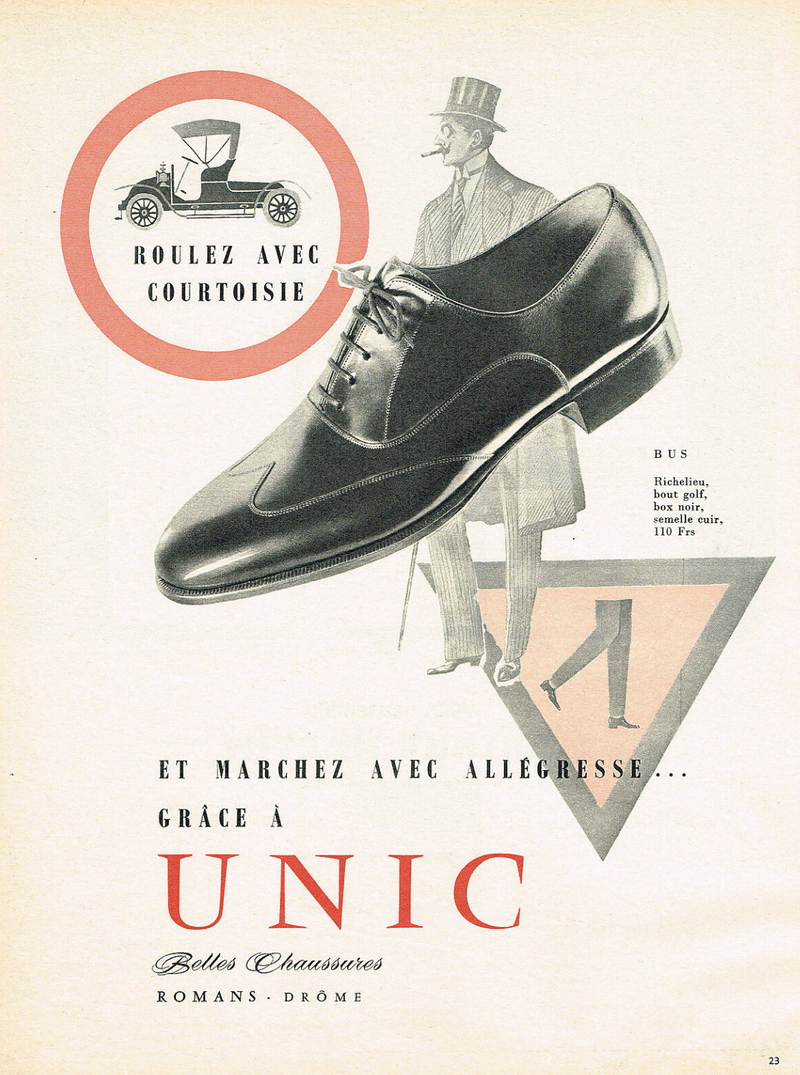 PUBLICITE ADVERTISING 104 1965 UNIC chaussures homme BUS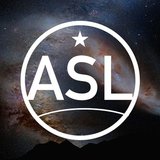 Afro Shoes laboratory / Footwear Marketing 👟👞🥾👡👠 ■ Shoe Designer ■ Branding ■ Technology ■ Historian ■ Idea ■ Deep & Geek 关于鞋子/關於鞋子