Unity Asset information "3D Character for Action"
Published in Unity Asset Store
Unity Asset Store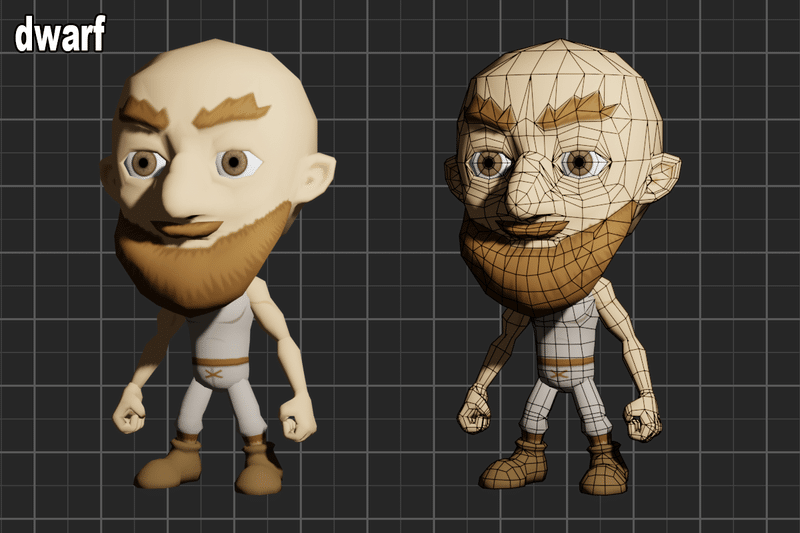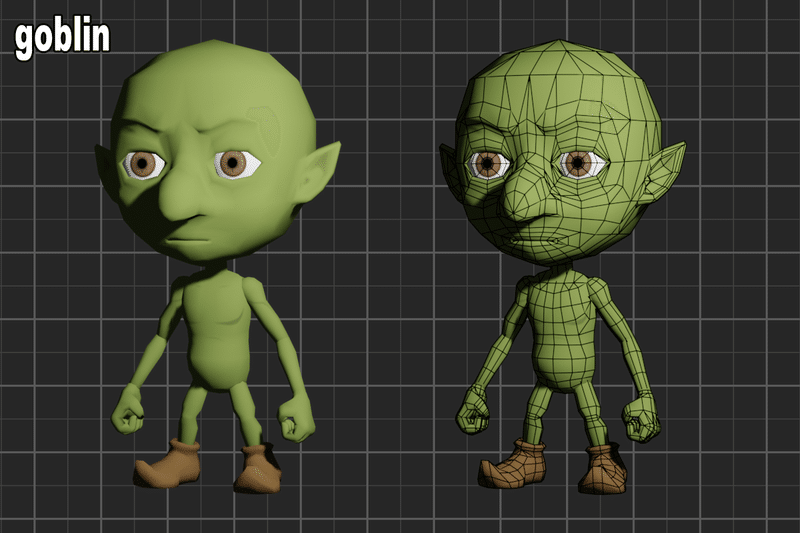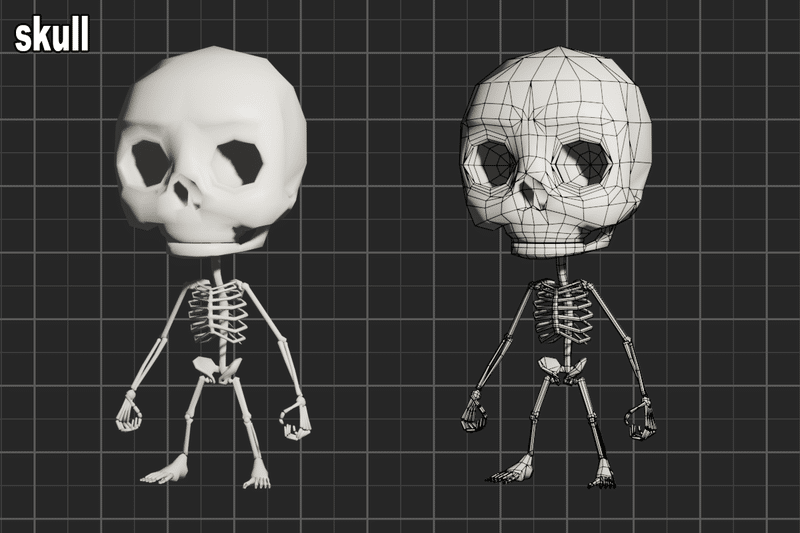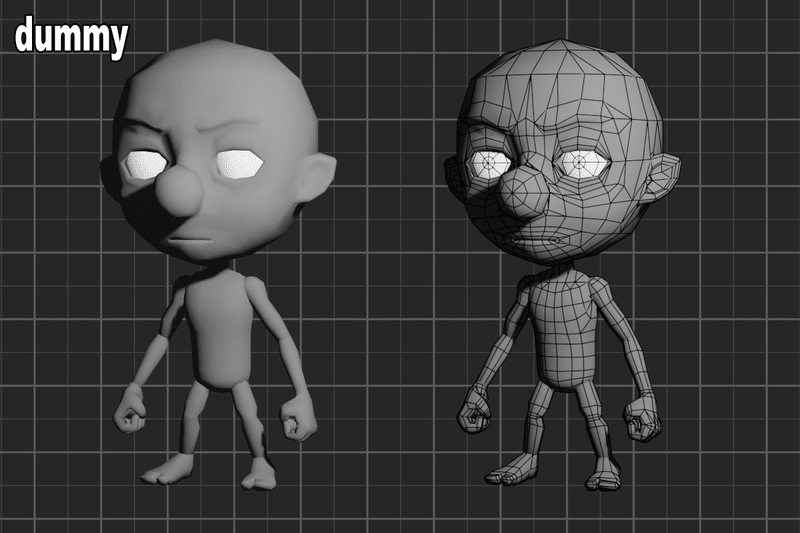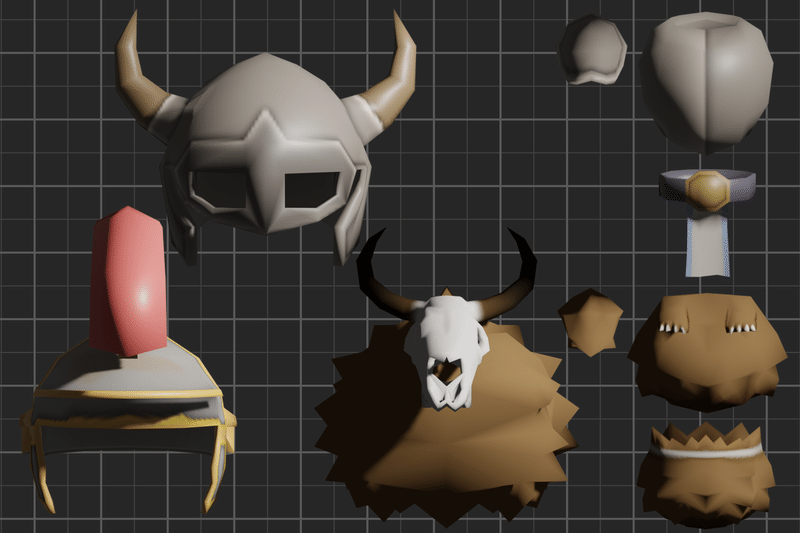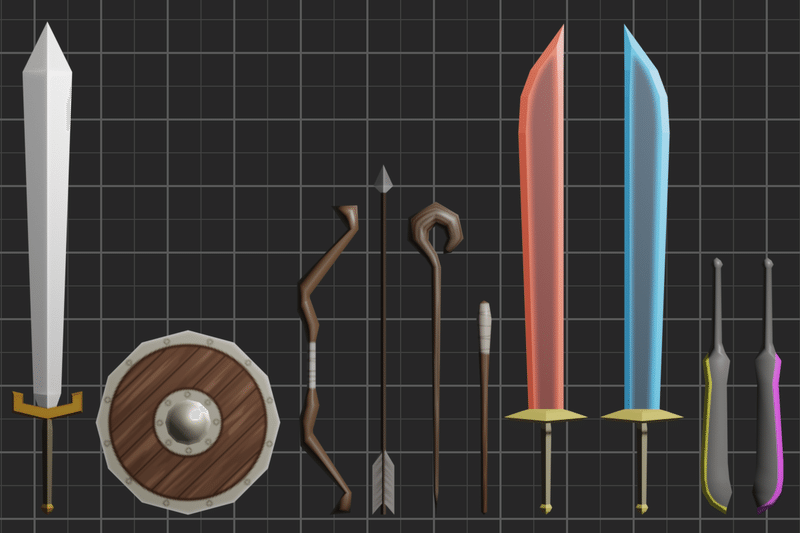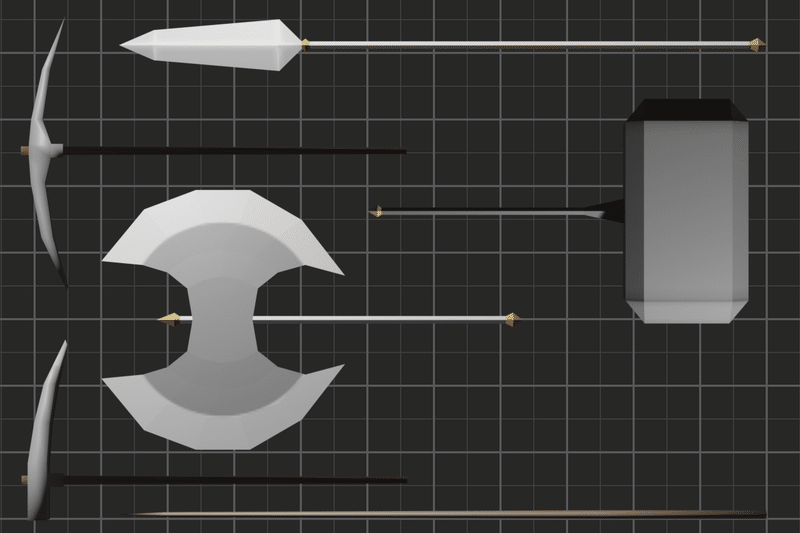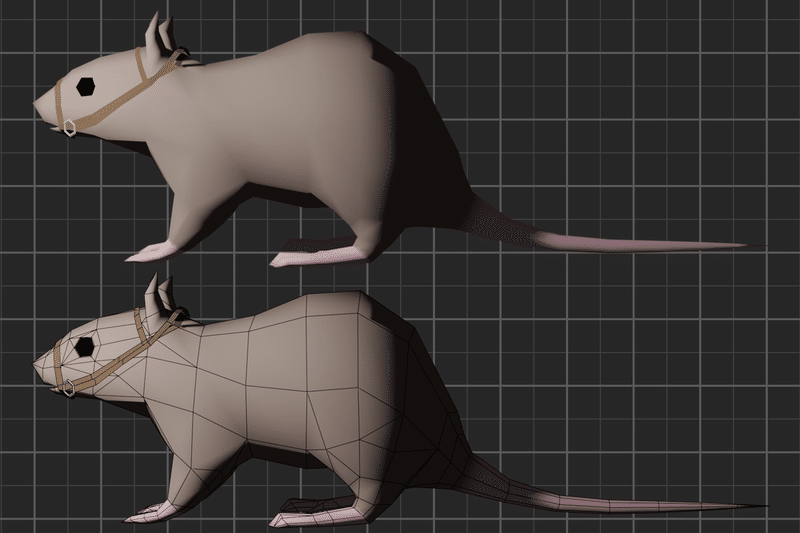 This Asset is not humanoid.
Animation type of the Asset is Generic.

Fbx list
Character
dummy_Generic - polygon 3808 tris
dwarf_Generic - polygon 4378 tris
goblin_Generic - polygon 4184 tris
skull_Generic - polygon 5506 tris
Mouse
mouse - polygon 1122 tris
Equip
Equip_Head_1 - polygon 1010 tris
Equip_Head_2 - polygon 380 tris
Equip_Head_3 - polygon 590 tris
Equip_Hips_1 - polygon 364 tris
Equip_Hips_2 - polygon 122 tris
Equip_UpperArm_1 - polygon 82 tris
Equip_UpperArm_2 - polygon 132 tris
Equip_UpperChest_1 - polygon 310 tris
Equip_UpperChest_2 - polygon 104 tris
Weapon
weapon_arrow - polygon 62 tris
weapon_axe - polygon 200 tris
weapon_bow - polygon 96 tris
weapon_fishingRod - polygon 78 tris
weapon_hammer - polygon 78 tris
weapon_hoe - polygon 88 tris
weapon_knife_L - polygon 100 tris
weapon_knife_R - polygon 100 tris
weapon_pickaxe - polygon 90 tris
weapon_scimitar_L - polygon 128 tris
weapon_scimitar_R - polygon 128 tris
weapon_shield - polygon 180 tris
weapon_spear - polygon 56 tris
weapon_sword - polygon 152 tris
weapon_torch - polygon 80 tris
weapon_wand - polygon 144 tris
Effect
Cylinder1 - polygon 24 tris
about Texture
Each character have the number of textures is 1.
Size of the texture is 512 x 512 pixels.
Textures of Equip are used all the number of total 3.
Size of these textures are 256 x 256 pixels.
Textures of Weapon are used all the number of total 5.
Size of these textures are 256 x 256 pixels.
The number of texture of mouse is 1.
Size of the texture is 256 x 256 pixels.
Animation Clip list
Character
The number of animation of character is 206.
attack_axe1_charge
attack_axe1
attack_axe2_charge
attack_axe2
attack_axe3_rotate
attack_axe3
attack_bow1_charge
attack_bow1_reload
attack_bow1
attack_bow2_charge
attack_bow2_reload
attack_bow2
attack_bow3_charge
attack_bow3_reload
attack_bow3
attack_bow4_charge
attack_bow4_reload
attack_bow4
attack_bow5_charge
attack_bow5_reload
attack_bow5
attack_dual1_1
attack_dual1_2
attack_dual1_3
attack_dual2_1
attack_dual2_2
attack_dual2_charge
attack_dual3
attack_dual4_1
attack_dual4_2
attack_dual5_charge
attack_dual5_landing
attack_dual5_rotate
attack_dual5
attack_hammer1_charge
attack_hammer1
attack_hammer2_rotate
attack_hammer2
attack_hammer3_charge
attack_hammer3
attack_kick
attack_knife1_1
attack_knife1_2
attack_knife1_3
attack_knife1_4
attack_knife2_1
attack_knife2_2
attack_knife3
attack_spear1
attack_spear2
attack_spear3_charge
attack_spear3
attack_sword1_1
attack_sword1_2
attack_sword1_3
attack_sword2_1
attack_sword2_2
attack_sword3
attack_wand1_charge
attack_wand1
attack_wand2_charge
attack_wand2
attack_wand3_charge
attack_wand3
attack_wand4_charge
attack_wand4
blown1_down
blown1
blown2_down
blown2
blown3_down
blown3
bury
carry_liftup
carry_putdown
climb
crawling
damage1
damage2_left
damage2_right
damage2
damage3_left
damage3_right
damage3
defend_shield
down1
down2
down3
down4
draw_dual1
draw_dual2
draw_dual3
draw_weapon1
draw_weapon2
falling1_down
falling1
falling2_down
falling2
falling3_down
falling3
felling
fishing_catch
fishing_fishon
fishing_idle
fishing_missed
fishing_throw
gone
harvest
idle_carry
idle_dizzy
idle_equip_axe
idle_equip_bow
idle_equip_dual
idle_equip_hammer
idle_equip_knife
idle_equip_shield
idle_equip_spear
idle_equip_sword
idle_equip_wand
idle_extra1
idle_extra2
idle_hurt
idle_item
idle_pull
idle_push
idle_tired
idle_torch
idle
item_pickup
item_putdown
item_raise
item_take
item_throw
item_toss
jump_descent
jump_during
jump_flapping
jump_rise
jump_rolling
ladder
landing1
landing2
landing3
lose1
powerdown
powerup
provocate1
provocate2
provocate3
run_away
run_equip_axe
run_equip_bow
run_equip_dual
run_equip_hammer
run_equip_knife
run_equip_spear
run_equip_sword
run_equip_wand
run_item
run_torch
run
search
shield_move_back
shield_move_front
shield_move_left
shield_move_right
speak
standup1
standup2
step_back
step_front
step_left
step_right
swim_damage1
swim_damage2
swim_damage3
swim_down
swim_drown
swim_idle
swim1
swim2
swim3
swim4
walk_carry
walk_equip_axe
walk_equip_bow
walk_equip_dual
walk_equip_hammer
walk_equip_knife
walk_equip_spear
walk_equip_sword
walk_equip_wand
walk_hurt
walk_item
walk_pull
walk_push
walk_tired
walk_torch
walk
win1
ride_damage
ride_getoff
ride_idle
ride_on
ride_run
ride_walk
Mouse
The number of animation of mouse is 4.
mouse_idle
mouse_idle_ride
mouse_run
mouse_walk
Rod
The number of animation of fishingRod is 5.
rod_fishing_catch
rod_fishing_fishon
rod_fishing_idle
rod_fishing_missed
rod_fishing_throw

この記事が気に入ったら、サポートをしてみませんか?
気軽にクリエイターの支援と、記事のオススメができます!