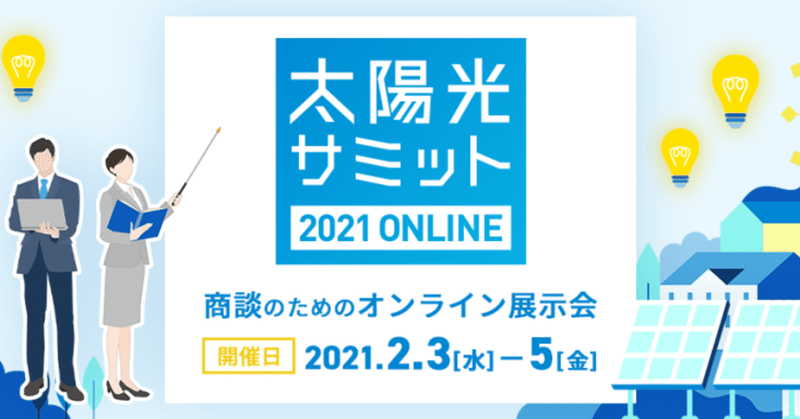 We will exhibit at the Solar Summit 2021 ONLINE
We will exhibit at [Solar Summit 2021 ONLINE] hosted by DMM.com.
Dates: February 3 (Wed.) - 5 (Fri.), 2021
Time 10:00 - 18:00
The event has ended | Solar Power Summit - DMM Online Exhibition
The "Solar Power Summit" is an online business event that creates new business opportunities for solar power generation and energy storage related services.
showbooth.dmm.com
https://showbooth.dmm.com/solarsummit/


It is an exhibition specialized for business negotiations, and anyone can conduct business negotiations safely and securely without being restricted by time or distance.
At our booth, we offer one-stop services from laser surveying by drone to civil engineering design of solar/wind power plants, detailed design of self-owned transmission lines, construction, and O&M, utilizing our knowledge in civil engineering.
この記事が気に入ったら、サポートをしてみませんか?
気軽にクリエイターの支援と、記事のオススメができます!