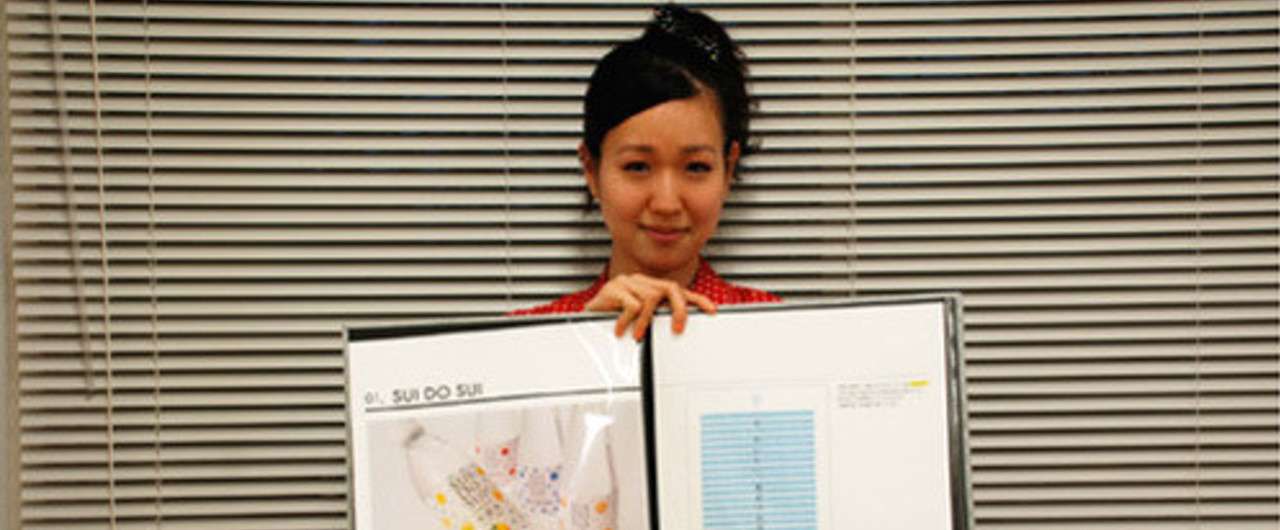 Ms. Akira Morikawa
Tokyo University of arts / Faculty of fine arts /Department of Design
Tokyo University of arts Post graduate/ Fine arts Design course /environment and planning
Face my future
-First of all, could you tell us a production concept for your prize winner?
This design is based on reviewing the obvious elements of tap water when we commercialize tap water as a beverage. Even if Japan is rich in water resources, it imports 580,000 kg litre per year far away from abroad. Shocked by this fact, this package design aims to use water resources in Japan more effectively.
-I reckon it is a unique perspective. You chose tap water among water resources.
Japanese tap water is very safe in the world standards and not expensive. Therefore I had been thinking that if we use tap water and make the best use of Japanese resources, it would lead to cutting the water shipping cost (CO2) from overseas.
-How do you devise the design specifically?
Firstly, in order to make tap water tasty, the tips are "to cool it" and "adding vitamin C help remove the smell of chlorine". Therefore these tips were translated into feeling of tastiness by the picture of vitamin C rich fruits extract. Special inks were used for dots of labels, which appear or disappear depending on the temperature of the liquid inside, and then we could understand its good taste visually. I still remember very well how hard it was to find the special ink for this! Really hard..
-Your concept was very well devised.
Well, I can confide now that I was confident with my work and I had a feeling that I might win a prize. (Grin)
-Finally, what is your plan in the future?
To tell you the truth, I am thinking of going abroad to study in the future. Overseas design had stimulated me a lot in this Japan Korea students contest. I would like to feel it in my bones that "the national traits" equal "design created unconsciously", which are admitted in the overseas design. By experiencing new things and cultural diversity, I would like to become a package designer, who will continuously bring out fresh designs into the world!
-Thank you very much indeed. You will surely create revolutionary design!
この記事が気に入ったら、サポートをしてみませんか?
気軽にクリエイターの支援と、記事のオススメができます!