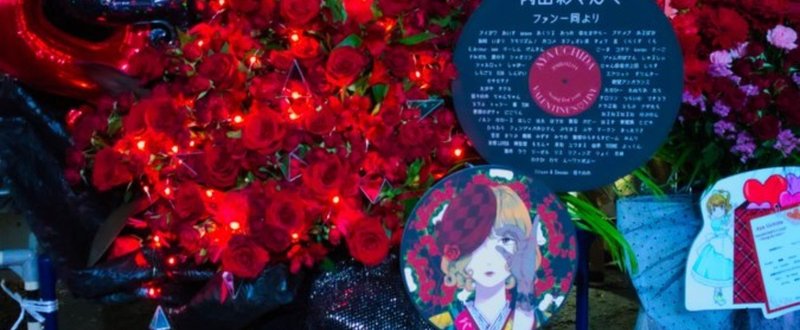 「English guide to joining flower stand project」
We are planning to give a flower stand to the 1st day of "AYA UCHIDA LIVE TOUR 2018 〜So Happy!!!!!〜", held on June 16th 2018 at Pacifico Yokohama. (Not for the rest of tour program. For only Yokohama day.)
Please feel free to join us!

・About a flower stand and this project
The theme of flower stand design will be "Yokohama".
We are preparing special giveaways for participants. Look forward to it!

・Design and Illustration
Flower stand design and the name board illustration by 坦々めお(@tantan_meo).

・Flower shop
Flower arrangement by HANANOKI (@hananoki_flower).

・Application period
March 29th – May 19th 2018
Don't miss this period to join us. Payment period will be from the end April.

・How to join donation
1.Sign in with your Twitter account (Twitterにログイン) and click 「参加する(join)」button.
2.Please follow フラスタ企画@JAMプロジェクト (@JamProFlower). We will contact you via Twitter DMs.
3.After that, please let me know followings via Twitter DM.
・Number of Units
・Payment method
・Name (which you want to write on the name board)
We will reply to confirm your application.
We will also get you the account information if you select Bank transfer or Paypal.
4.Once you have completed your payment, please let me know via Twitter DM. We will confirm your payment and soon get back to you.

・Participation fee
1 Unit = 1,000 yen
You can offer more than 1 unit, but the name on the name board to be in (Japanese) alphabetical order regardless of the amount you pay.

・Payment Method
1.PassMarket (Link to payment page will be available after April 8th.)
2.Bank transfer (ゆうちょ銀行 JP BANK)
3.PayPal
Please kindly bear bank transfer fee at your own expense (the same way as we deal with domestic fans).
1 Unit = 1,100 yen (includes 10% transfer fee)

・Application deadline
May 19th 2018 by 23:59 (JST)

We will update the information on this page.
Please ask me via Twitter DMs if you have any questions.

Please ask me if you have any questions about Twipla guide for flower stand.
[TwiPla] Would you like to give a flower stand to "AYA UCHIDA LIVE TOUR 2018 〜So Happy !!!!!〜", starts on June 16th 2018 at Pacifico Yokohama? http://twipla.jp/events/308554
この記事が気に入ったら、サポートをしてみませんか?
気軽にクリエイターの支援と、記事のオススメができます!