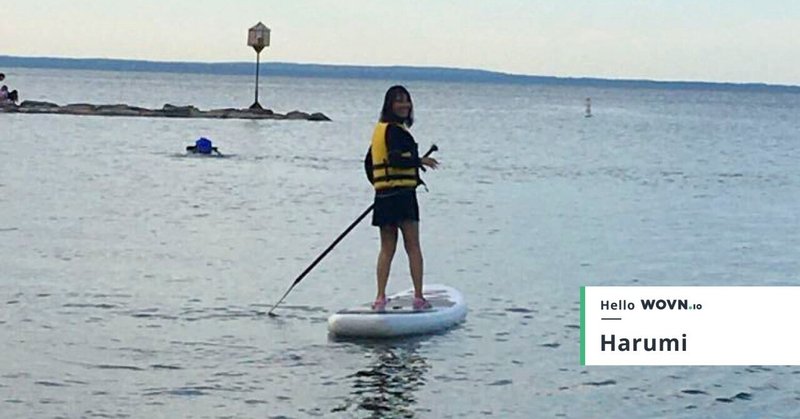 [#Hello WOVN Harumi Yasuno] "Localize the Internet" made me decide to join
Hello. Nice to meet you all. I'm Harumi Yasuno, and I'm part of the Product Management Section in the Product Planning Department under the Product Division (the "PP team" for short) at WOVN. I'm the product owner for WOVN's official website.
I began working from Toronto, Canada on a flipped afternoon schedule (with a 13-hour time difference) in April 2021, moved back to Japan that October because of COVID-19, worked in quarantine at a hotel for two weeks, and finally became a fulltime member in November. When I think about it, I've only been a full-timer for four months, but I've been working at WOVN for almost a year now. I'm looking forward to continuing working with everyone here.
Leading up to working at WOVN

Before joining WOVN, I'd worked in Toronto for over 20 years as a software development business analyst, product owner, and project manager. Even though I was based in Toronto, the company headquarters were in San Diego, and all the clients using the software were American companies. Some examples include Macy's, The Home Depot, J. Crew, and Toys "R" Us.

After graduating from university, I worked at a foreign investment company for several years. Some things happened, and when I talked with my boss about quitting to get an MBA abroad, he responded, "Not a good idea. The future is in computers. MBAs are outdated. If you learn IT and come back to Japan, that'd be the icing on the cake." I then decided to study abroad in Toronto, Canada. It was a tech college that wouldn't let me graduate without completing a co-op program. That was in 1998, on the brink of Y2K (aka the millennium bug). The headquarters of my co-op company were in Ohio and provided leading financial system and point of sale system services, so I remember Y2K preparations causing a lot of stress within the company.
Canada is famous for Niagara Falls, but I recommend the town Niagara-on-the-Lake as well.

Around the same time, the idea to provide services using the enormous amount of data held by data warehouses began to catch on, and terms like data analytics and data solutions became mainstream. In line with these shifts, the Research & Development department at the Toronto office was also in the middle of putting more effort into software applications for data analytics. And I was the only co-op student in the midst of all this.
The company helped me switch from a student visa to a working visa, and after relocating there I became a business analyst for the PS team (which was similar to WOVN's CS team) in 2000, and a few years later I became a business analyst for their User Requirements Specification (URS) team. We were using the waterfall methodology at the time, but around 2007 we began switching to the agile methodology, and the URS team, which had put out more than 500 pages, had started to come to an end in 2009. During this time, I took time to get familiar with the agile method. Like talking with agile coaches and consultants, learning about planning methods, how to write user stories, backlogs, managing products and defining priority levels. Those were some really valuable experiences.
A few years after becoming a product owner, I changed jobs after a Canadian startup invited me to join them, but after working as something in between a product owner and a project manager for nearly two years, my desire to return to being a product owner for product development increased, and I got a message out of the blue on LinkedIn.
Encountering and deciding to join WOVN

"Localize the Internet." These words sealed the deal.
From starting college to joining the workforce, I was always the only Japanese person around. I'd research information online, but it was always in English or French. Municipal education sites were available in languages like Mandarin and Portuguese from the get-go, but the first well translated school-related site I saw in Japanese was in 2018. From my experience, I can say that the longer you're in a foreign country, the more you want important information in your native language, especially school-related information!
After all, I was paying three times more for tuition as an international student!!!!
"Localize the Internet" and "Create a world where all people can access all data in their native language."
I thought to myself, "How wonderful...how simply wonderful!" After 25 years in Canada, I moved to Japan excited to work at a Japanese company,
and I thought how nice it would be if I could help people who were struggling while living abroad like I had by getting involved with WOVN's product development, so I decided to join.
Work and challenges at WOVN

I originally joined as a product owner for product development, but I turned into a website product owner somewhere along the way. Because of this, I have a lot of chances to communicate with the business division, which has taught me a lot. And mostly importantly, websites are a crucial sales tool when it comes to selling WOVN. They're the face of Wovn Technologies, Inc. Which is why I'm proud to be the product owner for WOVN's website.

Closing thoughts

If you see me, feel free to say hi in Japanese or English.
We can talk about anything: websites, product development, or problems you've encountered since coming to Japan. (There are a lot of things I have yet to get used to regarding life in Japan as well.) We can learn more about each other by talking, and I think that will lead to WOVN advancing and growing more and more.


この記事が気に入ったら、サポートをしてみませんか?
気軽にクリエイターの支援と、記事のオススメができます!