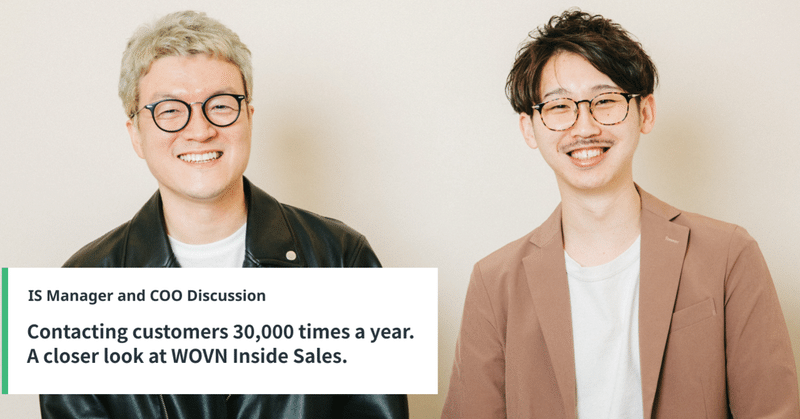 [IS Manager and COO Discussion] Contacting customers 30,000 times a year. A closer look at WOVN Inside Sales.
IS (Inside Sales) manager Uto-san and COO Uemori-san have a frank discussion with each other. They discuss all the cool things the IS team does in the field and in the company.

Daiki Uto / Inside Sales Manager
Upon graduating university, he joined the Corporate Sales department in DELL and sold hardware products to customers nationwide as an IS member. He joined the Wovn Technologies IS team in 2018 and became IS Manager in 2021.
Hisayuki Uemori / COO
Worked as a business strategy consultant for Deloitte Tohmatsu, where he was in charge of auditing and due diligence for mergers and acquisitions. He is also a certified public accountant. Appointed as COO in 2016 and vice president in 2019.
WOVN's IS team is not just about getting more appointments
Uto IS:
Most people probably strongly associate IS with telemarketing.
Recently, I feel that people are starting to understand the job title "Inside Sales" to a certain extent, but there are still those who can't disassociate IS from telemarketing.
In my previous job, the job of IS was to create projects and receive orders. The role of IS changes depending on the company's industry, scale, and products.
The definition of IS is broad and is customized on a company-by-company basis.

Uemori COO:
As their leader, how would you define IS in WOVN?


Uto IS:
At WOVN, we set SQL (Sales Qualified Lead) goals, and then IS confirms the needs of new leads and house lists that come in from events, obtains appointments for customers with problems WOVN can potentially solve, and hands them over to FS (Field Sales).
In other words, we focus on supplying FS with appointments that lead to meaningful negotiations.


The IS team is evolving and is using wider channels to approach enterprises, our main targets, more strategically using BDR (Business Development Representatives), something we've been investing a lot of effort in recently.

However, our team doesn't just chase after appointments. We also build up and nurture relationships with customers, both of which are important tasks.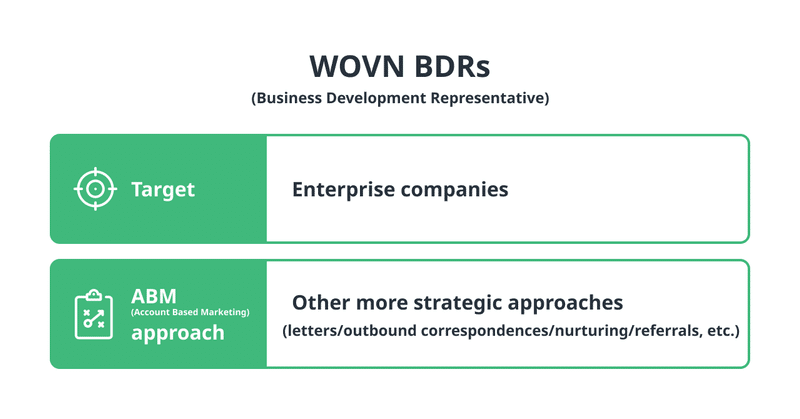 IS and Marketing merging into the same department
Uemori COO:
Seven months ago, Marketing and IS joined forces as one team, and the main job is to sniff out what customers around the world desire and trailblaze a new market for localization.
So how did it feel coordinating with the Marketing team?

Uto IS:
Up until now, Marketing was focused on getting more leads and IS focused on getting more appointments.
We are now focused on improving lead quality through better collaboration with Marketing, based on proactive IS feedback on acquired leads.
For example, we collect honest feedback from webinar participants and share their on-the-spot impressions, such as any disconnect between the title and contents, or suggestions for more memorable keywords, so that we can make improvements for the next event.
My hope is for the team to contribute to more high quality leads by practicing effective 2-way communication. Something like "we want leads in this industry, so let's exhibit at this or that event."
Uemori COO:
So basically, IS first gathers raw opinions and then formulates a plan with Marketing.
Anyhow, it's great to see that team now has connections all over the world with potential leads and thinks about how to tie in "localization" into each phase.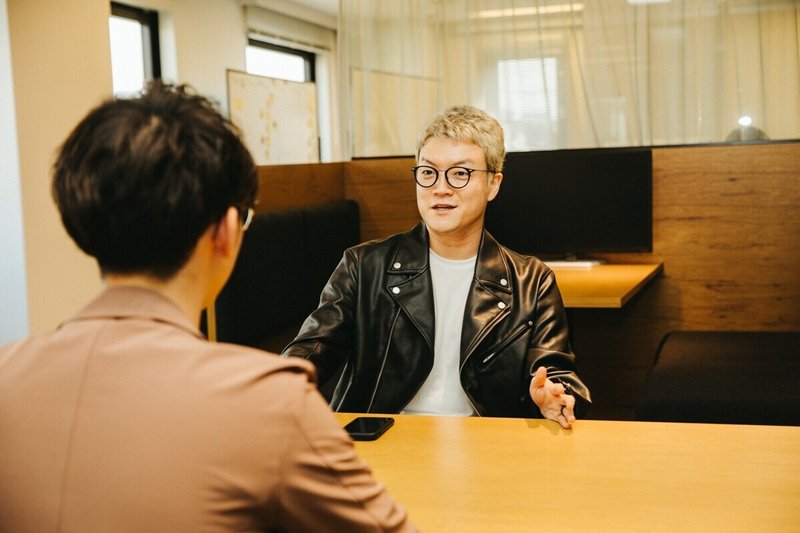 Taking great care to nurture potential customers
Uemori COO:
I think the collaborative work between Marketing and IS can be broadly defined as 2 items: (1) directly acquiring leads for potential WOVN customers and (2) pooling together all the potentially interested leads and carefully nurturing them.
Looking back over the past year or two, I realized the importance of nurturing.
We say "nurturing" a lot, but while it means to build up a lead's enthusiasm, there are also times where we revisit old cases where we failed to get a contract or chance for negotiation.
If memory serves me correctly, some of our major transportation customers were revisit cases.
This idea of "nurturing" might be useful in other situations too.
Uto IS:
I really feel that nurturing potential customers in the mid-to-long term is vital.
I try to meet and talk with each customer to feel for any changes in their situation, and try to arrange a business meeting with sales staff when I think the customer's enthusiasm is high enough.
For example, for one of our more recent financial customers, the first step was you (Uemori-san) establishing a relationship with them at a 2018 event, which eventually led to the first appointment in 2019.
After that, we continued to approach their representative individually with press releases and case studies on a regular basis over a span of three to six months, which led to getting a contract with them.
It took people from multiple departments and several business negotiations to get to that contract, but when we contacted them later to thank them, they were very thankful in return, saying "thank you very much for your perseverance in all those proposals."
This is an example of how we were able to sell WOVN after gaining the customer's trust by consistently tailoring the approach to them, even though at first contact, they said it was much too early to consider localization.

Uemori COO:
In my own experience, when other various services try to nurture me through email, if I feel that it's a one-sided sales pitch convenient only to them, I unsubscribe.
However, there are cases where, if the timing is right, people become customers when provided with beneficial or interesting information.
This is an area where IS can flex their muscles.
How do we bridge the gap, arouse their interest, and drop hints for possible solutions to customers' problems?
Creating value with a human touch. Efficiency through technology.

Uto IS:
Another big change happening recently is that people are becoming more aware of data and using technology to improve efficiency.
Now in the COVID-19 era, email becomes doubly more important.
By using the Marketing Automation (MA) tool, we can now take action based on people's anticipated behaviors.
Let's say I really want to nab an appointment with John Doe. He always checks his e-mail at 8:00 in the morning, so if I call him then, we can have a very fruitful and transparent phone call.
Regarding phone calls, we try to figure out the best times and days customers are more likely to answer the phone, avoid having internal meetings during these times, and just focus on making phone calls.
Uemori COO:
Analysis services are great because you can grasp peoples' behavior and take action without having even met anyone.
But how does the IS team figure out a potential customer's stance on localization and foreigner support?

Uto IS:
Basically, we won't know what they are thinking until we ask them directly.
However, we have a system for visualizing interest in localization and WOVN, and approach them efficiently by setting a score for the behaviors of each lead.
We would prioritize the leads with the highest total scores, contact them, and try to probe for their stance.
I believe that by gathering and reflecting raw opinions in the data, and adjusting the scoring, we will be able to improve the accuracy, and through direct discourse, we will figure out what content is lacking and what needs more emphasis.

Uemori COO:
The amount of leads we have now is astronomical compared to 2 years ago, and we wouldn't have gotten this far without our current system.

Uto IS:
I considered what the most valuable part of IS is and I honestly think it's communicating with the customers.
We tell customers the latest and juiciest information, and they tell us what's happening on their side. In this way, we build up trust little by little. That's where I think we create the most value.
Originally, we wanted give IS a more human touch, and we started using this tool to secure time for just that. We try to leave as much as possible to the tool.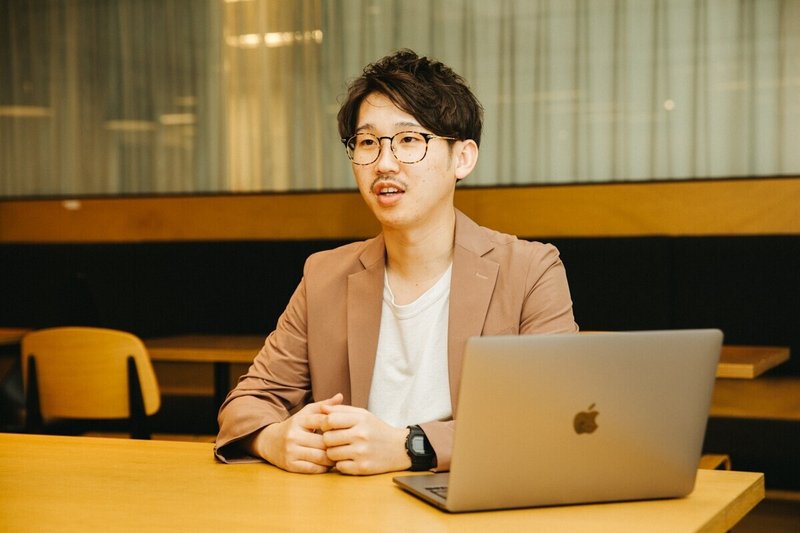 Disseminating information through the company

Uemori COO:
It's no exaggeration to say that you built up IS into its current state, and I'd like to know your vision for IS going forward.

Uto IS:
I feel that our raison d'etre has become much clearer now. We're like a data bank. My wish is to turn all the information we acquire from our countless conversations with customers into a valuable asset for the company.

Uemori COO:
Before COVID-19, we were able to analyze trends based on the words of about 10,000 people a year, mainly from events.
"Inbound business is all the rage, but nobody is that enthusiastic in practice," "there are more needs in foreign resident markets and global sites," and other such opinions. This kind of raw information really is important.
Since the COVID outbreak, it's become more difficult to directly get raw data and IS is in the best position to hear the voices of potential customers.
Figuring out how to catch important information and escalate it in the company is important.
I think that is the role of trendsetters.

Uto IS:
This is just one example, but we make all the information IS obtains visible on Salesforce as pre-meeting info in the form of pitch memos.
At first, the purpose of this was to share the information with FS, but it was actually used in ways we didn't expect. For example, Marketing would decide how to advertise based on the characteristics of leads that netted business negotiations, and ES (Enterprise Success: onboarding/operations support) would research up on all pre-negotiation factors.
This caused us to consider how we disseminate all the information we hold.
Uemori COO:
You've already been boosting the team (one of WOVN's Values: Contributing to the Team) already, but with more work to be done and more members joining, you're boosting the team that much more.

Uto IS:
We are starting to have each team member specialize little by little.
We want everybody to develop their skills and play their part in this professional team. We want people to want to master IS, rather just join IS because they feel that they lack the skills for FS. I want to create an environment where members can take on various challenges.

Uemori COO:
I like the idea of a professional team! I think the IS team as it is already has talents and thinking skills that no other department can imitate.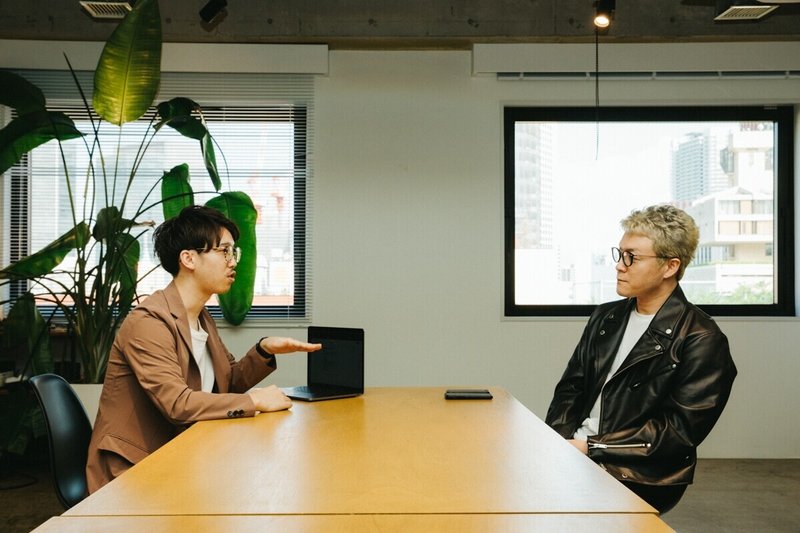 Creating opportunity and spreading the word. The cool part about IS.
Uemori COO:
The really cool thing about IS is the huge amount of contacts they have.
You directly contact customers over 30,000 times a year, right?
All these numerous contacts that are still on the fence about WOVN, it's more impressive than mass marketing, in a way.
So, even if the customer says no to WOVN, it's very important to consider the message you convey, and it helps spread the word.
While getting appointments is important and we put in the proper effort there, our organization has this secondary effect of raising awareness.
IS is a team that creates opportunities and opens the door to localization, don't you think?

Uto IS:
I think the cool thing about being on the IS team is the moments you flip a negative into a positive.
There are times a customer first rejects WOVN, but changes their mind and wants to meet a representative after being convinced by later emails.
And there are times customers contact IS wanting to integrate WOVN as a result of our periodic emails and calls. Some even request me specifically when setting up business negotiations.
I'm also really happy to hear WOVN members got contracts thanks to my help.
I think all the other IS members find this part rewarding as well.
Uemori COO:
The team interacts with lots of people and handles a lot of outbound sales. One wrong move and everything is ruined. That's why balance is important.
We are building up good relationships without even realizing it. It starts with "what a nice guy," which evolves to "what a nice company/service," and after building up that trust, they become our customer.
I am very cautious with how WOVN is perceived, and I hope IS will also continue to be aware of our overall image.
この記事が気に入ったら、サポートをしてみませんか?
気軽にクリエイターの支援と、記事のオススメができます!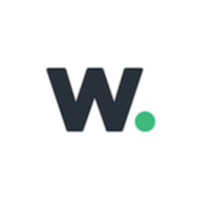 A magazine brimming with the very "WOVN-ness" that aspires to "Localize the Internet." Care for a taste of WOVN culture?