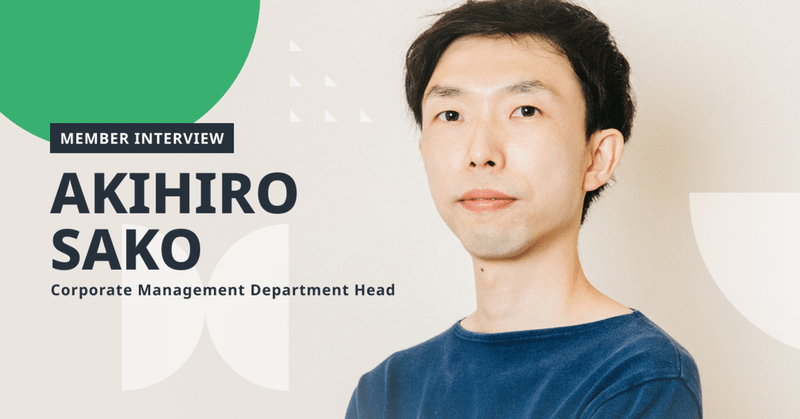 Moving from an audit firm to the corporate division of a multinational venture. How do we "make a way for global actors behind the scenes?" [Akihiro Sako]
Akihiro Sako / Head of Corporate Management
July 2018: Joined WOVN
Joined a major audit firm in 2010. As a certified public accountant, he performed audits for various companies. At WOVN, he works in a wide range of areas including legal affairs, intellectual property, accounting, finance, general affairs, and IT systems. From the setting up of new systems to withstand the COVID-19 crisis and the management of financial affairs, there are plenty of challenges that present themselves.
Becoming a certified accountant and moving out onto the global stage

I was born and raised in Aichi and left my parents' home when I entered university. It was then that my life by myself in Tokyo started.
When I was in high school, I was interested in geology and wanted to study astronomical objects, but I didn't have the chance to study geology when choosing between humanities and sciences. Although this is my subjective interpretation, I carved myself a path as a humanities student with an eye for mathematics, and I specialized in economics at university.
At the end of my second year at university, I started thinking about employment after graduating, but didn't feel drawn to any particular company. That was when I had a flashback. I remembered reading about accountant certification in a university magazine, and after that I started studying.
I was able to pass the exam and landed a job at an audit firm. I didn't have an interest in any particular field, so I think it was a good choice in that it allowed me to learn about and understand the world.
I often use maps as a metaphor, but high school equated to a map of a local area, whereas university was a map of Japan because there were people from all over the country. After university, I wanted to broaden my horizons even further, so I set out to paint a map of the world.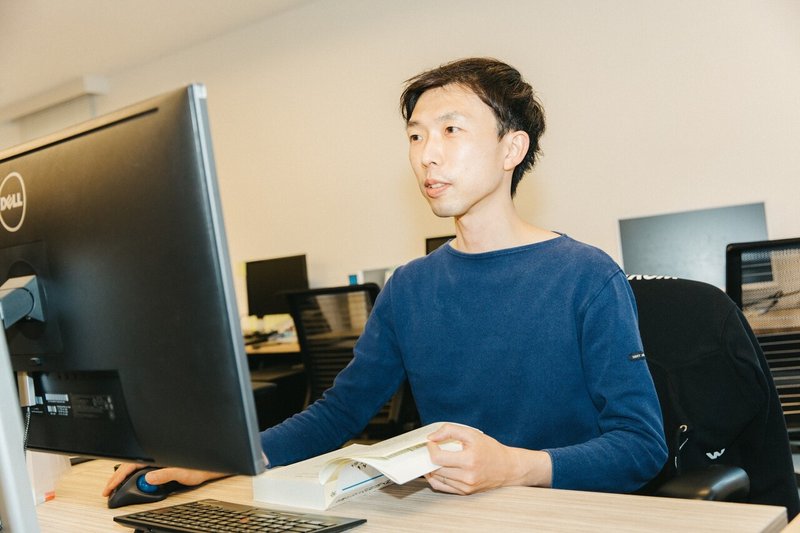 Getting a feel for business operations at an audit firm
After starting work at an audit firm, I was assigned to several companies, and in the team for one of these companies was Uemori-san (COO).
The company that we were in charge of wasn't that large so the team, consisting of four members, only worked together for a total of one or two weeks a year, but I was inspired by Uemori-san's diligent nature.
I was especially amazed by Uemori-san's ability to manage the difficult work of double-checking the processing and adherence to accounting standards, which was difficult without understanding the industries of the companies we were assigned to. Uemori-san must have researched these details in his free time. It seems easy, but in reality, it's not something that you would proactively do. Even now when I see Uemori-san working on quarterly reports and catching up on the business landscape, I'm reminded that he hasn't changed.
I think I was blessed to have been a part of that team at my previous job.
Being a young employee, in my desire to help my busy-looking seniors and contribute to my team, seven and a half years passed in the blink of an eye.
Going on business trips to Hong Kong, Singapore, Malaysia, Germany, the Netherlands, and more, has broadened my horizons.
For example, when I talked to Japanese people stationed overseas, they would express their troubles with differences in language and culture. As employees communicate in the local language, overcoming communicating problems is a must for people in management positions.
Additionally, I would not have been able to get a taste of these kinds of onsite problems if I had stayed in Japan. I've learned the importance of experiencing these issues.

While I was in a position of responsibility at my last job, I was transferred to another company for 2 years and they ended up being audited. This triggered a shift in my outlook.
Accountants like me look at numbers and data, but where do these numbers even come from? I saw and experienced this myself and thought, "a company is a living thing."
The economy gives birth to both sales and costs. It is the accountant's job to look at those, but I also recall the raw feeling of directly taking part in the business and contributing to sales on the frontlines.

Those experiences stayed with me, and I began to think about switching to a job at a venture company because I wanted to take on the challenge at least once.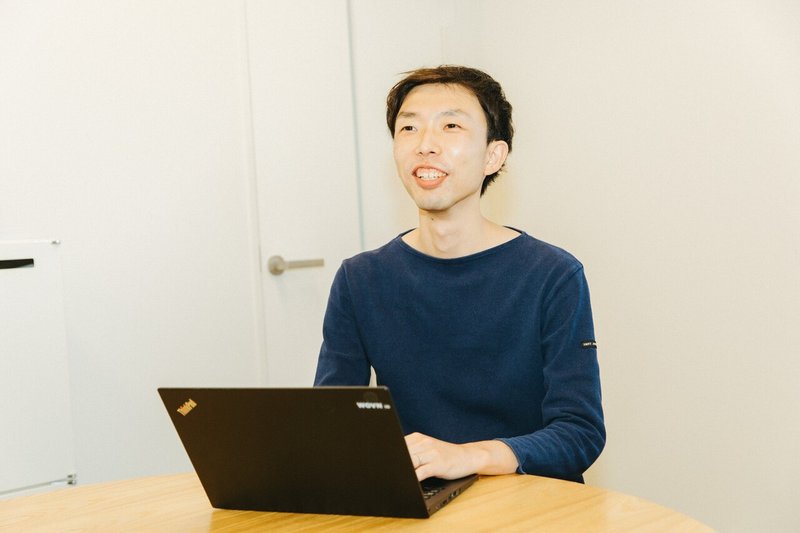 Do everything that's needed. First contact with the venture spirit

In the process of changing jobs, I received offers from other companies through recruiting agencies, but an ex-colleague of mine who had changed jobs before me recommended that I also try referrals. That was when I reached out to Uemori-san to gain some insight.
Uemori-san was formerly in charge of venture support at the audit firm, so I contacted him in hope that he would have a lot of acquaintances in ventures, and his response was, "come to my company and let's talk."
We talked about WOVN.io and the kind of work that I wanted to do.
"Why don't you interview with us?" he said, and a meeting was promptly set up with the CEO, Hayashi-san, for the following Monday (despite it being Friday). And that's when my position at the company was secured.
At the time, WOVN's corporate division consisted of three people, including myself, and the company wanted to manage its accounting operations in-house. So, after joining the company, this was the first task that I worked on, and after a month I started to work on managing legal affairs too.
We were not assigned to specific areas, rather, we would work on everything that we could and was necessary, and in doing so I felt the thrill of working for a venture company.
This has changed now that the team has grown, but I still work in a wide range of areas: legal affairs, intellectual property, accounting, finance, general affairs, and IT systems. Although everybody has their specific area of responsibility, there is still a lot that we, as individuals and as a team, need to do.
Continuing to make decisions and take on new challenges
One big difference between my last job and WOVN is that I now have a direct hand in the company decisions.
What's difficult about auditing is that you can't instruct people to handle things or design contracts in a specific way, for example. This is because you cannot have the client be affected negatively as a result of your advice.
If your advice puts the client in an unfavorable position, you yourself may end up unable to make proper judgments. So, you are left with judging whether accounting rules are being abided by.
I find that being able make such decisions when you work for a company is rewarding and something that you cannot find in auditing. On the other hand, there's a lot of responsibility involved.

One of the most memorable experiences I've had at WOVN was my first experience with debt financing.
I felt a sense of accomplishment as we were able to close just before the start of COVID-19, allowing the company to comfortably lay down a foundation for dealing with the pandemic.
Also, suddenly shifting to working remotely presents us with many opportunities for solving new challenges, such as swiftly establishing a system for a work-from-home allowance.
Make a way for "global actors behind the scenes"

The corporate team has the mission of "Make a way for global actors behind the scenes."
For example, while the sales team seals deals, the corporate team is out of sight and not very noticeable.
However, the corporate team conducts thorough contract reviews. Also, HR carries out the necessary procedures for visas for all the foreign employees and General Affairs also plans online parties.
What the team does isn't flashy or out there in the open, but I'm proud to say we fulfill a high-impact role. I would like to see MVPS and VPs to come forth from the corporate team too.
As WOVN is a venture company, employees can try new things, but a large difference between WOVN and other companies is that there are a lot of foreign employees, so you can gain practical experience in a global environment.
WOVN's system which grants paid days off for public holidays worked is also unique and we also have made sure to cater to our vegetarian employees at office lunches in the past. Working at WOVN makes you consider at every turn the things that will make for a better work environment regardless of nationalities, so naturally, your horizons are broadened.
To everyone at WOVN
There are a lot of things that we haven't been able put in order and you may feel that some things are inconvenient. However, we wish to listen to your voices where we can and continue to grow with you.
We would like to develop our company, not with the corporate team alone, but rather, with all our employees. We look forward to collaborating with you all.
To all future WOVN members
As we must constantly think from a global perspective, I would like to invite people who are interested in and want to try being a part of a such a culture.
Generally, one can work in the corporate department without knowing too much about the company products, but in any case, having an interest in the company products and having an appetite for product-related knowledge would be great. Apart from standard duties, those who can put the product first and can build an interest in the product would be best suited to WOVN.
WOVN is an extremely interesting product that has the potential to make an impact by changing people's behaviors and ways of thinking.
Book introduction
- "Sabaku" by Kotaro Isaka (Shinchosha)
* Apparently, the character Nishijima's unique ideas and motivations fascinate him.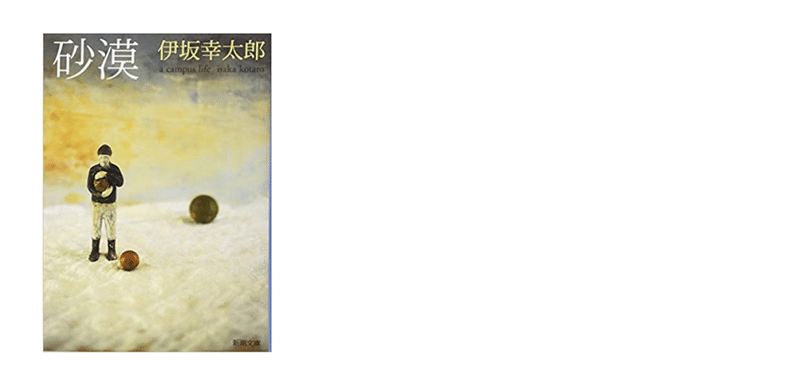 この記事が気に入ったら、サポートをしてみませんか?
気軽にクリエイターの支援と、記事のオススメができます!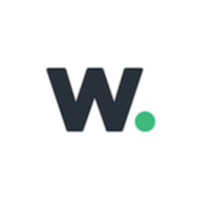 A magazine brimming with the very "WOVN-ness" that aspires to "Localize the Internet." Care for a taste of WOVN culture?