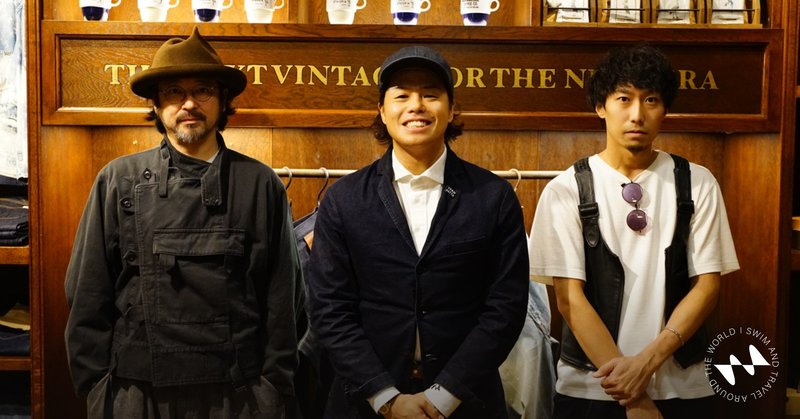 Part.1 - Our first product, from Okayama, the pride of Japan
【Collaboration】
I SWIM AND TRAVEL AROUND THE WORLD ×
ANACHRONORM / Haruhito jeans
【Interview】
Tanushi Tomoki Director @ ANACHRONORM ×
Kentaro Konishi Director @ Haruhito Jeans ×
YASU Director @ I SWIM AND TRAVEL AROUND THE WORLD


The first product release by I SWIM AND TRAVEL AROUND THE WORLD (or I SWIM), designed and produced by professional swimmer YASU, was on December 1st, 2020. The jacket and trouser setup optimised for a variety of occasions were commissioned by the up-and-coming denim brand, Haruhito Jeans. For the denim six-panel cap, we commissioned "ANACHRONORM", which has been a long-time supporter of Japanese men's fashion. Both brands are proud of the Japanese denim produced in Okayama, each interpreting the denim in their own way and creating their own original expressions. Why did YASU choose to collaborate with these two brands for the "swimmers"? We visited Okayama to find out why they chose to collaborate with both brands.


― What made you decide to collaborate with "ANACHRONORM" and "Haruhito jeans"?
YASU(Hereon、Y):In April this year I stopped by the 'ANACHRONORM' shop in Nakameguro and bought a denim cap, and I wore that cap for about a month in any given situation. I would wear it, whether the event was one requiring an informal style or a dressy one. For the past ten years I've been travelling abroad for about 200 days a year, and when I do, I have to express myself in a variety of ways with the few fashions I can take with me, a cap like this is a great way to do this. I thought, given my profession, it would be great if it was also water-repellent, so I called the company directly at the beginning of July and asked them to meet me the following week in Okayama. That's how we ended up with this cap as our first product for "I SWIM".
Tanushi(Hereon、T):I met YASU just after he spoke with Konishi, didn't I, YASU?
Y:Yes, I did. After I bought the "ANACHRONORM" cap, I discovered Konishi's Haruhito Jeans on Instagram, and I found out that, stylistically speaking, I like to wear my high-cut Chelsea boots with nine-tenth length trousers, and that I am probably the first person to dress like this. When I saw the Haruhito jeans on Instagram, the silhouette was a perfect fit for me. Swimmers like me tend to have an inverted triangle shape, and as such the nine-tenth jodhpurs fit perfectly with whatever I wore on top. So, just as I had done when I phoned Mr. Tanushi's company, I sent a message to Mr. Konishi asking where I could buy the trousers. I asked Konishi-san to buy the denim jeans this time, and when I actually met him, he was very easy to talk to and coordinated the caps with me, and the first "I SWIM" product project wouldn't have been possible without him. Both you (Tanushi), Konishi-san and I have geeky personalities. We're both geeks who go to great lengths to find out what we're interested in. That's why I have to go to Okayama! I thought.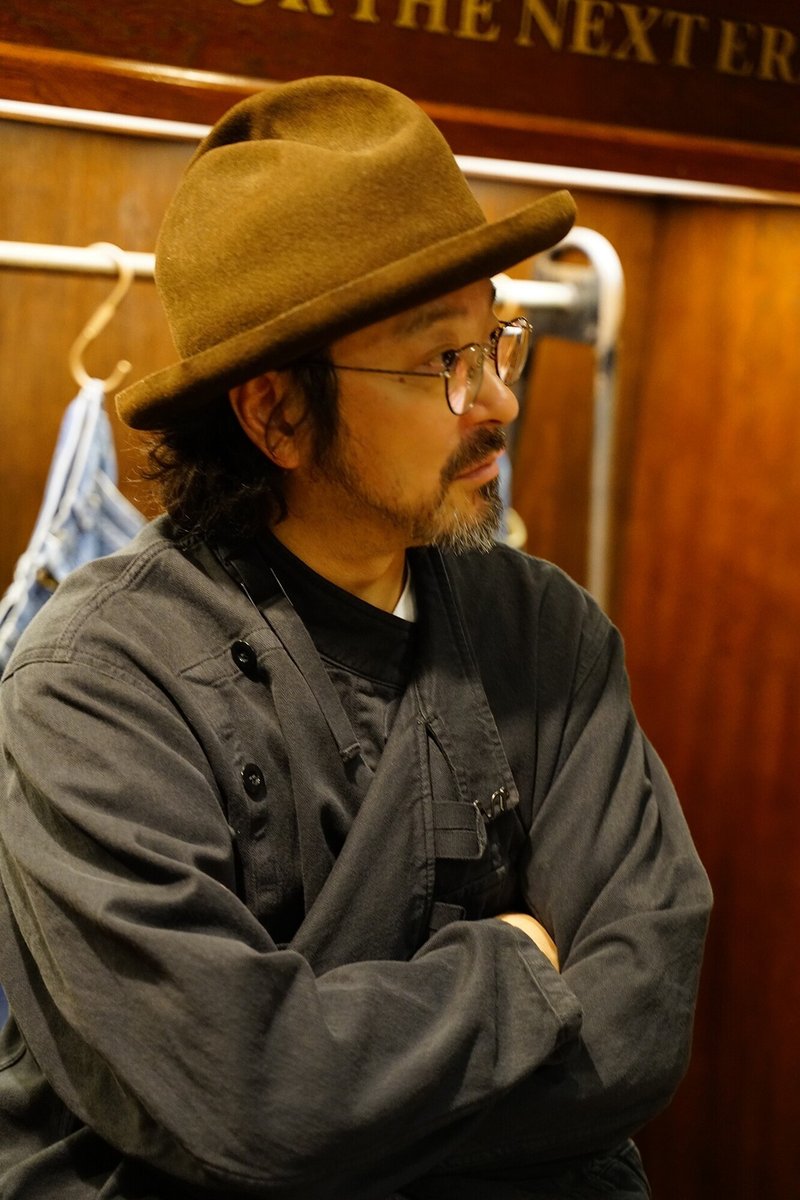 「I could clearly feel YASU's passion and passion for fashion and what he wanted to do!」Tanushi


T:He really did come to Okayama and we talked for about an hour about the shop (Balance Okayama). When I got the call, I didn't understand what it was about at first… I was like "Oh, the Olympians are coming" (laughs). But at that time, I could feel your passion and passion for fashion, and you knew exactly what you wanted to do, so I thought I would be happy to help in any way I could. Konishi helped me with the communication, and I think we've been able to work together in a good way as a partner in the creation of our products.
Konishi(Hereon、K):To be honest, supporting YASU is quite a challenge, but the feeling of enjoyment outweighs it (laughs). There weren't many people of my generation who had competed on the world stage before, especially in the field of athletics, so when I actually met and spoke to you for the first time, the worldview or sense of the world that you see or the way you see it...... The first time in a long time, I felt that I wanted to support him sincerely, and if there was anything I could do to support him, I would like to help him.
T:It's clear that we see what we don't understand, don't we? And I feel the power of YASU as well.
K:The first time I met YASU-san in Tokyo, I told him I felt like I'd been 'defeated' to him (laughs).
Y:That was the first thing you said(laughs)

「YASU-kun made me feel defeated in the primate category (laughs).」Konishi


K:I don't mean to sound harsh, but in this field of apparel, especially in terms of the intensity of my passion for manufacturing, I don't feel like I could ever lose to my contemporaries, or I don't think I should ever admit defeat. On the Shinkansen on the way home from the first day I met YASU, I read his blog in which he had written about his thoughts after the Olympics. In the content of the blog, he wrote vividly about his struggles, frustrations and hardships, his friends who supported him when he was in trouble, and various scenes. Reading that blog, and then meeting and talking to him in person, made me think about how many times I've pushed myself so stoically to achieve something in my life. This is the real reason I said to YASU, that I had been "defeated", when I saw the sum of his struggle and achievement thus far.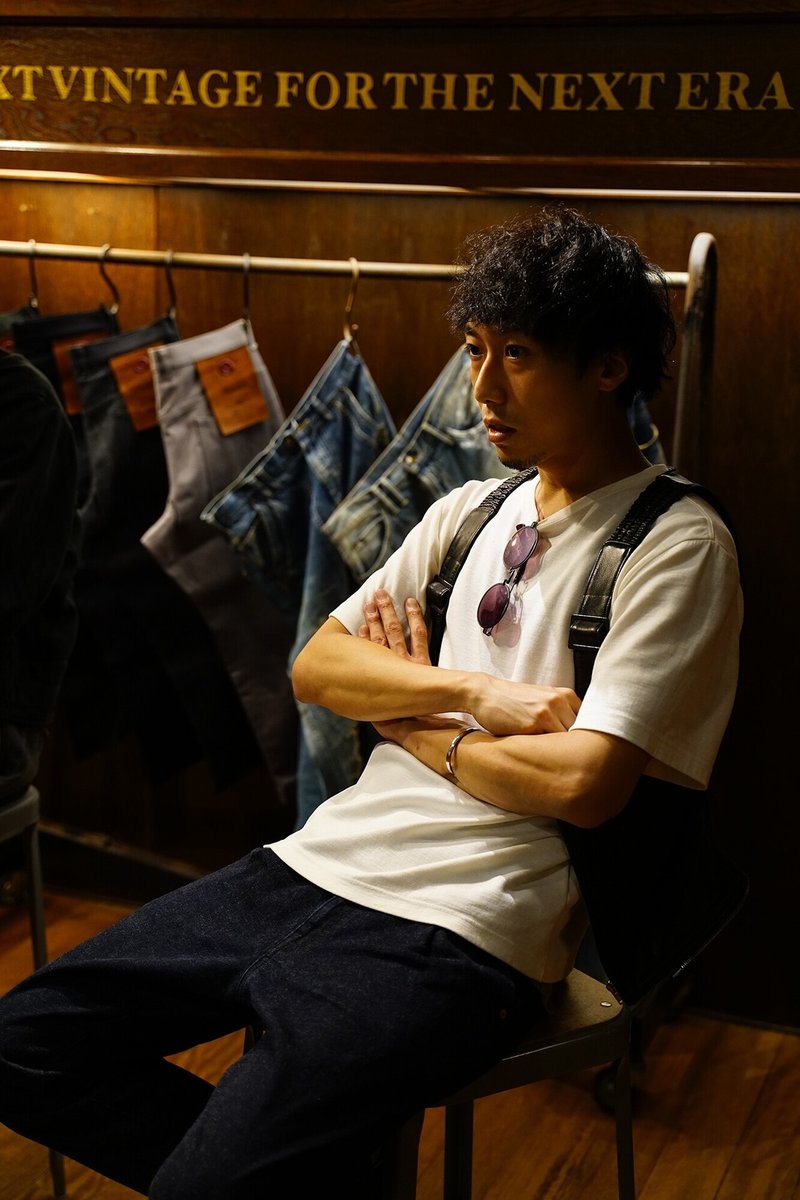 T:That was my first impression of someone who had been on such a grand world stage. It's rare to meet an athlete who had competed in the Olympics, and it's a pretty special feeling in the sense that it was someone who wasn't just competing but fighting for first place on the world stage. For me, it's not about cheering, but I feel that creating something together and getting it out to the world through the medium of YASU-san's energy, is something I look forward to doing.

―How do you feel about the finished product?
Y:I want to make products that will be a part of the lives of people who pick up 'I SWIM', so I'm very happy with the denim cap, and the jacket and trouser setup. Thank you very much.
―These are set-up trousers, but they are also a standard model for Haruhito. It's more of a jodhpurs type.
K:Yes, the bottoms are based on Jodhpurs trousers, which are part of Haruhito's regular lineup. Jodhpurs trousers are originally from polo, which originated in India and was worn during horse-riding sports, and I thought that the cultural background of them being both sportswear and formal wear matched the image that YASU has for the people who want to wear "I SWIM".
―Jodhpurs are very much associated with horse riding, but certainly Indians also wear trousers with that silhouette.
K:Although their origin is in the the UK, the story is that during the colonial era, the Indian king grew to love them after he played a crazy game at the British polo tournament, and as a result they spread in a way like a modern day influencer would make them spread. The fact that YASU-san picked up the only sports-inspired model in the "Haruhito" line-up, instilled a sense of destiny in me.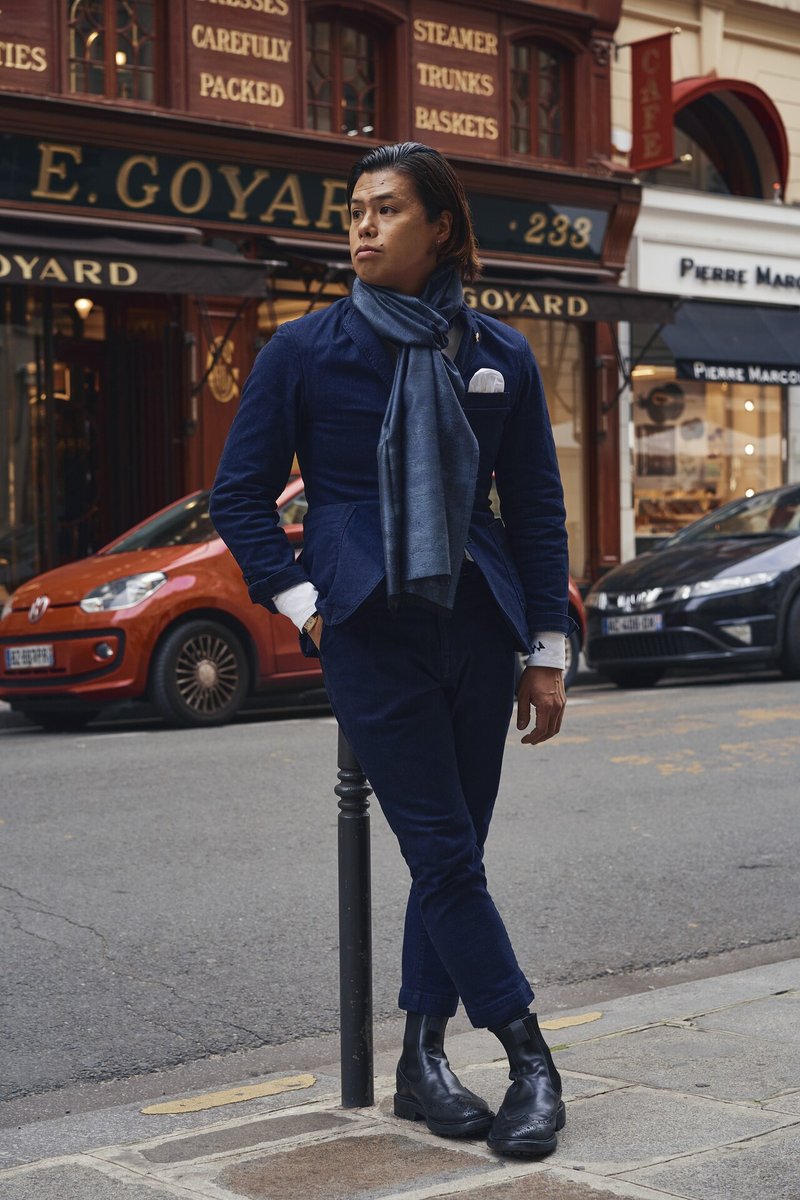 「I want to make things even with people who want to work with me on a zero-sum basis.」YASU


―What made you want to create a jacket and trouser set up?
Y:Athletes who compete for their country, no matter what their sport, spend two-thirds of the year on expeditions and training camps, and most of them have two suitcases to carry around. When you put your training gear and supplements in one, you don't have much personal stuff to fit in. When you compete in the World Cup or World Championships, there is often a party after the tournament is over at the official event, and most foreign players come dressed up, but Japanese players tend to wear their recruitment suits. That's when I thought it would be great if there was a jacket set-up that could be worn for those occasions too. The other day I was talking to Masaya Fantasista from Jazzy Sport, who I am working with, and he was saying that in Japan, Sport is still like gymnastics or P.E., but through my brand, I wanted the Japanese athletes competing on the world stage to know about foreign cultures and to be able to wear their jackets. I made the jacket and trouser set-up with the hope that people would enjoy it not only from a sporting point of view, but also from a fashion point of view.
―It's precisely because Yasu has been swimming around the world and loves fashion, that this project feels so real to me.
Y:That's right. And as a super fashion-head, after I was established as an individual in the world as an Olympic athlete, I was able to use that to meet designers and artists that I had seen in magazines for the first time, individually, and I was finally able to communicate my thoughts, so I wanted to create something from that. The feeling is strong. And I'm not really conscious of being in Japan or overseas, so whether I'm in Sydney, Amsterdam or Okayama, it's the same. When that happens, I want to approach people in Japan who I would really like to work with from scratch, and I want the people of the world to feel what I've created there. Also, I would be happy if people younger than us who bought 'I SWIM' could play an active role in the next Olympics, or if we could link culture like sports and music, or sports and art, and I would be happy if the things that I thought were great when I was a teenager could accumulate milestones in my mind. I'm very happy to have been able to do this.
----------------------------------------------------------------------------【Profile】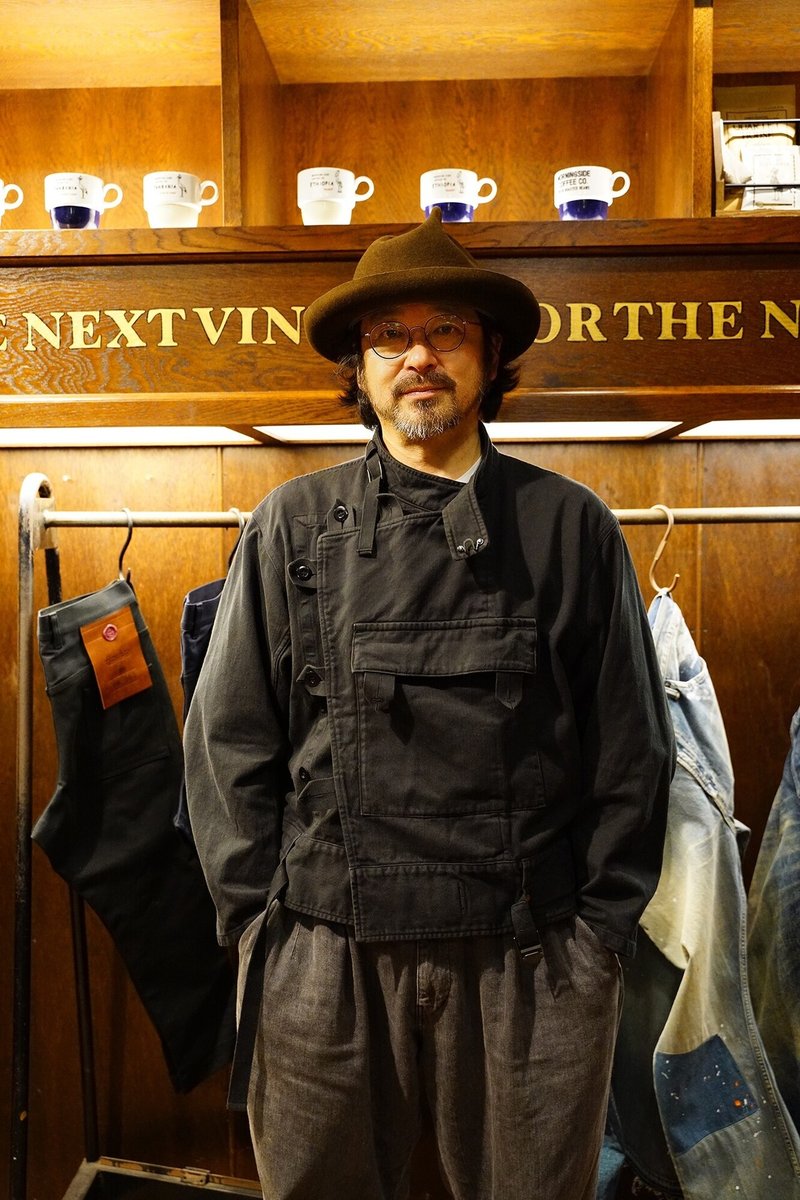 Tanushi Tomoki
President of Balance Ltd. and Director of ANACHRONORM.
Born in Kurashiki City, Okayama Prefecture in 1970.
Graduated from the Fashion Design Department of Kuwasawa Design School. In November 1996, he opened the balanceokayama shop in Heiwa-cho, Okayama City, and at the same time established his original brand balanceweardesign. In 2003, he changed his name from balanceweardesign to balance. The company started with one type of vintage denim, Type Alpha, in collaboration with the production site. The company exhibited at Pitti Imagine Uomo in Italy for the first time in 2008, but the Great East Japan Earthquake of 2011 prompted them to focus on developing their business in Japan. Since then, the brand has continued to introduce a new phase of manufacturing.
http://www.anachronorm.jp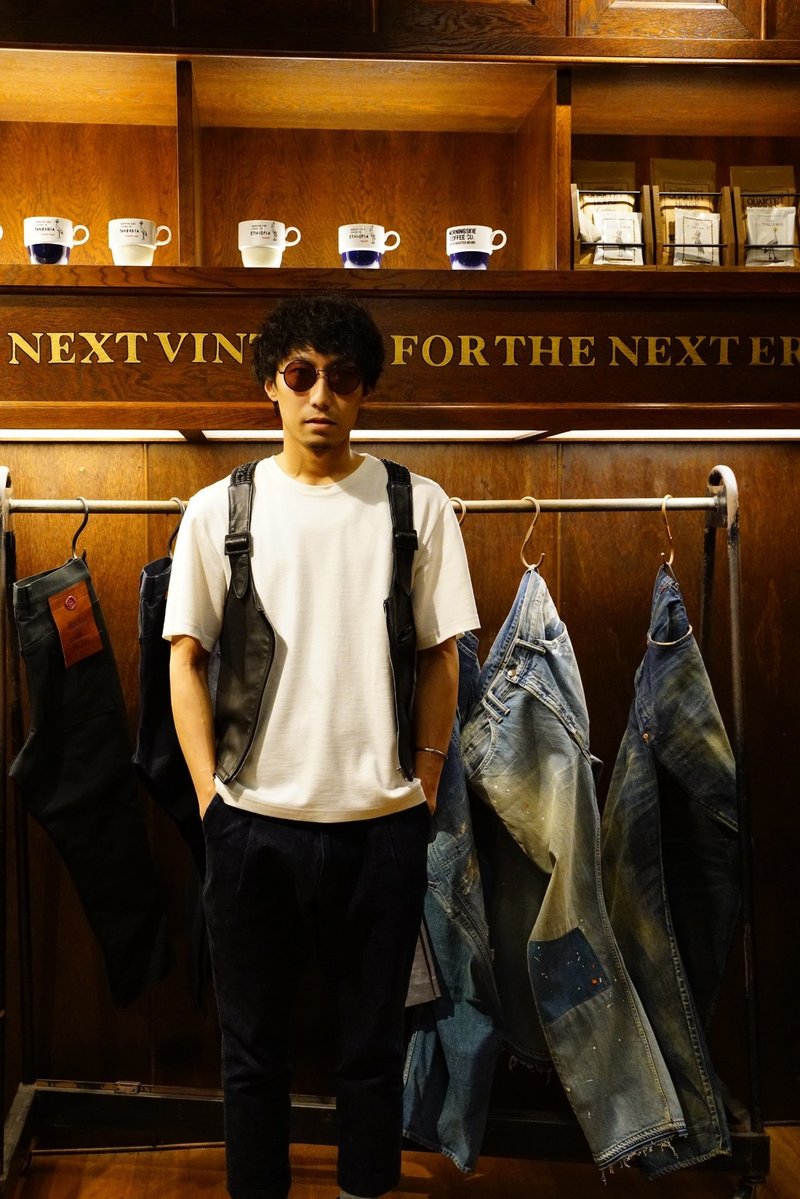 Kentaro Konishi
Director of Haruhito jeans, born in 1988.
He left his hometown in Hyogo after graduating from junior high school and worked in Nagoya for seven years as an apparel salesman from the age of 16, and then moved to Okayama at the age of 23, where he began his sewing training. Based on the concept of "pop-up" sales in Tokyo, Osaka, Kyoto, Hyogo, and Okayama, the company is expanding its sales through pop-up stores. He is also involved in the directional support of products from the Japanese and international market.
www.haruhito.jp
----------------------------------------------------------------------------
【Products】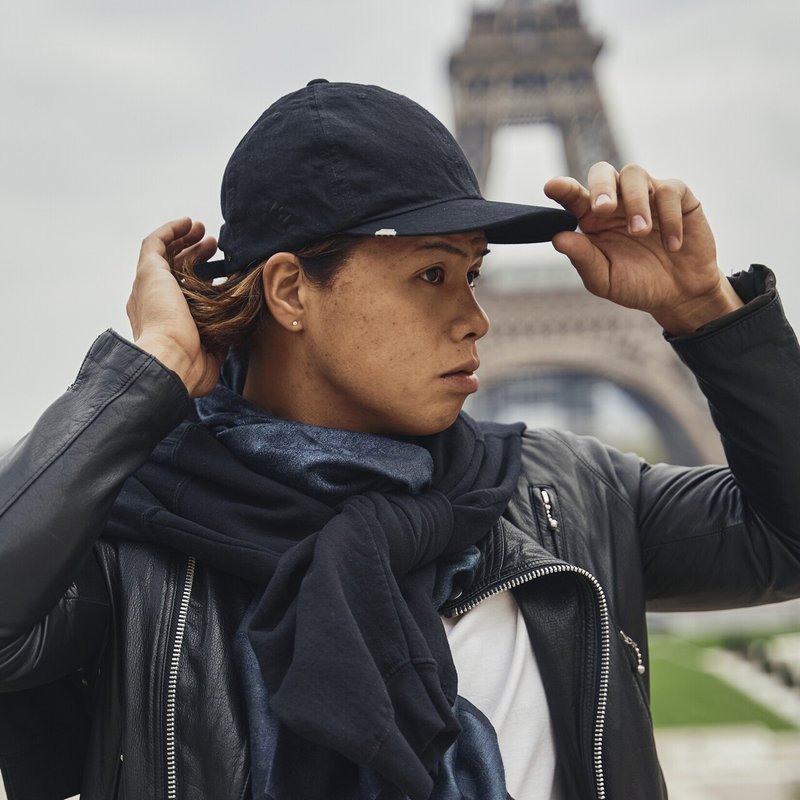 I SWIM AND TRAVEL AROUND THE WORLD × ANACHRONORM Denim Cap
Size:FREE
¥12,000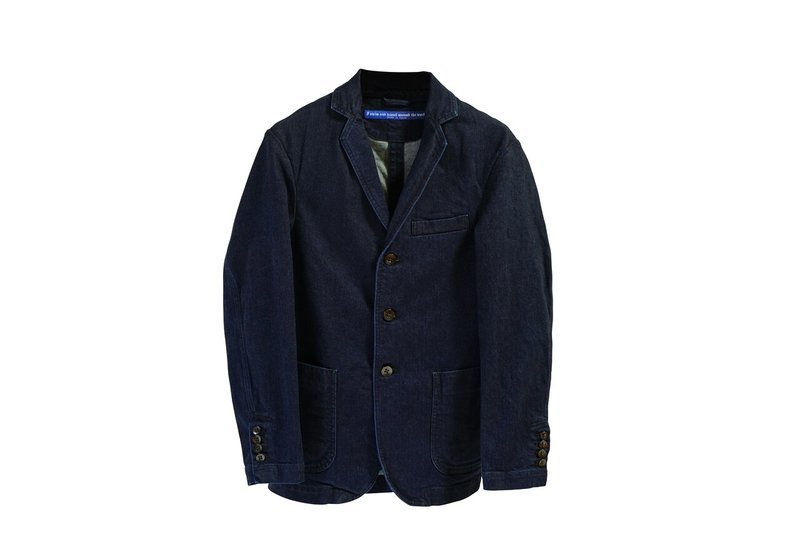 I SWIM AND TRAVEL AROUND THE WORLD × Haruhito jeans Denim Jacket
Size:S, M, L
¥68,000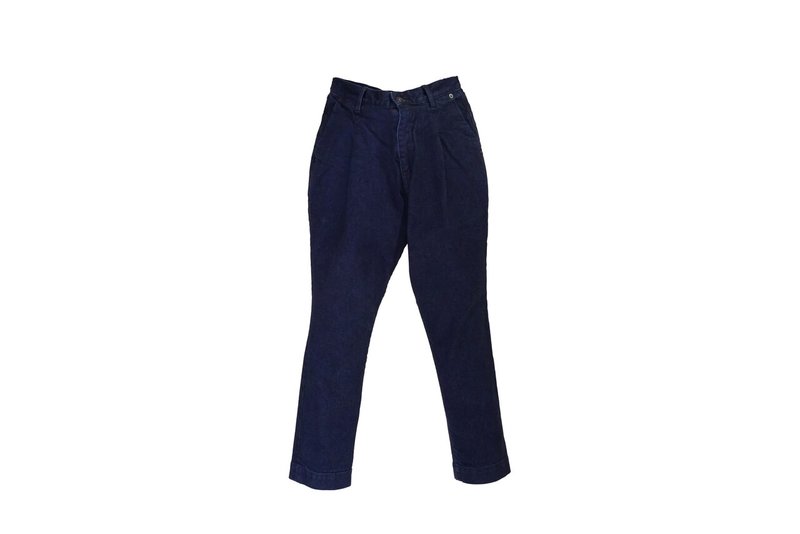 I SWIM AND TRAVEL AROUND THE WORLD × Haruhito jeans Denim Pants
Size:26, 28, 30, 32, 34
¥33,000

【Info】
Contact information:Achilles & Centurio
TEL:81-(0)90-6545-2024
EC URL:isatatw.com
http://achillesandcenturio.com


Photo:Mariko Yamamura
Text:Kana Yoshioka
Translation:Ben Rogers


この記事が気に入ったら、サポートをしてみませんか?
気軽にクリエイターの支援と、記事のオススメができます!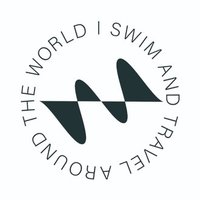 世界で活躍するオリンピックスイマーYASUが手がける、「泳ぐ人」たちへ向けたライフスタイルブランド「I SWIM AND TRAVEL AROUND THE WORLD」。その全貌を紹介する、WEBマガジンです。
https://isatatw.com