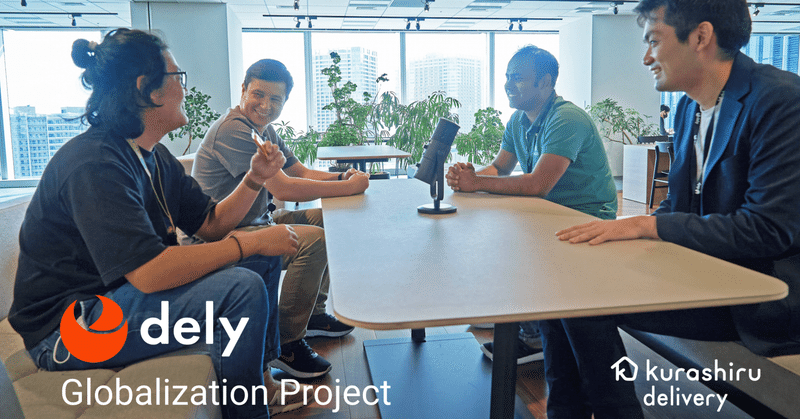 How dely started globalization(English ver.)
This time, the development team of "Kurashiru Delivery" , led by Otake-san, the business manager, and the foreign members, talked about the globalization of the organization! You can hear the real story of how dely is actually moving toward Englishization(using English as a common language in the company).
▼Click HERE for the audio version of the podcast
▼Click HERE for Japanese transcription
Horie: Hello everyone, this is Yusuke Horie, CEO of dely.
Today, instead of myself, the kurashiru delivery team will be talking about how dely started globalization, which I talked in previous Podcasts.
If you're a startup wanting to globalize, this might be something for your team.
......
Marina: Hi. You're listening to our podcast, "Good to Great", where we freely talk about what we are up to now, at dely Inc.My name is Marina, and I am an interpreter/translator at dely, and I also support our international members as a part of the HR department's Globalization Team.We operate 2 apps; kurashiru, and TRILL.Today, we're here with the members of our Ecommerce team for kurashiru; Otake-san, who is our General Manager of the Ecommerce team, Miura-san, who is our UI/UX designer, Sahid-san, as our Back-end engineer, and Mauricio-san, as our Front-end/React engineer.
At dely, we've been recruiting international members from the beginning of this year, and this team was the first to go through the challenge of globalization in our company.
We hope that many of you guys out there from all around the world listen to us! Whether you are an engineer from overseas, or a Japanese engineer who would like to work in an international team, we're all waiting for you!
Also. This is our very first time to have our podcast in English!
So, is everybody ready? Take it away, Otake-san!
Miura: Aye. (laughs)
Otake: Okay, so, okay, so let's talk. In English. All in English! So usually we record the podcast in Japanese with the Japanese people, but this is the first time for you guys to talk about our company and the business in English. Okay? Are you nervous?
Mauricio: Yeah, kinda.
Otake: (laughs) Okay, so first, self introduction about ourselves. My name is Masato Otake. I used to be the CTO of this company, but I'm now in charge of the e-commerce business and I'm putting all my research into it. And I co-founded this company in 2014 with current CEO Horie-san. So I've been here for seven and a half years, actually. I started my career as an iOS engineer, but I was the only engineer of this company for a long time. So I learned many other areas of engineering like backend Ruby on Rails, and infrastructure with database, and so on. Kurashiru started in 2016. I was still the only engineer of this company at that time. So I built the kurashiru app all by myself at the time. So...it was a very tough time for me. (laughs) I got in charge of the e-commerce business from 2018. That's when I started working on the business side. That's it. Thank you. I think the next is Miura-san?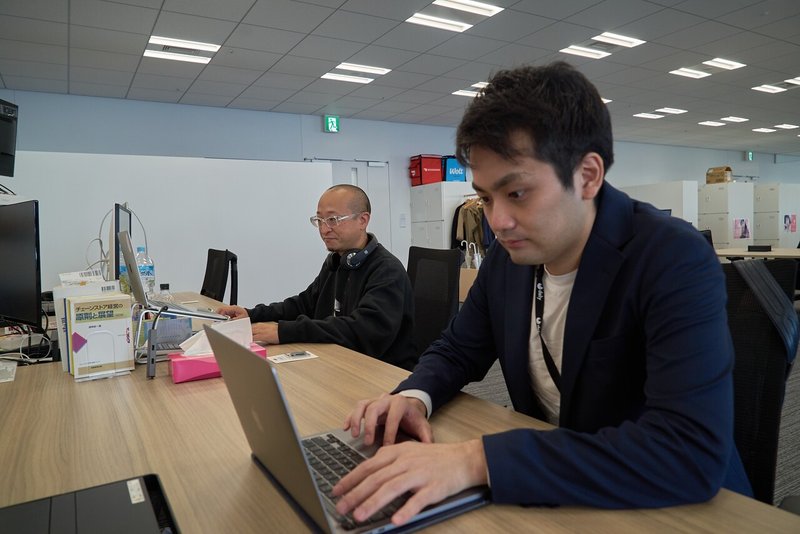 Miura: Okay, I'll go. My name is Miura Hiroyuki. Everybody calls me Wecken, as a nickname. And I'm doing UI design for the e-commerce team. I joined dely, like almost two years ago. And from that point, I've been always working for the e-commerce field. And I not only do the UI design, like typical UI design, like using figma and prototyping, I also do the coding in our team, like React, especially front-end in React Native. We use that and we use React for web, also. Yeah, basically that's it.

Sahid: yeah, my name is Sahidul Islam. And my nickname is Sahid. You can call me Sahid, and I am from Bangladesh. I completed my graduation in 2013 in CSE, I mean Computer Science and Engineering. And after that, I have worked with a lot of foreign clients, and most of them from Japan. And I have experience in working with Ruby on Rails, JavaScript, and a little bit of Python. So as you know, I have worked with a lot of Japanese clients. So I know the business culture of Japan and how they work, and how they would like to work. And that's why I decided to come here, Japan. And Japan has a big IT industry. They have a lot of ideas to implement, and they're doing that. So that's why Japanese IT industry is more attractive for foreigners, mostly for me. So that's why I took the time to come and I got an opportunity to come to Japan and work with a lot of great clients from Japan. And yeah, I'm doing good in Japan, I think. And I like the culture of Japanese food, and Japan.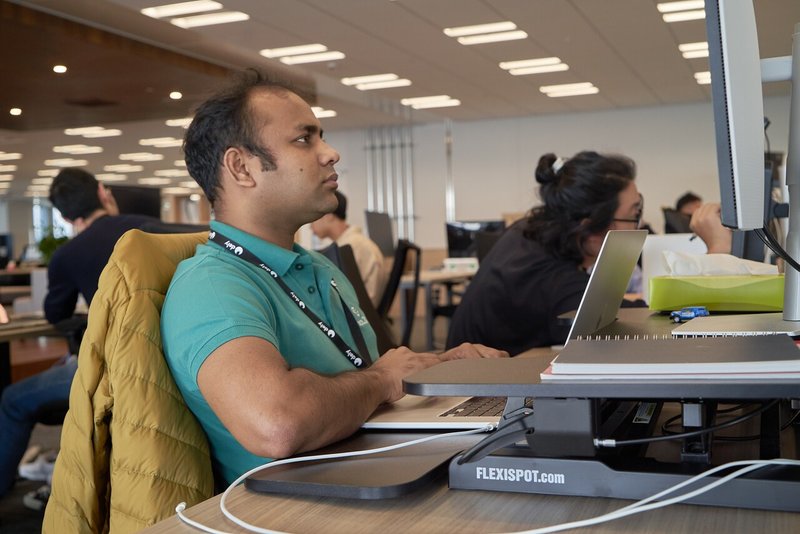 And the reason to choose dely is because dely is working with hot ideas, like grocery deliveries, a lot of new startups are doing that. So I like this idea. And I'm really happy and really fortunate that I joined this team from the beginning of the business, so I got a lot of opportunity to work with the core things and a lot of challenges. It's good for me actually. So I like this idea. That's why I joined dely. And dely has some intention for globalization, and they already started to do that. And they want to hire more foreign engineers and foreign employees. So it's good for foreigners to come here. So they're trying to be a fully globalized team. They are trying to learn English and they're trying to be stabilized with English as the first language in the company. So I think it's good for foreigners to come here and join dely. And you know, in Japanese office culture, they are usually something more formal, but at dely, it is more casual and is like, engineer friendly. So there is no restriction to do something, to eat something, and to wear something. So you can feel free to work here. So that's why I think dely is becoming more popular nowadays. And so, after joining dely, I feel really good. And I think I didn't make a mistake to join dely, so it's good for me.
Otake: Yeah, good speech.
Sahid: Okay, that's all from me. Thank you.
Mauricio: So like, now...I cannot say much... Now I will feel like, oh my god, I cannot say much (laughs)...So. My name is Efren Mauricio. I'm from Colombia. Before coming to Japan, I was working in Germany, and I just wanted to experience something different or something more challenging, and Japan was kind of like the best place to start. So like, if you fear about the language, there is no problem just to consult with in English. It's hard, but it's not impossible. I'm a full stack engineer. I've been working with multiple technologies since... quite a long time. So front end/back end is no problem.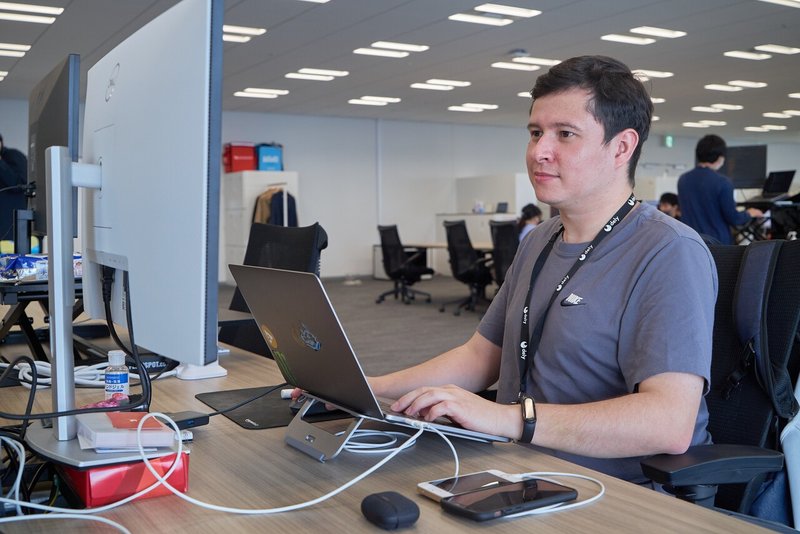 But I decided to join dely because I wanted to go or I wanted to become more of a specialist into front end (for web and mobile). So in here, I found a good opportunity to try that. And the company is like, for now, I've just been here, what? Two months? Three months! So I can't tell too much about the company yet, but like for the few months I've been here, so far I'm quite happy. People are very friendly, and the effort to make the company more international, like, you can see it. It's hard, but they are working a lot into that. So it's something to take in mind. Like if you want to choose this company. Uhm, I don't know what else to say...
Otake: Okay, thank you. Thank you for your introduction. The next is about why we started to do such kind of things going global, or hiring globalized team. So I want to say that the reason why dely, our company dely decided to go global, is...well, I want to talk from my personal experience, okay? So actually leading to go global from the beginning of dely, I personally went to the Silicon Valley right before I co-founded dely in 2013. I was so impressed by many startup founders I met in Silicon Valley. They were all talking to me about the worldwide business and the worldwide product at the time, and their vision was very great to me. So I thought they were so cool. So I decided to go back to Japan and co-founded my company. That was dely at the time. So I talked with Horie-san from the beginning about going global, and that we wanted to make globalized products and services in the future. But of course, we had to make our business sustainable at first. So we tried to do a lot of things. So actually, our current business model kurashiru was our third product of our company, so we tried a lot, and then we created kurashiru, and it's a little bit profitable now. So right now I think that if we stop at this position, there's no reason for us to found our company, so we have to go global and make a global product. And also we have to make our organization and team to go global, because a globalized team and a globalized service is a set. It's a combination. So we have to make our company itself to be globalized and "Englishization" and so on. So at first, we have to do that. And then after that, we have to make our service go global. So that's why we decided to go global. First is the organization, and then, the service is going be globalized. What do you think?
Miura: Yeah, I like this idea very much. If you see the Japanese market, like all tech giants from the US or even from China are coming to Japan, and the other way is not working. Like there's no Japanese internet giant's going global and successful in the other markets. Not so many examples here. So I like this idea a lot. We also want to be more like ambitious, and so that we can export our products to the other markets too. Yeah.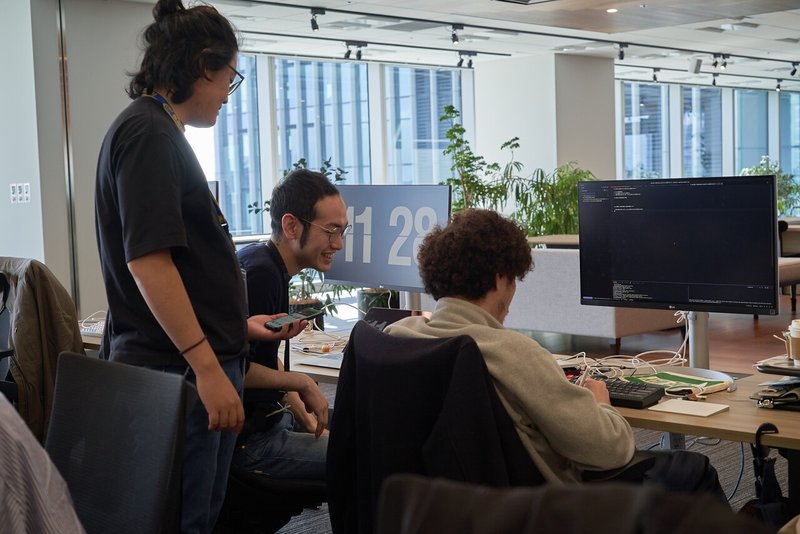 Otake: So I personally respect TikTok as a company and the product. TikTok was made by the company called Bytedance, which was originally from China. So, of course, their company's common language was originally Chinese, and almost all employees are Chinese. But from 2016 they created TikTok, and by the way, the Chinese version of TikTok was named "Douyin". Yeah, yeah. "Douyin" was the Chinese name.

Miura: It's "d". The logo is actually "d".

Otake: So they changed the name of the service for the global expansion, and then TikTok was founded. At that time they started to create the head office and headquarters all across the world, and I think currently there are 30 cities for TikTok's office, and of course they hired many non Chinese people. And then they happened to be a very big product. I think in statistics, TikTok has been the number one downloaded app, for more than two years. More than two years! They were the number one downloaded app. Top line. So I respect TikTok and Bytedance, that they're going global. it's a very big ambition to make it achievable.
Mauricio: Like if you're thinking about.. You mentioned about changing the name. But, what will be the new name for kurashiru? (laughs)
Otake: I feel like kurashiru also sounds like a Japanese kind of name. So if you're going to go global, you have to make...

Miura: Some...Classy, or something. (laughs)

Otake: At that time, I named it kurashiru, as a service name. "kurashi暮らし", it's Japanese, and "shiru知る" it's also Japanese. "kurashi" means "living", "your living", "my life". "shiru" is kind of like "know", "understand" or "feel". You see, and the combination of that is "kurashiru". So originally, it's a Japanese term. Of course, it feels like a Japanese sound! (laughs)
Everyone: (laughs)
Otake: Yeah. Okay, okay, so I want to hear from Miura-san. So how do you feel when you welcomed Sahid and Mauro? At the time, or now.

Miura: I've been working in an international company before, and so I'm kind of already used to the international environment. And so I feel more comfortable having people from different backgrounds, different ideas. Sometimes we have more discussions with people internationally, because they have different ideas. And also, like, Japanese people tend to not say their opinions so strong. So it's more interesting, and I think our team is also changing for that kind of...
Mauricio: Mentality.
Miura: Yeah mentality, or culture. I think it's a very nice thing.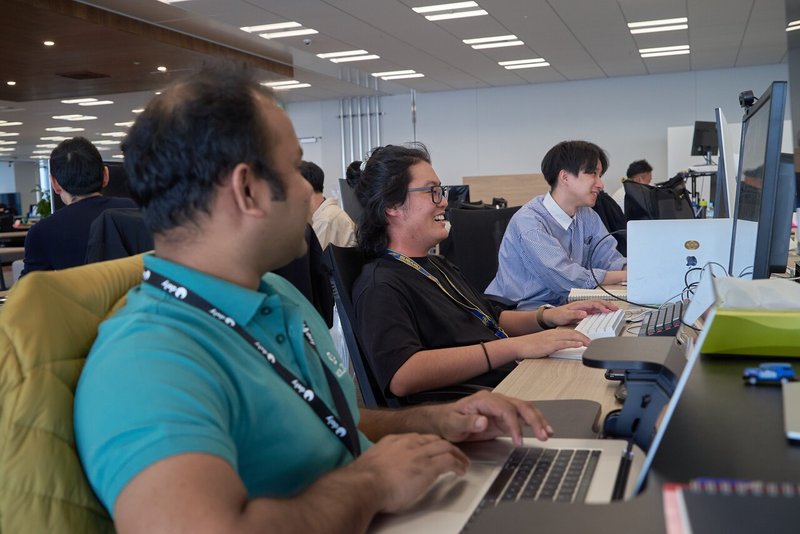 Otake: And also, not all members of our commerce team are.... speaking English. They're not so fluently. So how do we solve that kind of problem?
Miura: Our company is also offering the English training for Japanese engineers, developers. I think that's really nice. And it's also a very nice opportunity for them to use some time to learn new things, which is English, and they can build their career as well with that. I think that's nice. And we... as another thing, we also try more written communication in English and also writing tickets, more in detail. So maybe that's a change.

Otake: Yeah, on Slack, we are trying to write something in English as much as possible. And also we integrate the DeepL integration (DeepL Translator) on Slack, and all the texts can be translated in English or English sentences can be translated in Japanese. Such kind of system's integration is a tiny thing, but it's important, I think. (laughs)

Mauricio: But like, since many people cannot read well, so yeah, like, maybe when you speak with slang or something, like sometimes it's better to translate in native.

Otake: Yes, yes. So. By the way, deepL has a very good translation! Comparing with the Google translation, it's much better!
Everybody: Yeah!

Mauricio: I think it just depends. Sometimes like yeah..

Miura: Sometimes yeah (laughs). Because in Japanese, it's omitting the subject, like subject is wrong, yeah.

Otake: But in many cases, it's very good.
Mauricio: It's like Google Translate is more technical. Like the deepL feels a little bit more human. Or natural.

Miura: Yeah.

Otake: Okay, so. I want to hear from Sahid or Mauricio, so the communications with all members of the Commerce team or other team members... how do you communicate with them? Or outside of our work is okay.

Sahid: Yeah, so mostly we communicate with other people at lunch, and some events like sport events. We organize some sports events together and we get opportunity to communicate with other members of this company. So it's good for us. It's good, to feel better. Feel good. Yeah. So it's important and I appreciate that.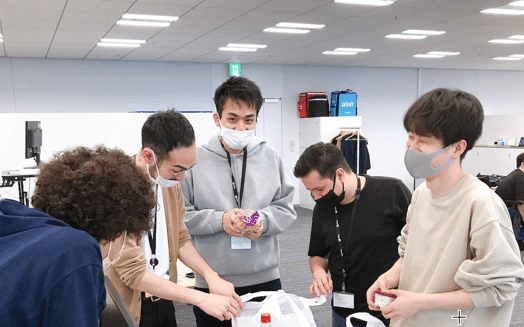 Mauricio: So like, in my case, in the past, I also experienced working with the Japanese company, where also the English level was not as high. So like, I didn't feel too different. So it was easy for me to adapt quickly to the way to talk, because you need to reduce the complicate words and you need to talk more easily, be more simple. So, the communication is not so complex, especially when you need to explain some kind of idea. Like you need to try to make yourself understand so I know that it's the same. It is hard for me when they talk (in Japanese), but also hard for them (when I talk in English). So we always try to help each other. Yeah. But now we have Marina that is helping us to translate everything. (laughs) A really nice addition to the team.

Sahid: Yep. I think, yeah, English skill is improving for the whole team. Yeah. So they always try to speak in English. So I think they also learn English in the weekend or free time.

Otake: Yeah, I think before you guys joined the team, the Japanese members were very afraid of speaking English. But I think that once people who speak English come, and most of the members try to say something, it's not so fluent, but it's okay.
Mauricio: Just the intention.
Otake: Yeah the intention in communication skills makes a difference for fluent English.
Mauri: Like, I think there's like, the longer you spend time with the other person, the more you can work with confidence, so you don't feel so afraid to talk to that person. Then the communication just starts to come more with feelings, because like, when you just meet a stranger, something's always gonna happen. But like, just with a little time, like it just gets easier and at the end then he's trying to talk.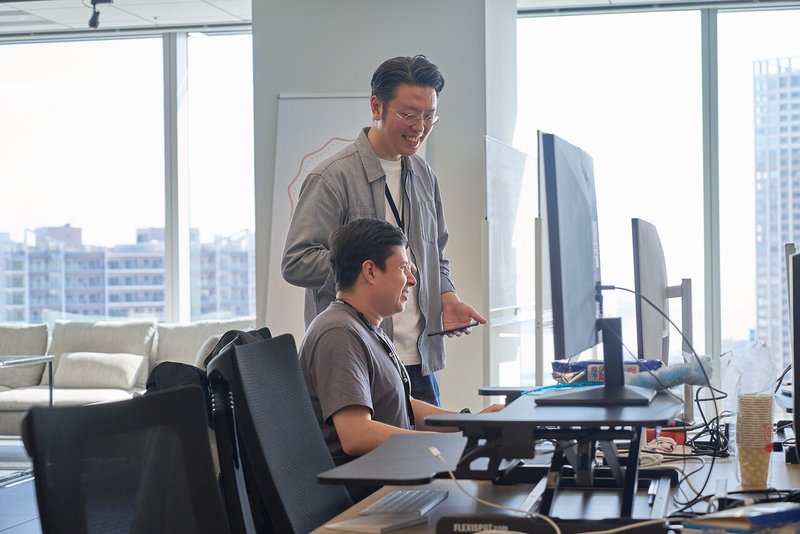 Sahid: It doesn't matter if it's wrong or right.

Otake: Yes, yes.

Miura: I think it's also about the commerce team's culture. Because we are in a startup, yeah, kurashiru is already a startup, but we have some successful business, like kurashiru or TRILL, and in dely, commerce team is very much like a startup culture, especially. So like, people have more spirit. So they all trying to speak English.
Otake: Okay, so thank you. So lastly, our closing part. So what do you vision? What do you guys vision of the other engineers to achieve in this company? How... what kind of things do you want to do in the future, in a company or as a team?

Sahid: So as our team, commerce team is a startup, so I knew that before joining this company, and I want to be an asset for this company, for this ecommerce team. So, in the future, like after two years or three years, I want to be in a lead position in the commerce team, and I also want to participate, I mean want to contribute in other teams like kurashiru or in TRILL. Yeah, so my vision is like, to become a lead person in dely. That's the vision and yeah, so I want to be in a more development side or in business side.
Mauri: I have something quite similar, but like more in the front-end direction. So like, as a person, like a goal in the short term, like I want to just become like a front-end specialist, basically to-go person. But in a long term, like Sahid mentioned, like, I want to also be in a lead position when possible, of course.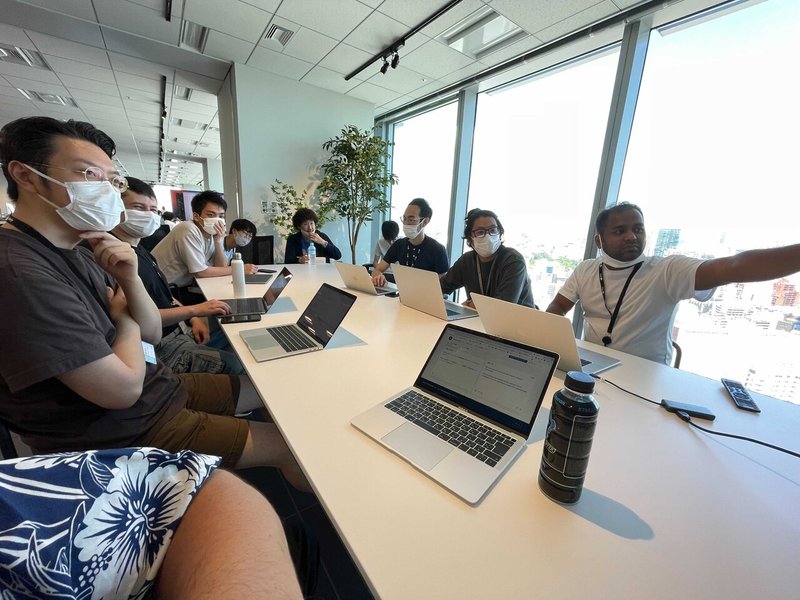 Otake: Thank you. Ah...how, what kind of people, you are willing for them to join our team?

Sahid: Yeah, so it's better for foreign employees and foreign engineers to join. It's good to be a globalized company, globalized team. And it will be very good for finance too, to join dely. dely wants to be global. Yeah. And if we have planned to move to other countries with our products, then it's better to have foreigners like from different regions like India, or Bangladesh or Europe. Yeah. It's better to have foreigners join.

Mauri: Well multiple countries are quite important as well, but like, we're not looking just for engineers, but also a culture fit person.
Otake: Yes. Yes.
Mauri: Like technical part is always like, possible to do at any time and anyone can learn so, that's not like a stopper, but like, is quite important just to work with someone that you enjoy to work. Like the proper kind of...matching personality.
Otake: Yes. I agree.
Mauri: And I guess like, I felt that like since I had the interview here, so it was like, meeting the people was quite friendly. Like a good impression for me.
Sahid: Yeah, when I joined dely, I got three offers from a different company, but I just chose dely, because I met the people in dely, like the commerce team members in dely. I talked to them like one hour with dely's commerce team. So I feel very good. And I feel that I felt that it will not be tough for me to adjust to this team and this company. So I decided that I will join dely.
Mauri: At least for the commerce team, I can talk about others much but, everyone seems quite friendly.
Otake: As a company, we are trying to globalize other teams, not only the commerce team. Okay, thank you. Thank you for your talk today. Thank you. So we are looking very forward to having other members to join our team. Of course Japanese is okay, but English speaking people is welcomed by our company and our teams. Thank you.
Sahid: Thank you.
Miura: Thank you!
Mauri: Thank you. Oh, I also forgot...as a highlight. The office is beautiful! (laughs)
▼Hiring Positions in the commerce business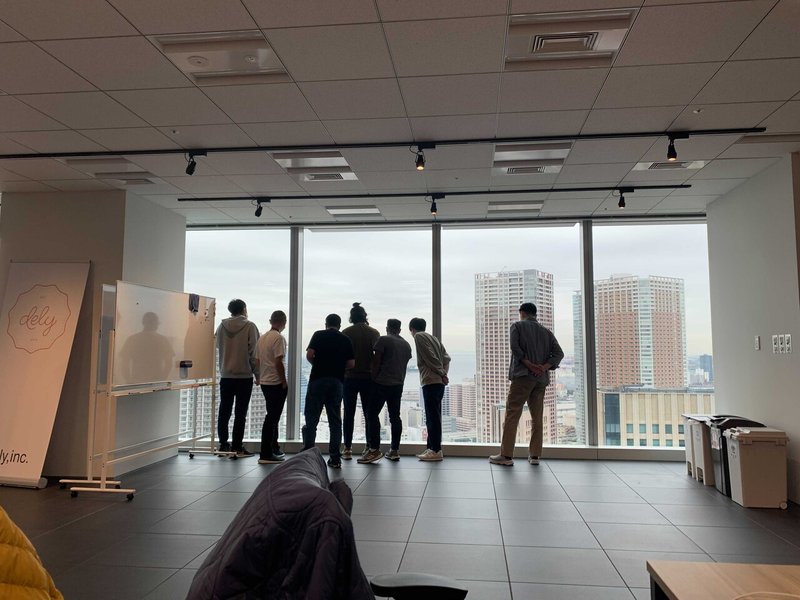 この記事が気に入ったら、サポートをしてみませんか?
気軽にクリエイターの支援と、記事のオススメができます!
私たちdely株式会社は、国内No.1レシピ動画サービス「クラシル」と、国内No.1女性向けメディア「TRILL」を運営しています。 ここではそれぞれのサービスづくりの裏側から、気になる新規事業・働くメンバーの素顔まで、delyの最新情報をまるっとお伝えします。